Health care keeps changing. But Paoli Hospital has sustained our exceptional quality of care with the help of charitable gifts dedicated to the highest priority needs.
As our hospital begins its second century of service, the Paoli Hospital Foundation is launching the Always There with Great Care Campaign—a fundraising effort encouraging our community to give charitable gifts to help meet urgent needs and plan for future programs. Gifts to the Campaign provide an important source of flexible funds for advancing patient care. In the future, these gifts will also help to support a variety of community health needs and partnerships with other organizations.
Gifts to the Always There With Great Care Campaign help Paoli Hospital to:
Invest strategically in facilities, technology and programs
Attract and retain an exceptional medical staff and workforce
These investments will create leading-edge health care programs that save lives, promote patient safety and sustain the quality of life in our community.
Since 1997, charitable individuals have helped grow the Paoli Hospital Foundation's funds for non-designated purposes from $1.8 million to more than $8 million today through a combination of charitable contributions and investment income. Over that period of time, more than $3.6 million has supported the following essential needs at Paoli Hospital:
Nursing education and specialized training
Cancer Center patient support programs
Community health outreach
Regional Trauma Center
Clinical technology
Facilities expansion and upgrades including the new Emergency Department and Patient Care Pavilion
Throughout our history, charitable gifts have placed the hospital in a stronger position to provide skilled and compassionate care in an ever-changing environment. A gift to the Always There with Great Care Campaign makes a powerful statement that you believe Paoli Hospital plays a critical role in upholding our community's quality of life; and that this region's economic vitality is nurtured by improving the health of our citizens. In support of this campaign, two anonymous donors have provided an unprecedented $1 Million Challenge Grant.
Our community gives to Paoli Hospital so excellent medical care is available close to home. Whether from personal experience or a deeply felt commitment, generous individuals know that your gifts have an impact on those coping with serious illness or injury.
We are your doctors, nurses, neighbors and customers. We deliver your babies, treat your injuries and restore your health. Together, we can continue to make the strategic investments that result in superior health care for our community.
Regional Trauma Center
Your support of Paoli Hospital's Regional Trauma Center Fund helps with the purchase of expensive life-saving trauma-specific equipment in our Emergency Department, Intensive Care Unit, and Operating Rooms, along with special trauma nurse education and training.
Nursing Excellence Fund

Paoli has been designated a Magnet® hospital by the American Nurses' Credentialing Center, which is the highest mark of excellence any hospital's nursing service can achieve. Charitable support enables Paoli Hospital to give these exceptional nurses every opportunity to advance their training and education.
Cancer Center
The Cancer Center at Paoli Hospital offers innovative technology and sophisticated, comprehensive oncology care within our community. Every year, gifts to the Paoli Hospital Foundation ensure that people with cancer can access the most advanced diagnostic procedures, treatments, and support close to home, rather than having to travel long distances. The Cancer Center also provides free wigs and an art and music therapy program for families and patients.
Matching Gift Opportunity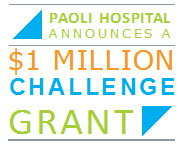 The Paoli Hospital Foundation is thrilled to announce that two anonymous donors have provided an unprecedented matching gift opportunity for Paoli Hospital. All gifts of $10,000 or more from donors who have not given in at least three years and gifts of $1,000 or more from members of Paoli's medical staff will be matched dollar-per-dollar. Pledges over $10,000 may be paid over a two to five year period.
Gifts can be designated to any department or program of Paoli Hospital, while the matching gift will be applied to the Always There with Great Care Campaign. When the Challenge Grant is met, one million dollars will go to the Campaign, supporting the most pressing needs of the Hospital.
This unique Challenge Grant will help to strengthen the future of Paoli Hospital while allowing new and lapsed donors, as well as Paoli Hospital physicians, to double the impact of their giving.
What you need to know about the challenge grant
What constitutes a new or lapsed donor?
Anyone who has not given to the Paoli Hospital Foundation in the three years prior to the date of their new gift or pledge qualifies for the match.
Are you a Paoli Hospital Physician?
Gifts from Paoli Hospital Physicians will be matched at the $1,000 level annually.
What gifts and pledges qualify?
All gifts at the specified levels, whether for a special purpose or to the Always There with Great Care Campaign.
Are there any exceptions?
Only gifts of cash or securities from individual donors will be accepted for the Challenge Grant (Corporate or matched gifts do not qualify).
When does the Challenge take place?
Gifts from new and lapsed donors will be gratefully accepted between January 1, 2015 and December 31, 2018, or until the $1 Million Challenge Grant has been met.