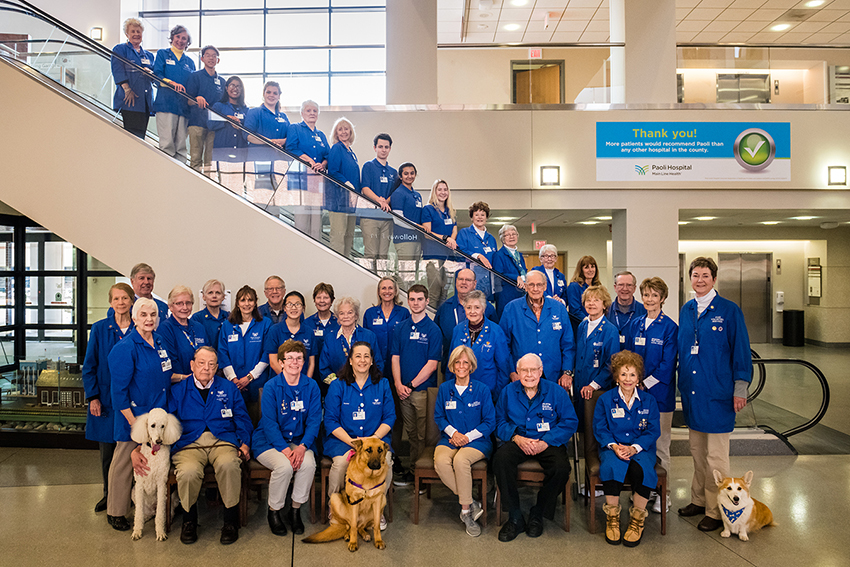 Have you ever wished there was something you could do to help others? Volunteering is an extremely rewarding experience which allows you to give back to others and make a difference in your community. Paoli Hospital needs people like you to join our volunteer team. Our volunteers are crucial in supporting Paoli Hospital's mission to uphold the standard of excellence in care, educational information, technology and community outreach.
Our volunteers are students, parents, grandparents, working professionals and retirees from all walks of life. Through the generous gift of time, talents and personal interests, our volunteers supplement the work of staff members by offering many special services so important to patients, their families and hospital staff.
We strive to provide a "superior experience" to all we encounter. Hear from some of our volunteers about their reason for volunteering and the important work that they're doing every day here at Paoli.
Hear from some of our volunteers
While there are specific benefits to being a volunteer, the greatest reward is being part of a team that helps deliver the best patient care possible to those in need.
Adult volunteer opportunities
Adult Applicants must be at least 19 years of age. Please follow the following steps to become a volunteer at Paoli Hospital:
Commit to a weekly shift of four hours with a minimum of a six month stay.
Complete and submit the appropriate application packet to the Volunteer Office either by mail or fax to the address or number noted below. We ask that you complete your immunization requirements along with your background clearance.
After this meeting, the Volunteer Department will call you to discuss opportunities available and your particular interests.
When you are matched to a position, you will be invited to volunteer orientation.
Once you have completed your screenings, please contact the Volunteer Office to arrange a start date. Our office number is 484.565.1099.
On your first day you will report to the Volunteer Office. Please bring your $10.00 uniform payment and you will also receive your ID badge at this time.
View our adult volunteer application (PDF)
High school student volunteer opportunities
Would you like to give back to your community, fulfill your school requirements and use your communication skills to help others?
The Junior Volunteer Program at Paoli Hospital includes both a School Year and Summer Program. There are selected departments that support our student programs.
In order to participate you must be:
At least 15 years of age when you submit your application
Willing to commit to at least 35 hours of service for the summer program and 65 hours for the school year program
As an applicant, once you have been accepted for a volunteer placement in our program, you will be asked to provide us with certain documentation including:
Immunization requirements as detailed in your application.
Complete child abuse clearances and FBI attestation.
Our program supports many high schools, so please call us for an application and we would be glad to send one to you. When we receive your completed application with references, we will date it and call in order of those dates.
View our minor volunteer application (PDF)
Contact the department of volunteer services
Dana McKee, manager
Dalena Phan, administrative assistant
Paoli Hospital Volunteer Services
255 West Lancaster Avenue
MOB 3, Suite Suite 239
Paoli, PA 19301
484.565.1099
Fax: 484.565.8890