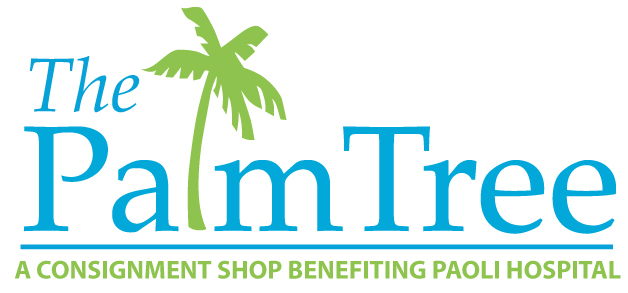 Welcome to The Palm Tree, recently voted by Main Line Today magazine as "Best of the Main Line Consignment Shop," featuring high quality used designer women's clothing, jewelry, collectibles, furniture, carpets and art at unbelievable prices.
About The Palm Tree
The Palm Tree is a consignment and resale shop operated by the Paoli Hospital Auxiliary. If you enjoy fashion and home décor, The Palm Tree is the store for you. Inventory changes daily with high-end fashions such as Talbots, Coldwater Creek, Dana Buchman, Chico's and many more.
Consignments are by appointment Monday through Thursday between 9:00 am–12:00 pm, with limited appointments every Saturday. Donations can be dropped off any time during store hours.
We now offer gift cards and free pick up for furniture donations!
The Palm Tree also shares unsold merchandise with local non-profit organizations that provide shelter and clothing to women in need as well as homeless men and women. Proceeds from The Palm Tree help support the Paoli Hospital Auxiliary's pledge to Paoli Hospital.
Visit paoliauxiliary.org/palm-tree-resale-shop to learn more
Visit The Palm Tree today
Monday–Friday: 9:00 am–5:00 pm
Saturday: 9:00 am–4:30 pm
21 Plank Avenue Depot Shoppes
Paoli, PA 19301
610.647.2775
PalmTree@mlhs.org
How to consign or donate
Consignment liability regulations
Terms and conditions are subject to change without notice. The Palm Tree assumes no responsibility for any loss due to fire, theft or damage.
Lawful Owner: All items consigned at The Palm Tree must be lawfully and entirely owned by you, or you are acting on behalf of someone who has given you authority to consign the items on their behalf.
Authenticity of Merchandise: Only original, authentic designer items are accepted for consignment. By submitting items for consignment, you the consignor certify that the items are genuine and authentic. The Palm Tree diligently attempts to verify the authenticity of an item before consigning them for sale. If an item is taken on consignment an then found to be a fake, the item consigned will be required to be picked up within one week of notification with no liability to The Palm Tree.
Procedure for consignment pick-ups
Present your contract to the cashier to check what has been sold.
Locate your items.
Present your items and contract to the Volunteer at the front desk.
DO NOT REMOVE YOUR TICKETS!!!!
The Volunteer will remove your tickets and assist you in packing.
The Volunteer will generate a computer pickup slip which should be signed by the consignor to complete the consignment pickup process
Please remove all items from the store that have been cleared by the Volunteer in charge.
Come back in and shop till you drop!!!!
We appreciate your cooperation.
Items never taken for consignment
Garments with stains, tears, wrinkles, mats or pills
Bathing suits, body suits and leotards unless new with tags
Garments with odors, such as smoke, moth balls, etc.
Monogrammed items
Maternity
Garments with pet hair
Used lingerie including pajamas
Collars that are frayed or dirty
Polyester or Bankdon knit tops
Slacks with dirty or worn knees
Outdated clothing
Menswear
Children's clothing
Miscellaneous items we do not accept
Auto tires and hub caps
Baby swings, car seats, strollers
Baby bath tubs
Bowling balls
Knives
Books
Slipcovers, linens, unless new in package
Kitchenware, unless new in package
Food
Mattresses/Box springs
Groupings of unrelated items
Unassembled items, unless in factory sealed box
CD's, VCDS & DVD's
No floral display items, unless exceptional
Medicine
Stuffed toys, unless new with tags
Bedpans and crutches
Projection screens
Computers and their accessories
Typewriters
Exercise equipment
Hospital containers
Upholstery, ripped, stained or dirty
Children's riding toys
Used cosmetics and perfume
Window shades and blinds
No dolls, unless collectible
Video tapes
Holiday items must be valued $8.00 and up