Passionate giving for compassionate care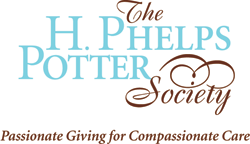 The H. Phelps Potter Society was founded in 1995 to honor the legacy of Dr. H. Phelps Potter, whose story remains visible in the care Paoli Hospital delivers today.
Over forty years ago, Dr. Potter arrived at Paoli Hospital with a vision of a new kind of community hospital, one that would offer the best of both worlds: warm, close-knit relationships between patients and caregivers, along with the advanced medical services more often found in large city hospitals. As President of the Medical Staff and Chair of the Department of Medicine, Dr. Potter spent the next 23 years working to realize that vision.
Combining true compassion with leading-edge care remains Paoli Hospital's hallmark. This is what draws families to come here in their time of need. It is what attracts the very best doctors and nurses to build their careers with us. It is what earns us numerous awards and recognition for the quality of our care, year after year. It is also why H. Phelps Potter Society members choose to make Paoli Hospital a priority in their giving.
By making a gift of $1,000 or more to the Paoli Hospital Foundation each year, you can join us in advancing Dr. Potter's legacy, and transforming people's lives through a special kind of caring.
Benefits of membership
With the support of The H. Phelps Potter Society, anything is possible. With your support we can continue to invest in the latest technology, medical programs and surgical expertise. We can attract and keep truly outstanding doctors, nurses and staff members, and offer them opportunities to grow and learn as professionals.
Annual recognition dinner with the President of Paoli Hospital for members only
Invitations to special events and lectures
Recognition in the Paoli Hospital Foundation's Annual Report to Donors (unless anonymity is requested)
Regular newsletters and other publications from the Paoli Hospital Foundation
Named recognition on Paoli Hospital's donor wall
There are over 200 current members of The H. Phelps Potter Society comprised of dedicated supporters from our community, staff donors and physician leaders. The following giving levels in our Society are:
Advocates: $1,000
Patrons: $2,500
Pacesetters: $5,000
Founders Circle: $10,000
Community Partners: $25,000 and above
For more information about The H. Phelps Potter Society, contact the Paoli Hospital Foundation at 484.565.1385.