Connecting with Matt Callahan, DO
Dr. Callahan is the newly appointed President of Paoli Hospital's Medical Staff. In his two-year term, he will represent the Medical Staff in many different aspects of the hospital's administration—including a designated role on the Paoli Hospital Foundation Board of Trustees. "I want to encourage members of the Medical Staff to participate in philanthropy. Paoli is a wonderful hospital and we all benefit from working in this environment surrounded by compassionate, skilled people—at every level in the organization. I am very committed to the personal relationships I have here and view my charitable support of the Paoli Hospital Foundation as a special way to extend that commitment. During my tenure as President of the Medical Staff, I will encourage many of my physician colleagues to do the same."
While his colleagues and patients often feel like a second family, Dr. Callahan looks forward to spending time with his wife and two grown sons as often as possible. Together, they enjoy sharing lively conversations around the kitchen island and an occasional Frisbee toss enhanced by Dr. Callahan's margaritas. As a former Marine Officer, Dr. Callahan also enjoys military history and a range of physical activities—particularly biking and swimming.
Main Line Health launches free hotline to support senior citizens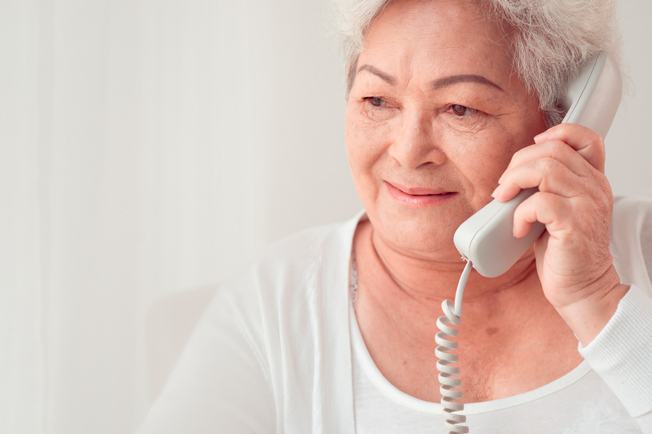 Do you have questions about the resources available to support an older adult in your life? Or, are you a senior citizen in need of information or a referral to services?
If so, anyone is welcome to call the free Main Line Health Senior Care Line at 484.580.1234 or email mlhseniors@mlhs.org.
A licensed, experienced social worker is available Monday through Friday from 9:00 am to 5:00 pm to answer questions, provide guidance in making decisions about care needs, or connect a caller with services throughout Main Line Health and in the community.
Callers to date have received help in identifying needs, learning about services such as transportation or in-home assistance or help navigating care systems.
Through our new Senior Care Line, Main Line Health is committed to connecting senior citizens in our community with information and assistance in accessing coordinated, compassionate care.
Paoli Hospital celebrates cancer survivors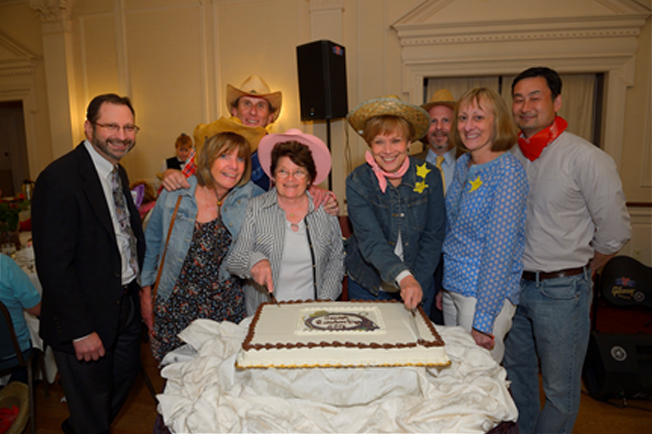 In honor of National Cancer Survivor's Day® cancer survivors, their family members, friends and caregivers were invited to an evening of county western-themed music, dancing, food and fun during the Cancer Center at Paoli Hospital's Annual Celebration of Life. This annual event serves as an opportunity for cancer survivors to connect with each other, celebrate milestones, and recognize those who have supported them along the way. It is also a day to draw attention to the ongoing challenges of cancer survivorship in order to promote more resources, research, and survivor-friendly legislation to improve cancer survivors' quality of life.
To support Paoli Hospital's Cancer Center and supportive programs like this one, make a donation to the Cancer Center Fund at the Paoli Hospital Foundation. Your gift can be made in honor of a loved one or as a tribute to a Cancer Center physician, nurse or staff member.
U.S. News & World Report names Paoli Hospital one of the region's best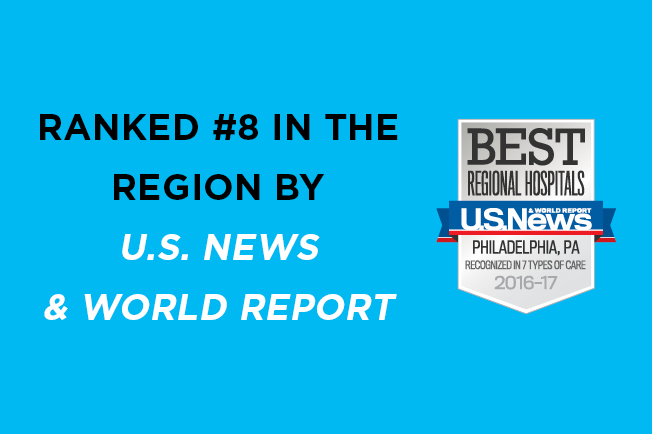 Paoli Hospital was ranked as the eighth best hospital in the Philadelphia region, an area that is known across the country and internationally as a hub for health care delivery, research and education. Year after year, we have been recognized as among the region's best hospitals. These accolades would not be possible without the dedication of the physicians, nurses, employees and volunteers who re-commit themselves every day to providing a superior experience that is synonymous with Paoli Hospital and Main Line Health. In addition to our regional rankings, Paoli Hospital was ranked as high-performing for seven common conditions: abdominal aortic aneurysm repair; chronic obstructive pulmonary disease (COPD); colon cancer surgery; congestive heart failure; hip replacement; knee replacement; and lung cancer surgery.
Join us for the fall fine art show – RSVP today!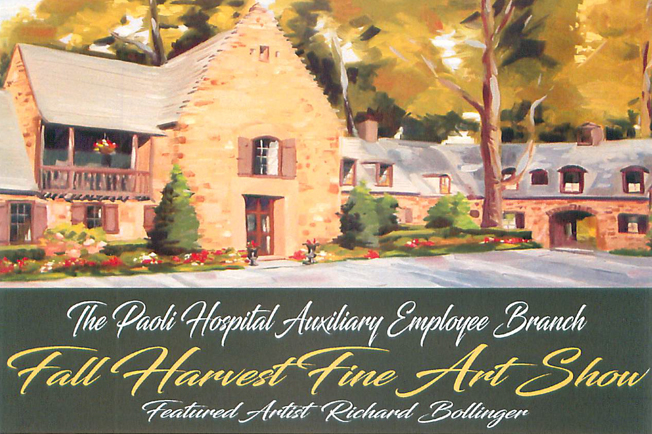 Paoli Hospital will host its first fall fine art show and cocktail party on Friday, October 21, 2016, from 6:00–10:00 pm at Hillhouse, a private historical estate in Berwyn. Sponsored by the Paoli Hospital Auxiliary, proceeds from the show will benefit the artists and the auxiliary's annual pledge to the hospital.
Richard Bollinger, a nationally known Chester County artist, will be the show's featured artist. In addition to displaying several original paintings for sale at the show, Bollinger is creating an original work of art to be raffled off. Bollinger's work is represented in 125 galleries across America. The show will also include 50 other local and regional artists.
Admission to the show is $50 and includes wine and hors d'oeuvres. Raffle tickets for Bollinger's painting can be purchased at a cost of $15 each or three for $30. To RSVP for the show or to purchase raffle tickets for Bollinger's painting, call 484.565.1380.
---
Gifts support the hospital's high priority needs, such as new facilities and technology, or a gift can even be designated to support a clinical area, such as the Cancer Center or the Maternity Unit. If you would like to make a gift in honor of your caregiver, please make a gift online or call the Foundation at 484.565.1385.