Book talk with Dr. Robert Pinsk, Radiology Associates of the Main Line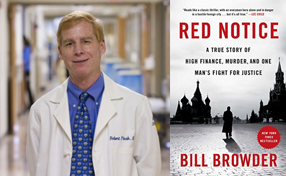 "Red Notice: A True Story of High Finance, Murder, and One Man's Fight for Justice is the real life story of Bill Browder, a financier who invested in the post-Soviet Russian stock market who hit it big, lost almost everything, and won it all back."
"In the process he found himself a victim of Vladimir Putin's corrupt political regime and a 'Red Notice' was issued for his arrest. A Red Notice is 'A communication issued by Interpol requesting the arrest of wanted persons, with a view to extradition.' An Interpol Red Notice is the closest instrument to an international arrest warranting used today. It's a fascinating read."

We would love to hear feedback of a book you have recently read. Let us know what you have read or are currently reading.
---
Paoli Hospital Auxiliary installs new slate of officers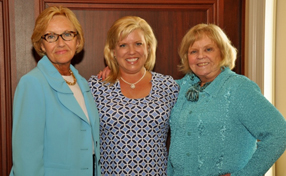 The Paoli Hospital Auxiliary installed a new Executive Committee for 2015–17 during a luncheon at White Manor Country Club in June. The incoming Paoli Hospital Auxiliary Executive Committee is comprised of President Carol Rabe Palmer, First Vice-President Helene Glazier, Second Vice-President Carolyn Ritz, Treasurer Peggy Matje, Recording Secretary Regina Donohue and Corresponding Secretary Sandra Yodesky.
The luncheon program included welcoming remarks by outgoing president Denise Degus, a Presentation of Stars by Dr. Jim Simon and the Installation of Officers by Patty Holloway, Chair of the Paoli Hospital Foundation Board of Trustees.
---
Auxiliary commits to supporting Paoli's operating room needs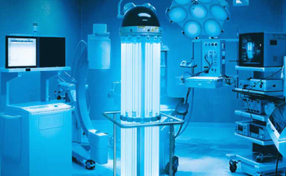 The Paoli Hospital Auxiliary announced a $400,000 commitment to support the hospital this fiscal year. $300,000 will be dedicated to fund equipment needs in the Operating Rooms, including the purchase of a new TRU-D Smart UVC Room Disinfection System.
A special fund will also be established to purchase other surgical equipment ranging from heart lung bypass machines to spine tables and orthopaedic drill sets. The remaining $100,000 will support the Foundation's Always There with Great Care Campaign.
---
State Farm supports mock crash events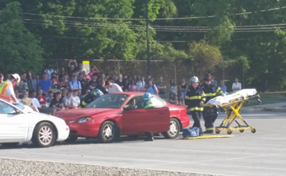 For the seventh consecutive year, Paoli Hospital, through the support of State Farm, offered Mock Crash events at four area high schools. A Mock Crash is a theatrical program performed on a school's campus in which a car crash caused by an intoxicated student driver is staged.
Brad Zerr, director, Community Health Services, Paoli states, "We are incredibly grateful to continue this important partnership with State Farm. With their support, it is our hope that every student will make safe decisions when driving as a result of experiencing the Mock Crash program."
---
Renovations enhance the hospital's Prayer and Meditation Room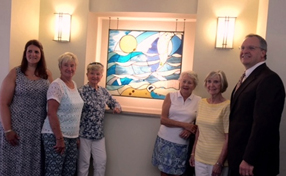 The Prayer and Meditation room in the valet lobby of the hospital was recently renovated to better accommodate visitors, patients and staff of different religious faiths seeking a space to pray or reflect. Paoli Hospital President Jim Paradis joined members of the Paoli Hospital Auxiliary, area clergy and hospital chaplain Barbara Emery to dedicate the room. The meditation room is respectful of all religions, including Christianity, Muslim and Judaism. The stained glass artwork featured was donated by the Anthony Wayne Branch in memory of Carolyn Fretz and Lyn Frey.
---
Will you consider supporting Paoli Hospital in your estate plans?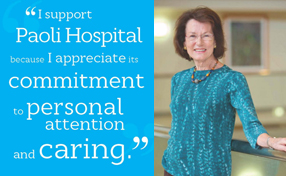 Visit paoli.plannedgiving.org to help us better understand your reason and readiness for giving. You will receive a free thumb drive just for responding.
You can also contact the Paoli Hospital Foundation at 484.565.1385 or by email.
"Born in England, I moved to Pennsylvania as a young bride. My first contacts with Paoli Hospital came when my young children needed medical attention, oftentimes of an emergency nature."
"Impressed with the caring and professional atmosphere at Paoli, I happily decided to become a volunteer in the operating rooms, which certainly was a most enlightening and educational experience. The relationships forged with staff and administrators were, I feel, key to my young family's continued well-being."
"The expert and sympathetic attention I later received during a bout with cancer will forever remain in my memory."
"Top medical care is critical to a healthy life and requires strong community involvement and support. I am proud to include Paoli Hospital in my annual giving program as well as my estate plan and fully intend to continue this commitment."
– Penelope P. Watkins, Paoli Society member
---
Save the date for these upcoming events!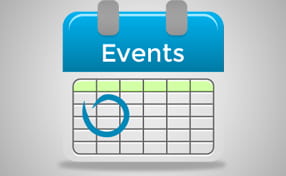 Sweater Mania – Boutique Sale
October 1 & 2, 2015
Valet Lobby of Paoli Hospital
End of Summer Soiree
October 9, 2015 at 5:00 pm
Chester Valley Golf Club
Mistletoe & Magic
November 21, 2015 at 6:30 pm
Aronimink Golf Club
---
Honor your caregiver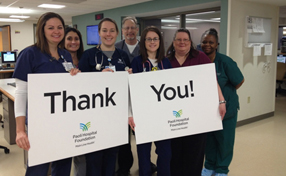 Patients and families whose lives have been touched by the care they or a loved one has received while in the hospital often make a gift in honor of their physician, nurse, staff, volunteer or friend. In the last few months, the Foundation received gifts in honor of the following individuals:
Jennifer L. Armstrong, MD
M. Lisa Attebery, DO
Janet Bartholomew
Nicholas C. Battafarano, MD
Dr. and Mrs. James R. Bollinger
Michael J. Buongiorno
Bobette Burdenski
Barrett and Addison Conway
Jay S. Cooperman, MD
Eli Beverly Damian
Elizabeth G. Cullinan
Reverend Barbara Emery
Ann Fedor
Christina S. Felder
Robert C. Fried, MD
Eleanor Fudeman
Frank H. Furman, MD
Elliot M. Gerber, MD
Aaron M. Giltner, MD
Arnold Goldenberg, MD
Kevin T. Grier
William A. Grier
Deanna Grube
Norma R. Hall
Lucy Hartman
William W. Hockenbury
Patricia B. Holloway
Julie Humphries
Kris R. Kaulback, MD
Michelle Kavin, PAC
James A. Kenning, MD
Albert A. Keshgegian, MD
Joyce Kish
Ralph A. Lanza, MD
Keith J. Laskin, MD
Mark Levy, MD
Diana E. Lewis
Gus Maharis
Donna L. Marks
Jeanette B. McFadden
Maura K. McIntyre
Barbara Reese Miller
MLH Nursing Staff
Joseph Monastero
Carolyn Mooney
Herman D. Movsowitz, MD
Bridget J. Moyer
Donna M. Muha
Janet L. Nash, PhD
Olivia Nawrocki
John J. O'Hara, Jr., MD
PA/NP Surgery Providers at Paoli
Paoli Hospital Medical Staff
James J. Paradis
Stephen F. Payton
Harriet Petas
4B Nurses and Technicians
Cancer Center Staff
Emergency Room Staff
Family Centered Maternity Unit Staff
NICU Staff
Nursing Staff
Nursing Staff – Chemotherapy Room
Nursing Staff – Orthopaedic Unit
Nursing Staff – Pain Resource
OR Nursing Staff
PACU Nursing Staff
PACU Staff
Pre-Op Staff
Recovery Room Staff
Staff of Dr. Christine Szarka
Volunteers
Wound Healing Center Staff
Ann E. Reilly, MD
Elena Riccardi
Gwen E. Rodgers
Susan G. Saiter
Diane Schuster
Robert T. Schuster, MD
Matthew Sewell, MD
Kathryn Shaw
Jayne Shumaker
David P. Singer, MD
Emily Souders
Lisa Springer
Daniel P. Stoup
Mildred M. Supplee
Christine E. Szarka, MD
Tachna, DPM
Debra A. Tagland
David R. Trevino, MD
Richard P. Tucci, MD
Andrew B. Ulichney, II, MD
Sandra Urtishak, MD
Barbara A. Wadsworth
Maureen L. Yelovich, MD
Susan M. Zuk
---
Gifts support the hospital's high priority needs, such as new facilities and technology, or a gift can even be designated to support a clinical area, such as the Cancer Center or the Maternity Unit. If you would like to make a gift in honor of your caregiver, please make a gift online or call the Foundation at 484.565.1385.