Book talk with Tina Saurman, Nurse Manager, Family Centered Maternity Unit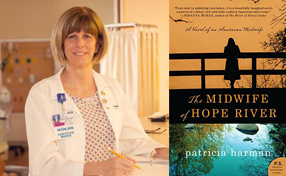 "I recently read a book called The Midwife of Hope River: A Novel of an American Midwife by Patricia Harman. This book is being circulated by the OB nurses on the Family Centered Maternity Unit at Paoli Hospital."
"It is a great story of the courage of a lay midwife's experiences delivering babies in a rural Appalachian community during the Great Depression. The story is very uplifting and makes the OB staff even more appreciative for the environment in which we help bring new lives into the world."

We would love to hear feedback of a book you have recently read. Let us know what you have read or are currently reading.
---
Nursing Management selects Deb Ruddy as the Richard Hader Visionary Leader Award winner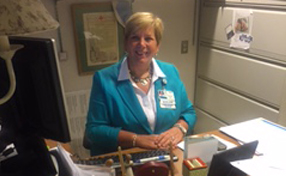 This month, Deb Ruddy, will become the first nurse manager to accept the Richard Hader Visionary Leader Award at the annual Nursing Management Congress in Lake Buena Vista, FL.
The award, which is usually presented to a Chief Nursing Officer, recognizes a nursing leader's ability to sustain excellence through insight, inspiration, creativity, and applicability to other organizations.
In her nomination of Ruddy, Jan Nash, VP, Patient Services, submitted a 2,000 word manuscript which noted that in Ruddy's present assignment as manager of Paoli's 44-bed Oncology/Telemetry Unit, she developed a mandatory oncology competency that "resulted in 92 percent of staff becoming certified in chemotherapy administration and biotherapy functions, improving nurse/patient and physician/nurse relationships as well as safe, efficacious care." Nash continued, "Her passion for the profession is evident to all who interact with her. A colleague has stated, 'She is a nurse's nurse.'"
The written nomination will be published in the January 2016 edition of Nursing Management.
---
Wine tasting event raises funds for Paoli Hospital Auxiliary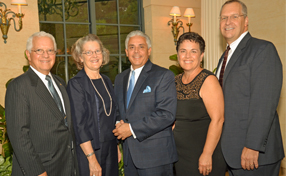 The Desmond Hotel and Main Line Today magazine partnered with Paoli Hospital and its Auxiliary (Employee Branch) for the Winemakers Dinner. The evening featured a silent auction along with a seven-course sit down dinner paired with exquisite wines from the Robert Kacher Selections.
Nearly $5,000 was raised from the silent auction which will be directed towards the Paoli Hospital Auxiliary's annual commitment to support the hospital.
---
Unprecedented matching gift opportunity to support Paoli Hospital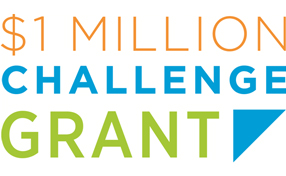 The Paoli Hospital Foundation is thrilled to announce that two anonymous donors have provided an unprecedented matching gift opportunity for Paoli Hospital.
All gifts of $10,000 or more from donors who have not given in at least three years and gifts of $1,000 or more from members of Paoli's medical staff will be matched dollar-per-dollar. Pledges over $10,000 may be paid over a two to five year period.
Gifts can be designated to any department or program of Paoli Hospital, while the matching gift will be applied to the Always There with Great Care Campaign. When the Challenge Grant is met, one million dollars will go to the Campaign, supporting the most pressing needs of the Hospital.
This unique Challenge Grant will help to strengthen the future of Paoli Hospital while allowing new and lapsed donors, as well as Paoli Hospital physicians, to double the impact of their giving.
---
Foundation Trustees approve grant for learning and enrichment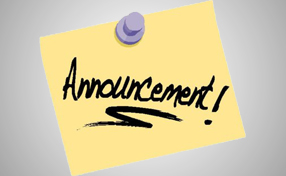 The Trustees of the Paoli Hospital Foundation have approved a grant to the hospital to provide funds for individuals or departments for education experiences that will improve patient care or department work flow.
An educational experience includes a conference or seminar, software, books, a special speaker, etc. Recognizing that a charitable fund is already in place for Nursing Excellence, the Trustees directed this special grant to support hospital departments and non-RN employees. For more information, contact Christine De Bonis at 484.565.1688.
---
Unite for HER partnered with Paoli Hospital to host Wellness Day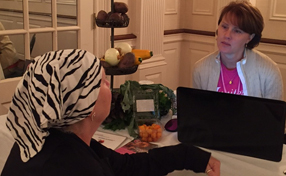 A Wellness Day was held on September 20 at the Desmond Hotel to support patients of the Holloway Breast Health Center and the Paoli Cancer Center.
About 50 patients attended the event which featured a discussion and demonstration from a variety of complementary therapy professionals that promote wellness including nutrition, massage, yoga and acupuncture. Participants learned about the benefits of these therapies and created a plan for incorporating these tools in to their treatment and recovery. Every participant received vouchers for complementary therapies and services which are worth over $1,500.
---
Save the date for these upcoming events!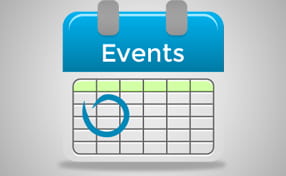 Vendor Expo
Friday, November 13
8:00 am–4:30 pm
Potter Room, Paoli Hospital
Mistletoe and Magic
Saturday, November 21
6:30 pm
Aronimink Golf Club
Call 484.565.1335 for tickets
---
Honor your caregiver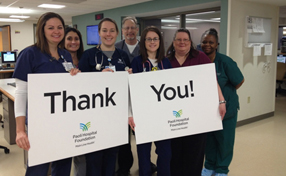 Patients and families whose lives have been touched by the care they or a loved one has received while in the hospital often make a gift in honor of their physician, nurse, staff, volunteer or friend. Last month, the Foundation received gifts in honor of the following individuals:
Paul F. Barone, DO
Michael J. Buongiorno
Norman M. Callahan, III, DO
Barrett and Addison Conway
Beverly Damiani
Christina Felder
Stephen C. Fox, MD
Robert C. Fried, MD
Eleanor Fudeman
Aaron M. Giltner, MD
Kevin T. Grier
William A. Grier
Lucy Hartman
Andrea E. Horvath, DO
Julie Humphries
Mark Levy, MD
Gus Maharis
Maura McIntyre
Donna M. Muha
Janet L. Nash, PhD
Olivia Nawrocki
PA/NP Surgery Providers at Paoli
Cancer Center Staff
Emergency Room Staff
Family Centered Maternity Unit Staff
NICU Staff
Nursing Staff
Nursing Staff – Chemotherapy Room
Nursing Staff – Pain Resource
Nursing Supervisors
OR Nursing Staff
Orthopaedic Staff and Physicians
PACU Nursing Staff
Wound Healing Center Staff
in honor of
Elena Riccardi
Diane Schuster
Heatly D. Sebring, MD
Kathryn Shaw
Barbara J. Tachovsky
Debra A. Tagland
Barbara Wadsworth
Susan M. Zuk
---
Gifts support the hospital's high priority needs, such as new facilities and technology, or a gift can even be designated to support a clinical area, such as the Cancer Center or the Maternity Unit. If you would like to make a gift in honor of your caregiver, please make a gift online or call the Foundation at 484.565.1385.