Book talk with Nancy Stock, Paoli Hospital Auxiliary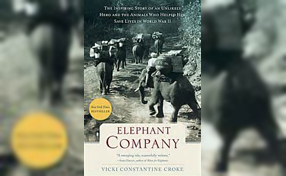 "I highly recommend Elephant Company by Vicki Constantine Croke. A friendship about man and elephants used hauling logs of Teak through the jungles of Burma for a Teak Company and how these elephants were used when the Japanese invaded Burma during WWII. The author chronicles Billy Williams's growing love for elephants as the animals provide him lessons in courage, trust and gratitude. I just loved this book."

We would love to hear feedback of a book you have recently read. Let us know what you have read or are currently reading.
---
Paoli Hospital's Dana McKee recognized for advancing the field of volunteerism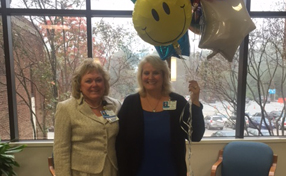 Paoli Hospital's Manager of Volunteers and Patient Advocate, Dana McKee, is the recipient of the Pennsylvania Society of Directors of Volunteer Services in Healthcare (PSDVS) Evelyn Burston Award for outstanding contributions to the field of volunteerism.
McKee's nomination form, submitted by Jan Nash, VP, Patient Care Services, noted that "She looks for ways to assist patients, families and staff, to alleviate concerns, be a good listener, and fulfill their needs to correlate with our 'Superior Patient Experience' campaign." McKee, whose department supports over 500 volunteers, is the only Certified Administrator of Volunteer Services at Main Line Health. Dana is also the Patient Advocate which led her to be awarded with The Patient Advocate Award for Medium Size Hospitals from the Professional Patient Advocate Institute in 2011.
---
Malvern Business Association hosts Fashion Show in support of Wellness Day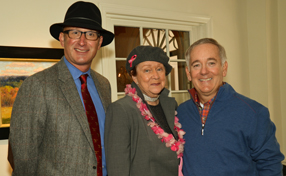 On Friday, October 16, 2015, the Malvern Business Association hosted the 8th Annual Fashion Show and Luncheon to support the Paoli Hospital Cancer Center.
This year's show, held at the General Warren Inne, featured Jack Lynch, President and CEO of Main Line Health and Gregory J. Ochsner, MD modeling the latest fall fashions.
Proceeds from the Fashion Show support the Cancer Centers' Wellness Day events. Paoli Hospital hosts Wellness Day in partnership with Unite for Her. Wellness Day helps patients of the Paoli Cancer Center and Holloway Breast Health Center learn about the benefits of complementary therapies and create a plan for incorporating these tools in to their treatment and recovery. Each Wellness Day event attracts about 50 women and every participant receives vouchers for complementary therapies and services which are worth over $1,500.
---
Paoli Hospital's Progressive Care Unit receives silver-level Beacon Award for Excellence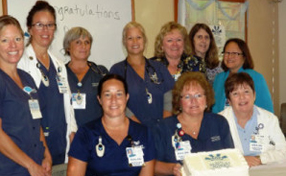 The Progressive Care Unit (PCU) at Paoli Hospital is the only PCU in Pennsylvania to receive the silver-level Beacon Award for Excellence from the American Association of Critical-Care Nurses (AACN).
The three-year award (2015–18) recognizes caregivers who successfully improve patient outcomes and align practices with American Association of Critical-Care Nurses' Healthy Work Environment Standards.
"This recognition is a true reflection of the hard work and dedication of the entire PCU staff," says Jan Nash, VP, Patient Care Services, Paoli Hospital. "Their teamwork and commitment to providing evidence-based, superior care has led them to this prominent designation, and I couldn't be more proud." The silver-level Beacon Award for Excellence signifies continuous learning and effective systems to achieve optimal patient care. Paoli Hospital's PCU earned its silver award by meeting the following evidence-based criteria:
Leadership Structures and Systems
Appropriate Staffing and Staff Engagement
Effective Communication, Knowledge Management, Learning and Development
Evidence-Based Practice and Processes
Outcome Measurement
The American Association of Critical-Care Nurses will honor Paoli's PCU and other awardees at the National Teaching Institute & Critical Care Exposition, the world's largest educational conference and trade show for nurses who care for acutely and critically ill patients and their families.
---
Donate a star in honor of someone special on Paoli Hospital's Tree of Lights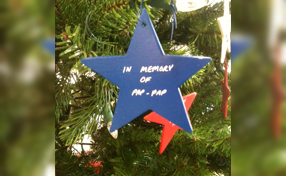 The Tree of Lights will stand in the Paoli Hospital Atrium through the month of December. Colorful stars adorn the tree symbolizing gifts made to the Paoli Hospital Auxiliary in honor and memory of loved ones, friends, physicians and nurses.
To donate a start on the Tree of Lights in honor of someone special in your life this holiday season visit paoliauxiliary.org. A special tree lighting ceremony will be held on Thursday, December 3, 2015 at Noon, followed by a light lunch.
---
Join the Community Services Department to help those in need this holiday season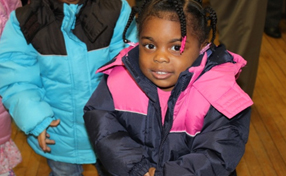 Paoli Hospital's Community Services Department is managing a number of drives to support our community this holiday season. Please consider joining with your colleagues, friends and neighbors to support any of the following initiatives.
For more information on how to participate, please continue to read below or contact Brad Zerr at zerrbp@mlhs.org.
The Community Volunteers in Medicine and the Phoenixville Clinic provides free health care for the uninsured, working poor in Chester County. These organizations are in need of gift cards for under-served patients and their families. Please consider supporting this drive with gift cards to stores such as Walmart, Kmart and Acme in increments of $10.00 or $25.00 by December 17, 2015. Send to Brad Zerr, Director of Community Health Services, Paoli Pointe Building, Suite 4, 255 West Lancaster Avenue, Paoli, PA 19301.
Local Community/Chester County Food Banks
Please donate healthy, non-perishable food for the Holiday Season. Items in high demand include BOOST, Ensure, Glucerna for cancer patients, canned meats, fruit, vegetables, peanut butter, spaghetti sauce, soups, rice, cereal and fruit juices. Bring your donation to the Lower West Entrance lobby (by the cafeteria) by December 31. 2015.
Salvation Army Holiday Stocking Project
The Salvation Army and Paoli Hospital are joining forces to provide children in the community with holiday stockings. The project is a very simple one. The Salvation Army sends us empty stockings. You sign up for the number of children you would like to sponsor. The stockings come with a list of suggestions and should be filled with specific age and gender that you select. Stockings should be returned to the valet lobby by December 9, 2015. To receive a stocking, call 484.565.1270.
Upper Main Line YMCA/Delaware Valley Children's Charity Angel Tree Project and Paoli & Covenant Presbyterian Church/GVSD provide gifts for children of families in need. To adopt a child and fill their wish list and make their holidays fun! Call 484.565.1270 to register.
Coats for Kids by Operation Warm and Paoli Hospital are joining forces to provide underserved children in the Main Line Health community with brand new winter coats! The program is simple, but so impactful. For $20.00 a child in our community will receive the Gift of Warmth, a new winter coat. Gather as friends, a department, or like-minded individuals to sponsor the purchase one or more coats for local children. It's very simple…please sign up below for the number of coats you would like to purchase.
To participate, please send a check for $20.00 or more made payable to OPERATION WARM to Brad Zerr, Director of Community Health Services, Paoli Pointe Bldg, Suite 4, 255 West Lancaster Avenue, Paoli, PA 19301. This important drive will run through December 17, 2015, and the coats will be distributed to these children before Christmas day!
Used Coat Drive
Bring gently used coats of all sizes to lower west lobby by December 12, 2015.
---
Save the date for these upcoming events!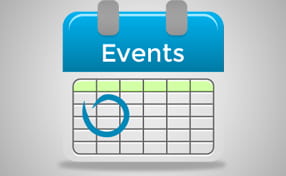 10th Annual Tree of Lights Celebration
Thursday, December 3, 2015 at Noon
Paoli Hospital Atrium
Heigh-Ho Jewelry Sale
December 3–4, 2015
Valet Lobby at Paoli Hospital
Menorah Lighting
Monday, December 7, 2015 at
3:30 pm
Paoli Hospital Atrium
---
Honor your caregiver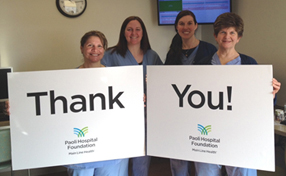 Patients and families whose lives have been touched by the care they or a loved one has received at Paoli Hospital often make a gift in honor of their physician, nurse, or staff. Last month, the Foundation received gifts in honor of the following individuals:
M. Lisa Attebery, DO
Jim Brown
Michael B. Dabrow, DO
Frank H. Furman, MD
William R. Greer, MD, FACP
Kris R. Kaulback, MD
Leslie Klein
Fred Yutkowitz
Stephen P. Krell, MD
Jeanette B. McFadden
Nursing Staff
Robert T. Schuster, MD
Emily Page Wampler
---
Gifts support the hospital's high priority needs, such as new facilities and technology, or a gift can even be designated to support a clinical area, such as the Cancer Center or the Maternity Unit. If you would like to make a gift in honor of your caregiver, please make a gift online or call the Foundation at 484.565.1385.