Honor your doctor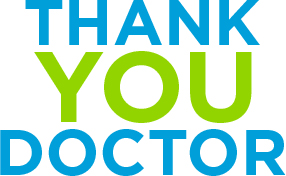 Celebrate National Doctors' Day on Wednesday, March 30, 2016 by making a tribute gift to Paoli Hospital in honor of your favorite doctor or physician's group. Your charitable gift will recognize your doctor's hard work and dedication while serving as an important investment in patient care at Paoli Hospital.
How to make your gift:
Click the donate button below
Select "This Gift is in Honor or Memory of Someone"
Type in the name of your favorite doctor or physician practice
Feel free to include a brief note to your doctor in the comments section at the bottom of the page.
We will notify your physician of your thoughtfulness; however the amount of your gift will remain confidential. The ultimate value of your gift will not be measured in dollars and cents; it will be measured in the life-changing difference it makes for families throughout our community.
Make your online donation of $100 or more in honor of your doctor and you will receive a soft, rolled blanket with carrying handle, perfect for picnics and concerts!
---
Connecting with Mark Edwards, Environmental Services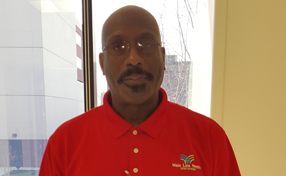 Mark Edwards provides the 'turn-down' service each evening at Paoli Hospital. But for many patients, his visit means so much more.
Recently, a patient described Mark as a "one man welcoming party" and wrote in a letter upon discharge that "I have every confidence that this condition can be managed. This is all thanks to the wonderful attentive care I received, and in no small part, to a ten minute visit from Mark Edwards, Housekeeping."
"I enjoy connecting with people," explains Mark. "People aren't in the hospital because they want to be. I try to make their stay as comfortable as possible. Sometimes, it's just an extra set of linens a patient may need for a loved one. But, sometimes, people don't have friends or family around and they seem to really appreciate my visit. I like that my work provides an opportunity to give back and enrich the life of a person who may be afraid or saddened by a new diagnosis. I know that not every day is a good day, but there is good in every day—I try to bring that positivity to people. I also sometimes try to make them laugh; I think it is part of healing. Here's a joke that I always use: What do you get when you cross an elephant with Darth Vader… an elevator! Hey, this is housekeeping, we've got to keep it clean!"
---
Use your traditional IRA to make your charitable gifts this year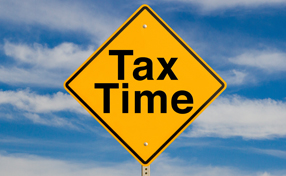 As the weather warms and our thoughts turn to springtime pursuits, it is also the time of the year when many are thinking about ways to lower their tax bill. According to Paoli Hospital's Foundation, tax-savvy charitable giving is one avenue that can help fulfill this goal.
In late 2015, Congress enacted a permanent extension of the IRA Charitable Rollover provision. As a result, individuals 70½ or older can satisfy their minimum distribution requirement while donating up to $100,000 from their IRA account to charitable organizations without paying income tax on the withdrawal. While this incentive has been available in the past, it typically was enacted into law late in the year, which meant that many were unable to take advantage of it. It is now a permanent part of the tax code and will be an option year after year.
If you take advantage of this provision, you can exclude the amount distributed to Paoli Hospital from your taxable income. As you plan your minimum required distributions for this year, if you do not need the money that you're required to take, consider using it for a charitable gift using the IRA Charitable Rollover.
In addition to the age limitation:
the gift must be made from an IRA – no other retirement plans (such as 401k, 403b or SEP accounts) qualify
your gift must come to Paoli Hospital outright – it cannot be used to establish a life-income arrangement or support a donor-advised fund
transfers must be made directly from a traditional IRA account by your IRA administrator to Paoli Hospital
Please contact Pam Costanzi in the Development office at 484.565.1394 or costanzip@mlhs.org for more details on this and other tax-advantageous methods of charitable giving.
---
Serving our area seniors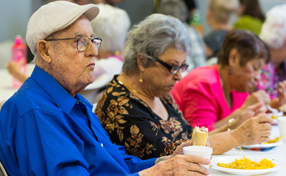 Senior citizens in our community continue to utilize Paoli Hospital—not only as a trusted provider of medical care but also as a resource for maintaining their health and even a venue for social and educational gatherings.
This past month, our Community Health Services Department offered two specially developed programs for seniors. The Senior Supper Club is a long-standing tradition for many seniors in Chester County. Each month, 70–80 seniors attend the program in the Potter Room at the Hospital. In March, attendees were served a freshly prepared dinner of spaghetti and meatballs and enjoyed a presentation from Janet Wendle about diabetes and weight management.
The following week, many returned to the Potter Room for an entertaining evening with local historian Ross Kershey who spoke about the Truman years.
"Many individuals who attend these programs live at home alone. These programs are not only a great opportunity for them to socialize but they also become acquainted with Paoli Hospital and our staff. This familiarity helps lessen stress and anxiety if they are admitted for care." explains Brad Zerr, Director of Community Health Services.
---
The Paoli Hospital Auxiliary swings into spring!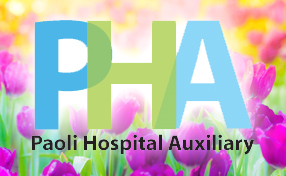 The Auxiliary welcomes spring with a busy social calendar and hopes you can join us in supporting Paoli Hospital by attending! Please call 484.565.1380 if you have any questions, or would like more information.
Swing into Spring Fashion Show & Luncheon
Waynesborough Country Club | Thursday, April 21 | 11:30 am
$55/person
Hershey's Mill Showcase of Homes
Thursday, May 5 | 10:00 am–4:00 pm
$25/person for the tour and $25/person for lunch
PHA Golf & Tennis Tournament
White Manor Country Club | Monday, May 9 | 11:00 am
Please visit paoliauxiliary.org/golf for ticket and sponsorship information
Polo Party at Radnor Hunt
Radnor Hunt | Sunday, June 12 | 4:00–8:00 pm
Please visit paoliauxiliary.org/polo for ticket and sponsorship information
---
Gifts support the hospital's high priority needs, such as new facilities and technology, or a gift can even be designated to support a clinical area, such as the Cancer Center or the Maternity Unit. If you would like to make a gift in honor of your caregiver, please make a gift online or call the Foundation at 484.565.1385.