Book talk with Dr. Keith Laskin, Main Line Gastroenterology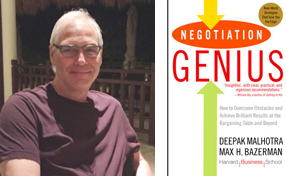 "I started reading "Negotiation Genius" by Deepak Malhotra and Max Bazerman on vacation in Boca while relaxing at the pool. It's a terrific book! Great for everyone, whether a business professional or just someone who wants to learn how to get more things to go his/her way."

We would love to hear feedback of a book you have recently read. Let us know what you have read or are currently reading.
---
Pennsylvania Association of Healthcare Auxiliaries annual meeting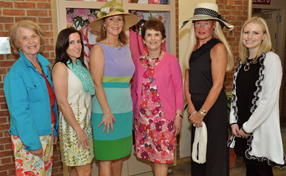 The Paoli Hospital Auxiliary hosted members of the Pennsylvania Association of Healthcare Auxiliaries on Tuesday, April 14th for their annual spring meeting. Dr. Kris Kaulback, Trauma Medical Director, welcomed the guests before they participated in a panel discussion ranging in topics from membership to fundraising. The afternoon ended with lunch and a fashion show provided by The Palm Tree and Lori's Gifts.
---
Main Line Health Auxiliaries luncheon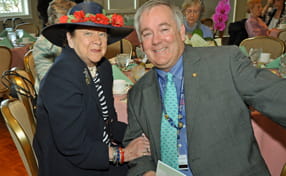 Pat Reeser, a member of the Anthony Wayne branch of the Paoli Hospital Auxiliary, chats with Main Line Health President and CEO Jack Lynch at the Main Line Health Auxiliaries' luncheon on April 22nd at Springfield Country Club. The luncheon featured a presentation by journalist, author and breast cancer survivor Lu Ann Cahn. Her inspirational memoir "I Dare Me" chronicles her year-long quest to experience something new every day. More information about her story can be found at luanncahn.com.
---
April in Paris luncheon and fashion show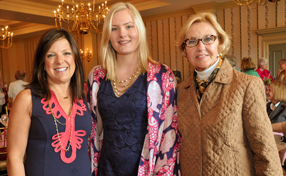 Paoli Hospital Auxiliary in-coming President Carol Rabe Palmer, joins members Carolyn Ritz and Aerin Lake at the April in Paris luncheon and fashion show on April 23rd at Waynesborough Country Club to benefit Paoli Hospital. Guests enjoyed a taste of the season's latest trends from local retailers Louella, the Van Cleve Collection, Englund's Apparel for Men, and Chico's.
---
Paoli nurse Melissa Winters receives Sandy McAleer Award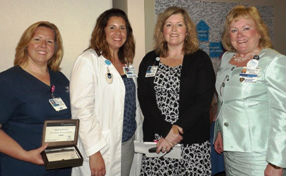 Melissa Winters, staff nurse, 4B, is the recipient of this year's Sandy McAleer Award. Melissa began working at Paoli Hospital in 2008 as a weekend PCT and became a nurse in 2009. She is currently enrolled in a BSN program, will graduate in June, and start her Master's Degree Program in Nursing in September. The award was established in 2010 in honor of Sandy McAleer, ICU nurse and Paoli Hospital Auxiliary member and officer.
---
Paoli names two John S. Willens Memorial Scholarship winners!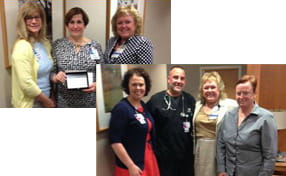 The John E. Willens Memorial Scholarship is awarded annually to Paoli Hospital employees who endeavor to reach career goals through further education. Paoli Hospital's Carol Devlin, OR nurse, and Dave Shirlow, clinical coordinator, Respiratory, each received the 2015 John S. Willens, MD, Memorial Scholarship. Both Carol and Dave received $2,500 to help with the costs associated with their educational goals.
Top left photo: (L-R) Diane Wolk, nurse manager, OR & PACU, Carol Devlin, and Jan Nash, VP, Patient Services. Bottom right photo: (L-R)Karen Kofalt, director, Respiratory, Dave Shirlow, clinical coordinator, Respiratory, Jan Nash, VP, Patient Services and Joyce Willens, widow of John S. Willens, MD.
---
Honor your caregiver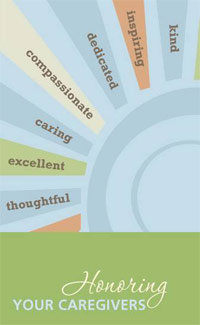 Patients and families whose lives have been touched by the care they or a loved one has received while in the hospital often make a gift in honor of their physician, nurse or staff. Last month, the Foundation received gifts in honor of the following physicians, staff and volunteers:
Jennifer L. Armstrong, MD
Matthew R. Astroff, MD
M. Lisa Attebery, DO
Orr G. Barak, MD
James R. Bollinger, MD
Andrew R. Bowman, MD
Jeffrey C. Brand, DO
Lynda A. Burkert, RN
Barry H. N. Burkhardt, DO
Norman M. Callahan, III, DO
Jill Barrie Cohen, DO
Yelana Custis
Michael B. Dabrow, DO
Stephen C. Fox, MD
Timothy T. Fox, MD
Eliot B. Friedman, MD
Frank H. Furman, MD
Sherry S. Garg, MD
Charles S. Gawthrop, MD
Angela M. George, RN
Eliot M. Gerber, MD
Matthew A. Goldstein, MD
Joseph A. Graversen. MD
William R. Greer, MD
Atul Gupta, MD
Marie Harper, RN
David O. Holtz, MD
Lisa R. Kallenbach, MD
Lawrence I. Katin, MD
Adam B. Kaufman, MD
Gary and Cindi Kirshner
Susan Knox
Ronald E. Krauser, MD
Scott A. Kripke, MD
Jennifer G. Kwan-Morley, MD
Ralph A. Lanza, MD
Steven M. LaPorte, MD
Keith J. Laskin, MD
Robert J. Lawlor, MD
Sofiya Leake, RN
Mark Levy, MD
Christopher A. Lucas, DO
H. Todd Lustine, MD
Arthur T. Martella, MD
Donald W. Mazur, MD
Nirav N. Mehta, MD
Jeffrey R. Melrose, DO
William G. Merriam, MD
Kenneth E. Morgenstern, MD
Herman D. Movsowitz, MD
Gregory J. Ochsner, MD
John J. O'Hara, Jr., MD
Genevieve Perez-Serrano, RN
Paoli Hospital Nursing Staff
Robert T. Schuster, MD
Staff of Robert T. Schuster, MD
Konstadinos A. Plestis, MD
Leo A. Podolsky, MD
Robert W. Priem, MD
Pallavi M. Rastogi, MD
Ann E. Reilly, MD
Lauren A. Rome, MD
Robert A Ruggiero, Jr., MD
Curtis N. Scovill, MD
Matthew Sewell, MD
Kevin E. Shinal, MD
Neal F. Skop, MD
Elizabeth Sunderland, MD
Ira M. Thai, MD
Marc R. Toglia, MD
David R. Trevino, MD
Richard P. Tucci, MD
Andrew B. Ulichney, II, MD
Sandra Urtishak, MD
Cynthia Wagner, RN
Nancy L. Walker, RN
John K. Wildemore, IV, MD
Brian F. Wilner, MD
Michael B. Wolfson, MD
Susan M. Zuk
---
Gifts support the hospital's high priority needs, such as new facilities and technology, or a gift can even be designated to support a clinical area, such as the Cancer Center or the Maternity Unit. If you would like to make a gift in honor of your caregiver, please make a gift online or call the Foundation at 484.565.1385.