Connecting with Meghan Sayer, Paoli Hospital Foundation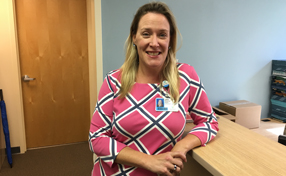 Meghan Sayer has joined the Paoli Hospital Foundation as the new Executive Director. Meghan is returning to Main Line Health after eight years in the development office at Westtown School. Prior to her time at Westtown, Meghan was Associate Director of Development at Bryn Mawr Hospital from 2002–2007 helping with the $15 Million dollar Emergency Department Campaign.
Meghan is a graduate of Penn State University with a Master Degree in Human Service Administration. She loves that her job in development allows her to meet a variety of people who want to make a positive impact on their community. Since returning to Main Line Health she has been impressed by the warmth of the Paoli Hospital staff and the generosity of our donors. "Everyone has been so helpful and reading the dozens of grateful patient stories affirms that I am just where I need to be."
Meghan is a resident of Berwyn with her husband and two sons. She enjoys watching her boys play baseball, and soccer, running on the Chester Valley trail, and spending time with her extended family.
Chester County District Attorney Tom Hogan presents to Community Services Committee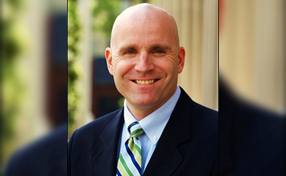 Prescription drugs have become the number one cause of death in the United States. To better understand this epidemic, the Community Services Committee recently invited District Attorney Tom Hogan to present.
Mr. Hogan reported that 70 percent of the American population is currently prescribed medication (e.g., antibiotics, antidepressants, opioids) by a physician, putting them at higher risk for addiction and/or overdose. This problem is at our own back door, as Pennsylvania is ranked #9 nationally in drug-related incidents.
To combat this growing epidemic, permanent medication collection boxes are available throughout Chester County. These boxes offer residents the opportunity to safely and anonymously dispose of unwanted and expired drugs and medication. For a list of accepted and non-accepted medications, as well as a list of locations, please visit the Chester County medication drop off website.
Additionally, Mr. Hogan reported that the Good Samaritan Law, passed in 2014, gives immunity from prosecution to any individual who calls 911 and stays with someone who has overdosed. This law has made it possible for first responders to save more lives.
Auxilian of the Year award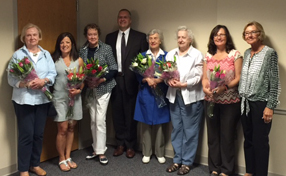 The Auxilian of the Year is awarded to active members of the Paoli Hospital Auxiliary who demonstrate qualities of leadership, commitment, longevity and enthusiasm. These amazing women have distinguished themselves by working to carry out the Auxiliary's mission to raise money and increase awareness for the continued health and welfare of the community. They inspire their fellow members through hard work and the dedication of their time and energy.
The members of each branch were asked to select one individual from their branch who they felt was deserving of this accolade. The recipients are listed below:
Anthony Wayne Branch – Pat Reeser
Charlestown Branch – Carolyn Ritz
Conestoga Branch – Louise Beck
Employee Branch – Caroline Haggerty
Great Valley Branch – Pat Ross
Hershey's Mill Branch – Mims Kerr
If you are interested in joining the Paoli Hospital Auxiliary, please visit paoliauxiliary.org or call 484.565.1380 for more information!
Paoli Hospital Outstanding Employee award winner named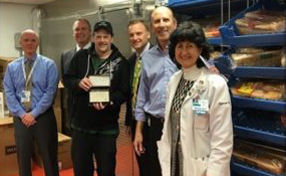 Paoli Hospital's Daniel Roberts, Food and Nutrition Department, was named the 2016 Outstanding Employee at Paoli Hospital. The $1,000 award is provided by the R.C. Fried Family Fund at Paoli Hospital Foundation.
Roberts, who was nominated by Sue Zuk, director, The Cancer Center of Paoli Hospital, was cited for his work with the Coatesville Women and Youth Shelter and the Coatesville community and his inspirational efforts of volunteerism. He has enlisted the help of Paoli Hospital staff to join him in his cause. "I was humbled to work together with such a wonderful group led by Dan's leadership," said Zuk. "He truly displays the qualities of commitment and humble service to an underserved community."
Paoli Hospital – Find us in YOUR community!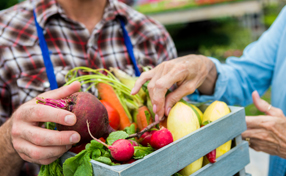 This summer, Paoli Hospital is sponsoring a number of fun community events, including the Tredyffrin Township Summer Concert Series at Wilson Farm Park and the West Whiteland Summer Concert Series at Albert C. Miller Memorial Park.
At several of these events Paoli Hospital will be represented with health education tables—come and say hello! We are also participating in the East Goshen Township Community Day (Saturday, August 27th) providing free health screenings as well as health education information. Throughout the summer, you can also find us providing nutrition lectures at the East Goshen Farmers Market. We hope to see you out there!
---
Gifts support the hospital's high priority needs, such as new facilities and technology, or a gift can even be designated to support a clinical area, such as the Cancer Center or the Maternity Unit. If you would like to make a gift in honor of your caregiver, please make a gift online or call the Foundation at 484.565.1385.