The 2018 Paoli Hospital Auxiliary Golf Tournament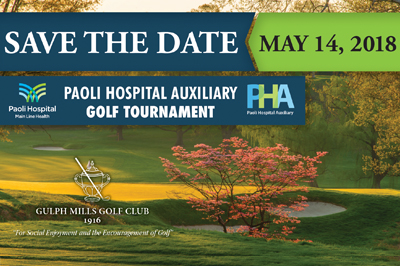 Please join us for the Paoli Hospital Auxiliary Annual Golf Tournament on Monday, May 14, 2018 at Gulph Mills Golf Club, 200 Swedeland Road, King of Prussia. Enjoy a great day on the links, play a hole with a long-drive champion for a chance to win a fabulous trip for two, or sink a hole-in-one and take home a grand prize—all while supporting the state-of-the-art care Paoli Hospital delivers to our community. To preview this year's many new, exciting features and sponsorship opportunities—including early birdie specials—visit paoliauxiliary.org/golf. To request an invitation via mail later this spring, please contact the Paoli Auxiliary Office at 484.565.1380 or send an email to paoliauxiliary@mlhs.org.
Main Line Health announces health center in King of Prussia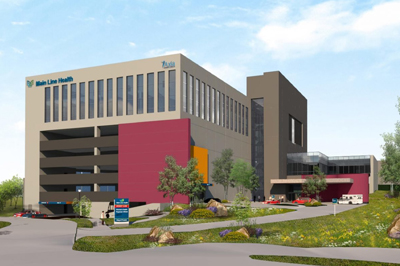 Main Line Health announced plans to expand its presence in the greater Philadelphia region, with a new women's health-focused center in King of Prussia. The new facility will serve as a distinctive destination to address women's physical, emotional and wellness needs in a seamless, coordinated manner embedded within a warm, healing environment. Some of the services provided specifically for women will include:
Women's primary and specialty care services – Rheumatology and autoimmune services, digestive health care, headache and neurology, healthy aging and gerontology, heart and vascular care, endocrinology, primary care, obstetrics and gynecology, menopause and midlife center, pelvic floor care, reproductive endocrinology and infertility services
Life enrichment services – Women's emotional wellness, including individual and group counseling and post-partum depression care; comprehensive weight management; integrative medicine and mindfulness therapies, including acupuncture and Reiki
Breast health – Mammography, ultrasound, biopsy and surgical consults
Skin care – Dermatology, esthetics, and plastic surgery consults
Also located within the new facility, Main Line Health will operate an ambulatory care center that will bring health and wellness services to men and women of the greater King of Prussia community, including primary care, cardiology and cardiac testing, endocrinology, neurology, general surgery, orthopaedics, imaging, physical therapy and lab services. In addition, a child watch area, parenting support services, nutrition services, a demo kitchen and a medical retail space will be offered.
Gifts at work: Massage therapies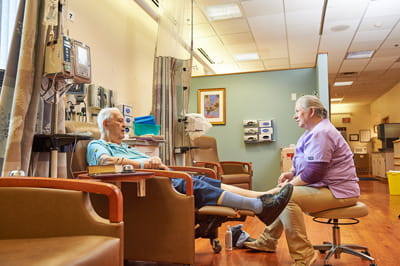 This past year, 421 grateful patients and donors contributed $72,824 to support the Paoli Hospital Cancer Center. Charitable gifts to the Cancer Center support a wide range of patient services, including oncology massage. This specialized service is provided by therapists specially trained in modified massage techniques to support cancer patients. Massage therapy can reduce muscle tension and loosen sore joints thereby minimizing physical pain. It can also improve emotional well-being and quality of life by reducing stress and anxiety experienced during cancer treatment.
Please consider supporting massage therapies for cancer patients by making a charitable gift to the Cancer Center today!
Eagles Superbowl party draws support for Paoli Hospital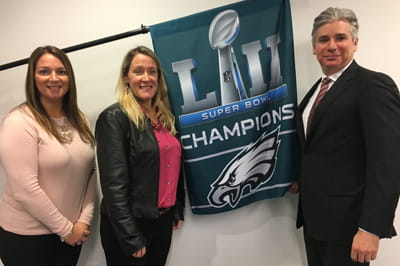 Employees of Universal Atlantic Systems (UAS) in Paoli rallied together earlier this month to celebrate the Philadelphia Eagles at a company-sponsored Superbowl party. Festivities included a 50/50 raffle to benefit the maternity and neonatal intensive care units at Paoli Hospital. The UAS events committee which organized the party estimates that about 40 employees contributed to the raffle, generating $800. "It was a win on all fronts," explains Meghan Sayer, executive director of the Paoli Hospital Foundation. "We were thrilled that UAS employees chose to mark this historic victory with a donation to their community hospital. This spirited generosity is a wonderful example of what makes our community so special."
Scott R. Elkins is president of UAS, a national provider of integrated security services, which protects more than $15 billion in commercial and residential assets. Since its founding in 1972, UAS has provided various services to its clients including comprehensive security analyses as well as specific offerings including burglar and fire alarm protection and closed circuit TV (CCTV) monitoring.
Introducing

My

Main Line Health

Chart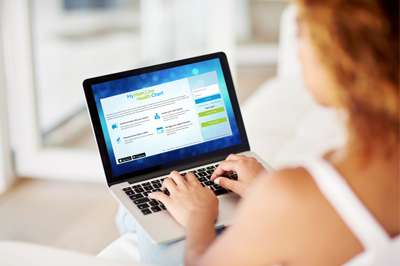 Beginning Saturday, March 3, 2018, Main Line Health patients will have access to a new patient portal called My Main Line Health Chart. This portal is part of a new electronic health record platform, called Epic, that will transform the way we interact with patients and further enhance our ability to serve as a leader of care delivery in this region. In March, patients will receive an activation code for a new My Main Line Health Chart account during their next appointment. Here are some features you'll have access to when you set up your new account:
Communicate with your care team
Schedule appointments with your current providers
Request prescription refills
View lab and test results
Access your account on-the-go via a mobile app
Pay bills easily
Thank you for your patience as we make way for this new and improved tool. If you have any questions or need assistance, please call 484.580.1080 or email portalsupport@mlhs.org.
Bob Ruggiero, MD, supporting the future of Paoli Hospital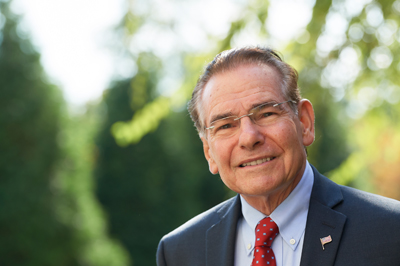 Since 1973, when I began practicing medicine at Paoli Hospital, I have held many positions including vice chairman of the Paoli Hospital Department of Surgery, campus chief of the department of surgery and system chief of orthopaedics for Main Line Health. I built my career in this community and raised my family here. Many of my grandkids were born at Paoli Hospital and recently, while undergoing a knee operation here, I witnessed firsthand the state-of-the-art facilities and exemplary patient care that Paoli Hospital has to offer. Over the years, my wife Arlene and I watched the hospital grow tremendously and lent our philanthropic support along the way. But we decided to do more. We created a charitable gift annuity (CGA), allowing us to make a meaningful legacy gift to the hospital, while enjoying a fixed source of income. We wanted a way to continue nurturing Paoli Hospital's growth through philanthropy for years to come, ensuring the hospital will remain at the forefront, and enhancing patient care with compassion and dignity.
I encourage you to consider the many ways that you too can plan a gift—like a CGA a gift through your will, or an IRA designation—that supports the future of Paoli Hospital.
– Bob Ruggiero, MD
Visit mainlinehealth.org/paoligift to share your reasons for giving! We'll send you a Paoli Hospital fleece blanket as our gift of thanks for your interest!