Year-end message from Meghan Sayer
Amid this season of gratitude, we thank you for your support of Paoli Hospital. Please find this short video message from Meghan Sayer, Executive Director of the Paoli Hospital Foundation and accept our wishes for a safe and happy holiday season!
---
"Why I Give" featuring Dr. Anne Bussard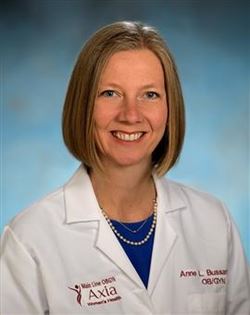 I am so grateful to practice as an obstetrician at Paoli Hospital. It really feels like the best of both worlds—a community-oriented hospital with many of the resources found in large urban medical centers. I've seen firsthand the impact philanthropy has made on the Maternity and Neonatal Intensive Care Units. Recently, donations have supported the purchase of new bassinets and sleeper sofas, as well as continuing education opportunities for our nurses and staff. I donate to support this high-level of care for my patients and community. I've also made donations to honor the life-saving care delivered by my colleagues in the Trauma Center. To those of you who support Paoli Hospital with your own charitable giving — thank you! It's truly an honor to join you in making Paoli Hospital a philanthropic priority.
---
Foundation board chair named Volunteer Fundraiser of the Year
The Association of Fundraising Professionals (AFP) of Philadelphia selected Patricia Holloway, Paoli Hospital Foundation's Board Chair, as the Volunteer Fundraiser of the year. Patty is recognized for her commitment to a wide-range of organizations including Main Line Health, Villanova University, The Archdiocese of Philadelphia, After School All-Stars, St. Charles Borromeo Seminary, and Amigos de Jesus an orphanage in Honduras.
---
Paoli Hospital earns national distinction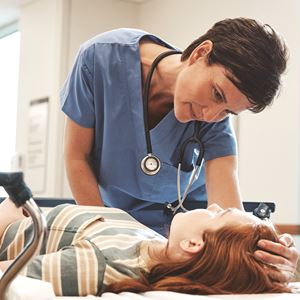 Paoli Hospital announced it has been named a 2021 Guardian of Excellence Award® winner by Press Ganey, the national leader in healthcare consumer and workforce engagement. Press Ganey recognizes Paoli Hospital as a top-performing healthcare organization achieving the 95th percentile or above for performance in patient experience in inpatient care.
The Press Ganey Guardian of Excellence Award® is a preeminent, competitive achievement for leading healthcare organizations. Presented annually, the award applauds hospitals and health systems that consistently sustained performance in the top 5% of all Press Ganey clients.
"We are proud to once again be recognized with this award, which demonstrates the values at the core of what we do each day – our commitment to the safety of our staff and patients and the quality of care we provide" said Jim Paradis, President of Paoli Hospital. "Thank you to our employees and medical staff for their continued dedication to provide for our patients during this stressful time."
"Press Ganey is honored to recognize Paoli Hospital as one of the nation's leaders in patient experience," said Patrick T. Ryan, chairman and chief executive officer, Press Ganey. "This award reflects an unwavering commitment to earn the trust and loyalty of patients throughout unimaginable challenges. We are humbled by Paoli Hospital's incredible efforts, and their ability to adapt to imperatives of COVID-19 on top of the increasing demand for consumerism in healthcare."
Press Ganey partners with more than 10,000 health care facilities, including more than half of all U.S. Hospitals, to measure and improve the patient experience. The Press Ganey Guardian of Excellence Award is a health care industry symbol of achievement.
---
Partners magazine showcases the Interventional Vascular Suite
This annual publication features the many inspiring stories of charitable giving at Paoli Hospital and provides the latest news and events. View our 2021 edition.