Mistletoe and Magic celebrates 25 years!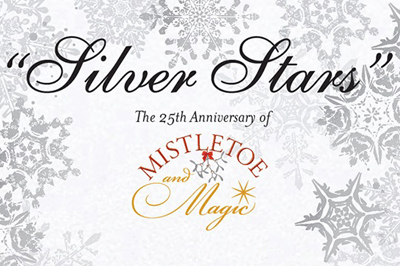 Mistletoe and Magic is the Paoli Hospital Auxiliary's major annual fundraising event. The 25th anniversary theme this year was "Silver Stars."
This joyful celebration honored the many exceptional men and women in our community, including Paoli Hospital Foundation Board Chair, Patty Holloway and Community Volunteers in Medicine's Vice President of Medical Affairs, Mary Wirshup, MD. Always a fun night to support the hospital, this year did not disappoint! The event raised an estimated $200,000 to support Main Line Health's Women's Emotional Wellness Center in King of Prussia.
Comprised of 260 members, the Paoli Hospital Auxiliary mission is to raise funds and awareness for Paoli Hospital. Over the years, the Auxiliary has contributed more than $10 Million to Paoli Hospital's Cancer Center, Trauma Center, Breast Health Center, Advanced Maternity Unit, new surgical suites, and Emergency Department.
---
First patient to receive micro pacemaker at Paoli celebrates 100th birthday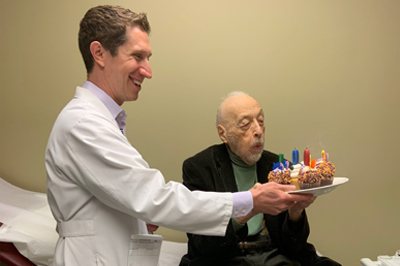 Earlier this year, Matthew Goldstein, MD celebrated the 100th birthday of the first patient to receive a micro pacemaker at Paoli Hospital. The single-chamber pacemaker, which is around the size of a vitamin tablet, was inserted in August 2017 via a catheter through the groin. While the most notable difference from a traditional pacemaker is its size, the micro pacemaker is also safer. With 48 percent fewer complications than other pacemakers and a 99 percent success rate with implantation, the device is considered a major breakthrough in technology for patients who are not candidates for traditional pacemakers.
Pacemaker-implant surgery is a minor procedure that takes just a few hours in the hospital's Cardiac Catherization Lab. In the coming year, Paoli's Cardiac Catherization Lab will be renovated and relocated to the second floor of the pavilion where it will be housed within the hospital's new Neurointervention Lab. Paoli Hospital Foundation has committed to raising $3 million in support of this capital improvement.
Support the Neurointerventional Program
---
Grateful patient inspires blood drive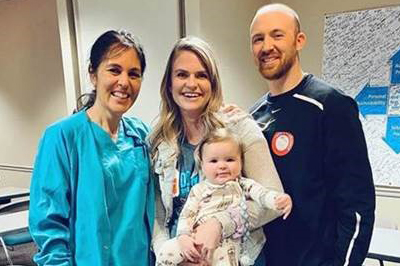 To honor all the blood donors and thank those who helped save her life, Kayleigh Summers organized a replenishment blood drive earlier this month at Paoli Hospital. Throughout the day, 70 units were collected, which will be separated and go on to aid 210 local hospital patients! Kayleigh, along with her husband and their infant son, attended the blood drive, which was incredibly healing for the physicians and staff. In July, Kayleigh experienced a rare, but life-threatening, amniotic fluid embolism while in labor at Paoli Hospital. On behalf of Kayleigh and her family, thank you to the many blood donors for opening your time and hearts.
Sign up for the next blood drive
---
Estate planning in the new year
The month of January is the perfect time to tackle life's to-do list. From an estate planning perspective, everyone should consider taking the time to review their will and beneficiary designations on life insurance policies and retirement assets. During this process, thought should be given to the people, things, and causes that are important to you. Ask yourself, "How do I want to be remembered? What legacy would I like to leave for my family and friends? Is there anything I can do with a portion of my estate that will help to advance the organizations that are important to me?"
If you would like to say "thank you" for the great care you, a family member or friend received at Paoli Hospital please consider naming Paoli in your will or designating the hospital as a beneficiary of a life insurance policy, IRA, or some other retirement asset.
Gifts from estates leave a lasting legacy here at the hospital and ensure that Paoli will always be here for our community. As an example, earlier this year, Paoli Hospital's Cancer Center received a generous $25,000 specific bequest from the Estate of Linda Frisinger. Linda, a local resident and former patient, wanted to help Paoli's Cancer Center continue to carry out its high quality, compassionate care.
For more information about this giving opportunity or other ways to contribute to Paoli Hospital, please contact Meghan Sayer at [email protected] or 484.565.1688.
---
A special message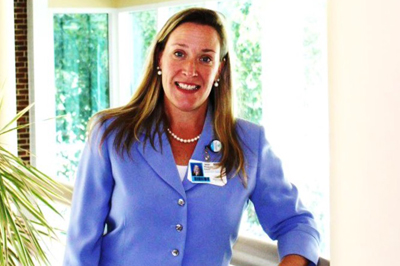 This time of the year is very special. We step aside from our busy days and share our gratitude for what is truly important—our health, family and friends.
What did you give thanks for this holiday season? The Paoli Hospital Foundation is thankful for the wonderful kindness and generosity of our volunteers, donors, trustees and auxilians.
Many of you have already made charitable gifts to the Paoli Hospital Foundation this year, but if you haven't already, or if you'd like to give something extra this holiday season, we hope you'll consider a gift in honor of a hospital volunteer or staff member, or even in memory of a loved one.
While the Paoli Hospital Foundation informs individuals of gifts made in their honor, we do not disclose the amount. Your gift will support such things as nursing education, state-of-the-art equipment, and important patient-care programs.