Connecting with Mustapha Afrani, patient care technician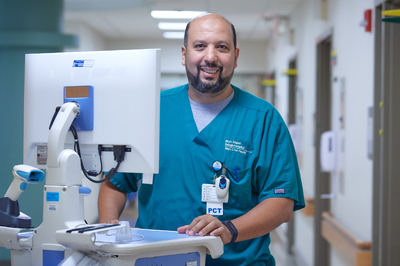 Recently, the Paoli Hospital Foundation received a donation with a letter enclosed from a patient's granddaughter, expressing her gratitude for the care Moose provided. "Moose came in, held my grandfather's hand, and reassured him to rest and be strong to get through this tough time," she said. "It was as if my grandfather was someone from his own family, and I could see the care and compassion he had for my grandparents."
Moose shared that he likes working in health care because he and his colleagues have an opportunity to turn a negative into a positive with their interactions. "I like to know that I'm making a difference and helping someone when they need it most," he said.
Moose completed coursework to become a certified nursing assistant at Delaware County Community College, while working in housekeeping at Bryn Mawr Rehab. He was drawn to the field and to Main Line Health because of the many opportunities to learn and grow as a professional.
The Paoli Hospital Foundation applauds Moose for his compassionate care which inspires generous charitable gifts from patients and the Paoli Hospital family. To share your gratitude for any Paoli Hospital employee or physician, email us at [email protected].
---
Mistletoe and Magic 2018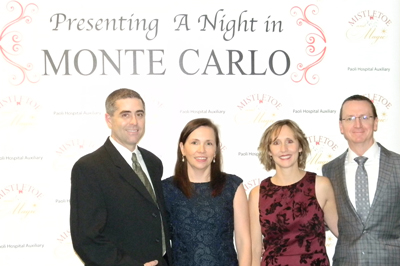 Mistletoe and Magic is the Paoli Hospital Auxiliary's major annual fundraising event. The theme this year was "A Night in Monte Carlo," and was held on Saturday, December 1 at the Desmond in Malvern. Always a fun night to support the hospital, this year did not disappoint!
Comprised of 260 members, the Paoli Hospital Auxiliary mission is to raise funds and awareness for Paoli Hospital. Over the years the auxiliary has contributed funds of nearly $10 million for the cancer and trauma centers, the Breast Health Center, an advanced maternity unit, new surgical suites, and the emergency department.
View photos from Mistletoe and Magic 2018 (Google Photos)
---
Using your traditional IRA to make charitable gifts this year is more advantageous than ever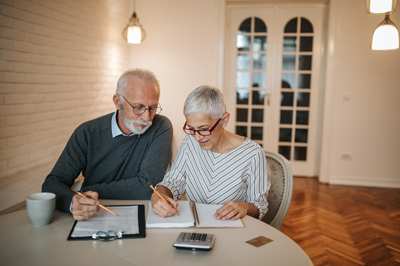 The IRA Charitable Rollover provision is a tax planning strategy for donors age 70½ and older giving anywhere from $100 to $100,000. With recent changes to tax laws that will encourage millions of Americans to take the increased standard deduction, this vehicle has become even more relevant to donors.
The IRA charitable rollover counts as part of your required minimum distribution, but isn't taxable income to you. That's a significant benefit, particularly if you don't itemize deductions on your individual tax returns. If you take advantage of this provision, you can exclude the amount distributed to Paoli Hospital from your taxable income.
Even if you itemize, it can save you more on taxes than taking the IRA distribution and then donating it. For example, by lowering your income, the charitable rollover may keep other income from being subject to the 3.8 percent net investment income tax. Another benefit is that it might save you from high-income premium surcharges for Medicare.
To qualify for this opportunity:
You must be 70 ½ or older when you make the gift
The gift must be made from an IRA – no other retirement plans (such as 401k, 403b or SEP accounts) qualify
Your gift must come to Paoli Hospital outright – it cannot be used to establish a life-income arrangement or support a donor-advised fund
Transfers must be made directly from a traditional IRA account by your IRA administrator to Paoli Hospital
If you do not need all of the money that you're required to take through your minimum required distribution for this year, please consider contributing part of it to Paoli Hospital using the IRA Charitable Rollover.
Please contact the Paoli Hospital Foundation at 484.565.1688 or [email protected] for more details on this and other tax-advantageous methods of charitable giving, or please visit our planned giving website.
---
Gifts at work: Integrative therapies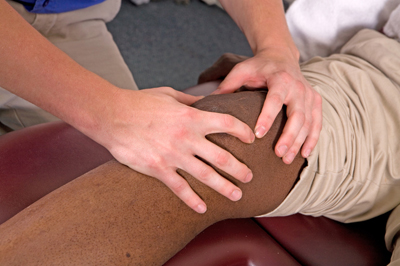 Last month, Vanguard made a $20,000 donation to the Paoli Hospital Foundation in recognition of the innovative ways Paoli Hospital is working to improve patient care. The hospital has chosen to allocate this gift in support of the integrative therapies. Funding will enable nurses to train in reiki therapy. Their training involves an understanding of the human energy field and an ability to use one's hands to channel energy to areas of the body that need healing. The premise is that when someone is ill, there is a disturbance in that person's energy field, and reiki can help restore balance and harmony to the body. Some patients report a sense of calmness, relaxation and a decrease in pain after a reiki treatment. The treatments are provided at no additional cost to the patient.
Kathy McLaughlin, DNP, RN, CWOCN, wound care educator who is overseeing the program explains, "Reiki is a meaningful therapeutic service for many of our patients and the nursing staff is thrilled to further our education in this non-pharmacological approach to pain management."
Additionally, funding from the award will be used to purchase aromatherapy oils. Across the Main Line Health system, more than 200 nurses are trained in clinical aromatherapy, which is the use of essential oils for relaxation and pain relief. Patients in any one of the four hospitals may receive a calming lavender hand massage, for example, or peppermint inhalation for nausea.
The contribution to Paoli Hospital was awarded through the Vanguard Hometown Grants Program which provides community grants to nonprofit agencies in the communities near and around where Vanguard operates. Funded by the Vanguard Group Foundation, the program is run by local investment committees made up of crew (employee) volunteers, who select and vet the giving strategies. Vanguard Hometown Grants Program currently operates out of Vanguard's Greater Philadelphia, Greater Charlotte, and Greater Phoenix offices.
---
Paoli Hospital Foundation welcomes new trustees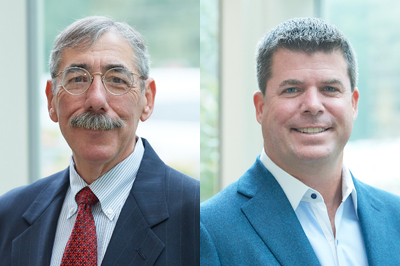 The Paoli Hospital Foundation recently appointed Robert J. Bucco of Malvern and Charles T. Ehlers, Jr. of West Chester to its Board of Trustees. In their roles, they will assist with the Foundation's fundraising efforts and provide input to the Board on community needs.
"Bob and Charles' professional experiences combined with their knowledge of fundraising and their community connections will serve the Paoli Hospital Foundation well," said Jim Paradis, president, Paoli Hospital. "They are a valued and welcomed addition to our hospital."
Learn more about our new trustees