Mistletoe & Magic 2017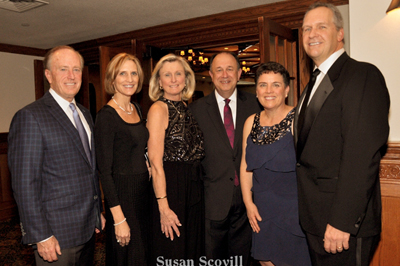 Mistletoe & Magic is the Paoli Hospital Auxiliary's major annual fundraising event. The theme this year was "A night in Monte Carlo," and was held on Saturday, November 18 at Aronimink Golf Club in Newtown Square, Pennsylvania. Always a fun night to support the hospital, this year did not disappoint! Providing a new and exciting gaming atmosphere, shopping and bidding on holiday gift items that ranged from elegant to extravagant, and superb food and drink at one of the area's most exclusive venues, the event raised more than $80,000 for the auxiliary's $400,000 pledge for 2017–18.
Comprised of 260 members, the Paoli Hospital Auxiliary mission is to raise funds and awareness for Paoli Hospital. Over the years the auxiliary has contributed funds of nearly $10 million for: cancer and trauma center, breast health center, advanced maternity unit, new surgical suites, and the emergency department.
Support of the Paoli Hospital Auxiliary fundraising events is always appreciated.
Golf outing May 14, 2018 – save the date!
The Paoli Hospital Auxiliary Annual Golf Outing is scheduled to be held on May 14, 2018 at Gulph Mills Golf Club, 200 Swedeland Road, King of Prussia. Please mark your calendars so you can join us! For more information or to receive an invitation later this spring, please contact the Paoli Auxiliary Office at paoliauxiliary.org.
Gifts at work: Cancer center staff education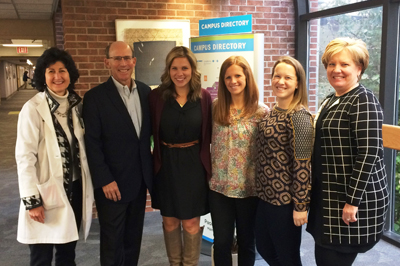 Four years ago, the Hoover family decided they wanted to do something special for the staff of the Paoli Hospital Cancer Center. After meeting with Sue Zuk, cancer center manager, and Dr. Michael Dabrow, medical director, they agreed the most significant need was for continuing educational opportunities. Thus the Hoover Family Fund for Cancer Center Staff Education was founded and has been providing resources for the past three years to allow staff members to attend conferences and share online and digital educational resources to strengthen their professional skills. As Pete Hoover says, "It is all about helping the patients of the cancer center get the very best care," and he is happy to be able to help make that happen.
Join the Hoover Family by making a charitable gift in support Paoli Hospital.
Girl Scout project benefits emergency department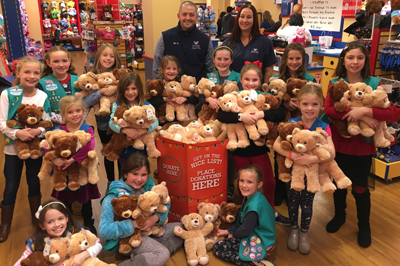 Earlier this month, three Paoli Hospital nurses met with a Girl Scout troop at the Build-A-Bear in King of Prussia. The girls were educated on stroke symptoms using the FAST (face, arm, speech, time) mnemonic, the modifiable risk factors for stroke, and how to call 911 from a locked iPhone. The girls also built 45 teddy bears that will go to children cared for in Paoli's emergency department. This activity was made possible by the Bronwyn Foundation which allocated a portion of their generous grant to creating a child-friendly environment in the Paoli Hospital Emergency Department.
Community Health Services department brightens the holidays for area families in need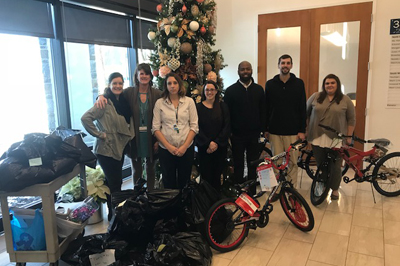 Throughout the holiday season, Paoli Hospital's Community Health Services department organized a series of gift, clothing and food drives to support families throughout our community. A total of 91 children (43 families) were sponsored through the Adopt-a-Family initiative and hundreds more benefitted from the collection of coats for Operation Warm as well as Salvation Army stockings filled with toiletries and small gifts for area children.
This marks the 10th year the Main Line HealthCare Central Billing Office (CBO) team has participated in the Adopt-a-Family initiative. This year, the department adopted 15 children who had provided their holiday wish list. In the photo above, members of the Main Line Healthcare CBO team (located at Ellis Preserve in Newtown Square) stand near the toys that were collected as part of the drive. These team members assisted in loading up the truck that took the toys to the families.
Phil DeAngelis, director of reimbursement services, said, "I'm blessed to work with a group of generous, community-minded individuals."
A New Year's resolution worth making: Advanced care planning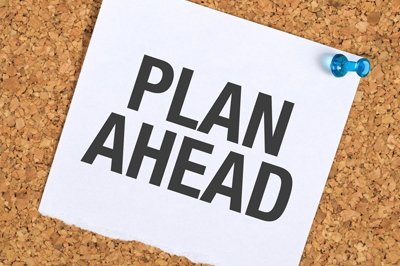 In the new year, many of us may take time to reflect on our lives and commit to making a change. While shedding a few pounds, spending more time with loved ones, or picking up a new skill are certainly worthy pursuits, one incredibly important resolution to consider is the execution of an advance health care directive.
Main Line Health, as your complete health care provider, has developed a process of advance care planning with a tool that can help you develop a directive in just a few minutes. This process has been shown to provide vital information to clinicians and will benefit you and your loved ones if you are unable to communicate your own end of life wishes.
Access the resources necessary to give this gift to your loved ones this year, visit mainlinehealth.org/acp.
Karl Ahlswede, MD FACS, medical director, palliative care, spoke in detail about this planning tool and delivered an overview of Paoli Hospital's palliative care program at a special event for loyal hospital donors earlier this year.