Paoli Hospital Auxiliary kicked off the holidays with Mistletoe and Magic
Over 250 guests attended the Auxiliary's premier fundraising event last month at Aronimink Golf Club. The event, which was chaired by Minette Lubker, will support the Auxiliary's commitment to Paoli Hospital's department of surgery and the Always There with Great Care campaign. The evening featured fine food and cocktails, music and a silent auction.
Photo credits: Duca studio and Susan Scovill
View photos from the Mistletoe and Magic event (Google photos)
Paoli Hospital receives distinction for high patient satisfaction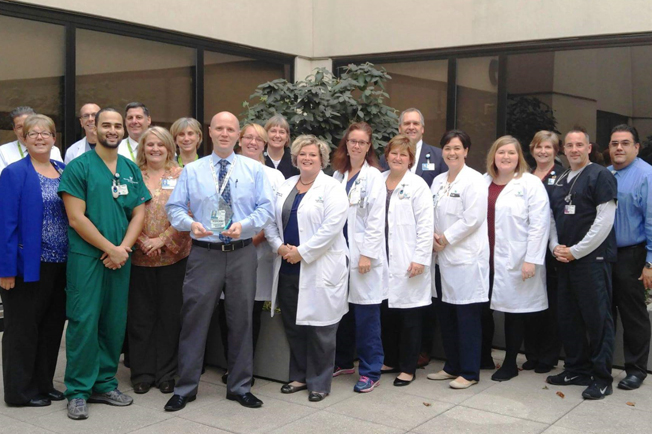 Paoli Hospital has been named a 2016 Pinnacle of Excellence Award winner by Press Ganey for extraordinary achievement in maintaining consistently high levels of excellence over three years for Patient Experience in Inpatient Care. The award was previously known as Guardian of Excellence. Paoli Hospital was the recipient of the Press Ganey Guardian of Excellence Award in 2014 and 2015 for Patient Experience in Inpatient Care, reaching the 95th percentile for each reporting period for the award years.
"We are proud to once again be recognized with a Press Ganey award, which exemplifies the commitment of our health care team to patient satisfaction and clinical quality," said Jim Paradis, president of Paoli Hospital. "It is an important honor to receive this award from the industry's leader in measuring, understanding and improving the patient experience."
For more than 30 years, Press Ganey's mission has been to support health care providers in understanding and improving the entire patient experience. As a strategic business partner to more than 26,000 health care organizations, Press Ganey leads the industry in helping clients transform the patient experience and create continuous, sustainable improvement.
Award winners were recognized at Press Ganey's National Client Convention last week in Orlando, Florida.
Art Ability Exhibition and Sale at Bryn Mawr Rehab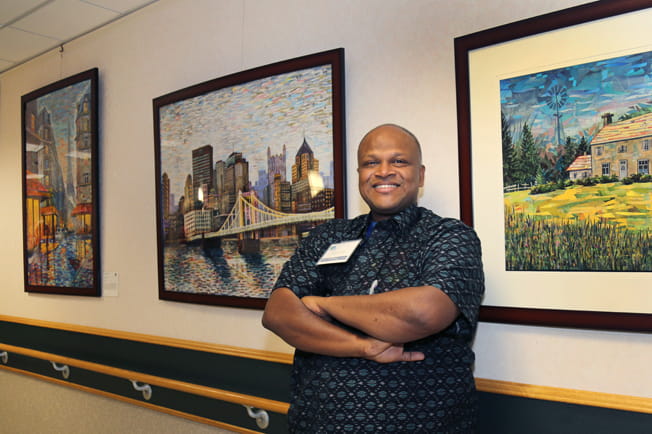 Visit, view and purchase artwork from the 21st Annual Art Ability Exhibition and Sale at Bryn Mawr Rehab Hospital from 8:30 am–5:00 pm daily through the end of January 2017.
Bryn Mawr Rehab Hospital's Art Ability is an integral part of the hospital and a year-round showcase and celebration of artists with disabilities. In its 21st year, the program includes the country's largest international juried exhibition and sale of art and fine crafts created by artists with cognitive, physical, hearing and/or visual disabilities. Art Ability began at Bryn Mawr Rehab Hospital in 1996 as an eight-week exhibition and sale of artists' works. Now in addition to the twelve-week annual exhibition, Bryn Mawr Rehab Hospital is an actively collecting institution whose permanent collection of over 300 objects is on display throughout the year.
Clinicians at the hospital often use the art as a tool to motivate and treat their patients. "Art Ability focuses our appreciation, not on the artists' disability, but, rather, their astounding artistic abilities," said Sherman Fleming, Art Ability Curator. "I am humbled and inspired by the artwork."
This year's exhibition features over 400 pieces of art by more than 200 artists. For more information about Art Ability 2016, including group tours, please contact the Art Ability Office at 484.596.5607.
Donate a star in honor of someone special on Paoli Hospital's Tree of Lights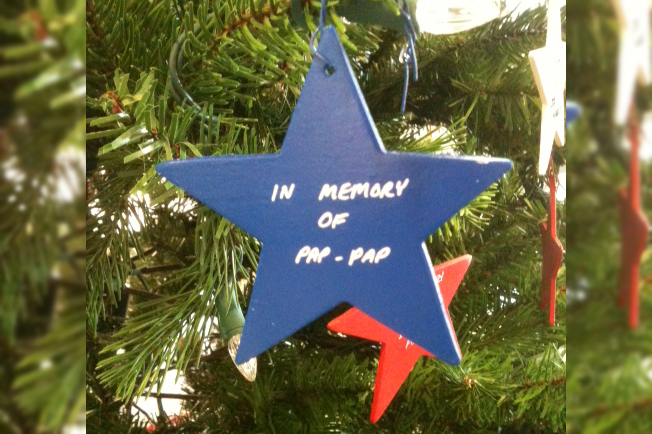 The Tree of Lights will stand in the Paoli Hospital Atrium through the month of December. Colorful stars adorn the tree symbolizing gifts made to the Paoli Hospital Auxiliary in honor and memory of loved ones, friends, physicians and nurses. To donate a start on the Tree of Lights in honor of someone special in your life this holiday season, visit paoliauxiliary.org. A special tree lighting ceremony was held earlier this month followed by a light lunch for hospital staff and visitors provided by the Paoli Hospital Auxiliary.
Main Line Health Concordville now open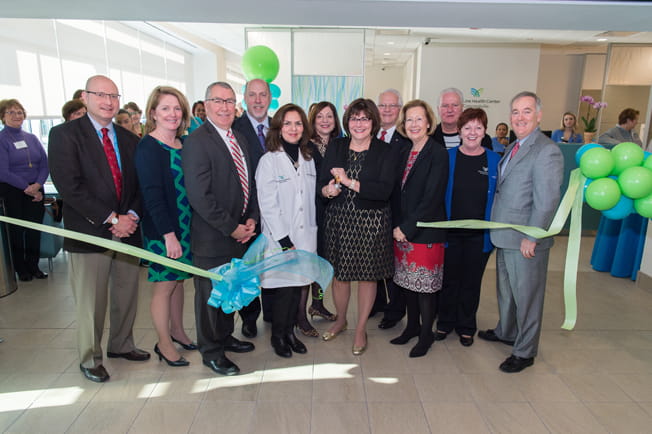 The new Main Line Health Concordville has opened as a premier destination for enhancing health and wellness for residents of Western Delaware County, Eastern Chester County and Northern Delaware. A ribbon cutting marked the opening on Wednesday, December 14, 2016.
Located on Route 1/Baltimore Pike, near the intersection of Route 202, the Main Line Health Concordville is a 135,000 square foot, three-story facility, strategically positioned in the growing Concordville community. The center demonstrates the system's commitment to enhancing the health status of the communities we serve. Highlights of the health center include: primary care, urgent care and specialty care including Lankenau Heart Group, OB/GYN and Nemours duPont pediatrics primary care, and a full complement of laboratory and imaging services. Also, Bryn Mawr Rehab will offer rehabilitation services and a concussion program.
An added feature of the health center is the new Fitness & Wellness Center, which includes cardiovascular, strength and free weight training equipment, fitness classes, an aquatic center and childcare services. Discounted memberships are available for all Main Line Health employees.
Pictured in the photo from the ribbon cutting (left to right): Paul Kempinski, enterprise vice president and president of Nemours/Alfred I. duPont Hospital for Children; Donna Phillips, president, Bryn Mawr Rehab Hospital and executive sponsor, Main Line Health PIVOT Project; Gary Perecko, president, Riddle Hospital; Eric Mankin, MD, president, Main Line HealthCare; Tomi McCann, MD, internal medicine; Lydia Hammer, senior vice president, Marketing and Business Development; Maria Flannery, director, Physician Practices and Ambulatory Care, Main Line HealthCare; Stephen Aichele, Esq., chair, Main Line Health Board of Governors; JoAnn Magnatta, senior vice president, Facilities Design and Construction; Gary Reidy, managing partner, Fitness and Wellness Professional Services; Kathy Jackson, patient service representative, Main Line Health Concordville; and Jack Lynch, president and CEO, Main Line Health.