Book talk with Scott Crim, Director of Environmental Services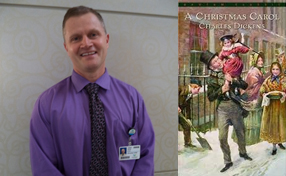 "When my son was asked to read A Christmas Carol as a school assignment, I decided to join him. A Christmas Carol is a great book to read anytime, especially around the holidays."
"As we get older our brains get filled with so much clutter, we can sometimes lose track of what is really important. Children bring so much energy, innocence and joy to Christmas, it's important that as adults we don't lose that."
"Another theme of the book is the importance of love and family. The old man Scrooge had all the money in the world, but nobody to share it with. What good is money if you are not sharing it with others and making others' lives better? Bob Cratchit, who Scrooge just fired on Christmas Eve, had very little money but a wife and five children who adored him. He was truly the rich man."
"Finally a strong message of A Christmas Carol is to make an impact on people while you are alive. Go the extra mile to make people happy because our time here is very short."
"There's never a bad time to read A Christmas Carol—it will make you feel good about life!"

We would love to hear feedback of a book you have recently read. Let us know what you have read or are currently reading.
---
Paoli Hospital Auxiliary hosts 21st Annual Mistletoe & Magic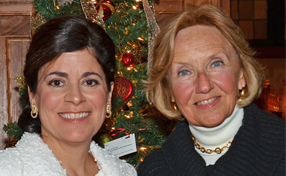 Over 290 guests attended the Auxiliary's premier fundraising event last month at Aronimink Golf Club. The theme of this year's Mistletoe & Magic was "Coming Home for the Holidays," in honor of the Auxiliary's former Executive Board Members and Branch Presidents.
The event was chaired by Minette Lubker. Over $130,000 was raised to support the Auxiliary's commitment to Paoli Hospital's Department of Surgery and the Always There with Great Care campaign.
The evening featured fine food and cocktails, music, a silent auction and a special fundraising appeal led by Jim Paradis and Dr. Robert Fried called "Raise the Mistletoe," which raised $10,000 to support the purchase of a Belmont Rapid Infuser.
---
Philanthropy supports the purchase of Tru-D!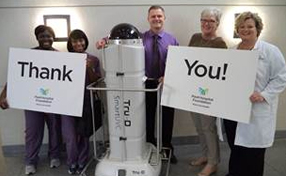 Thanks to the generous support of the Paoli Hospital Auxiliary and an anonymous donor, two Tru-D Robots are now helping to provide a safer environment at Paoli Hospital. Specially trained members of the Environmental Services Team are now using the robot after the traditional cleaning is complete.
Tru-D is an Ultraviolet C (UVC) light disinfection unit that measures reflected UVC from walls, floors and ceilings. A 360° array of UV sensors read the reflected dose of germicidal energy so that all shadowed surfaces receive a proper, lethal dose of UV germicidal energy.
Tru-D can kill the most common health care associated infection culprits such as C. diff., MRSA, CRE and other bacteria. The robot is used throughout the hospitals, from patient rooms to ORs to Nurseries. Tru-D does not replace traditional cleaning.
---
Trauma Symposium draws over 250 attendees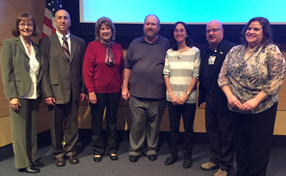 Paoli Hospital's 7th Annual Trauma Symposium was held on November 10, 2015, at the Penn State Great Valley Conference Center in Malvern. This year's program addressed current trends in caring for the Bariatric Trauma Patient; Advancements in Thoracic Trauma; Disaster Preparedness—implications to clinical practice; and a trauma survivor story featuring a panel discussion.
Edward H. Jasper, MD, David H. Rittenhouse, MD, and Alec Beekley, MD were the presenters. Kris Kaulback, MD, FACS provided opening remarks and facilitated the panel discussion. Panelists were Fred Oatman, Trauma Survivor; Cathie Rawlings, Brandywine Hospital Medic 93 PHRN; Leo Scaccia, Brandywine Hospital Medic 93 Director; Cheryl Freese, Paoli Hospital Critical Care RN; and Kathryn Duffy-Piro, Paoli Hospital Social Work.
---
Paoli Hospital receives distinction for high patient satisfaction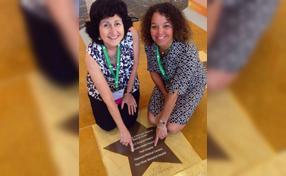 Paoli Hospital was recently named a 2015 Guardian of Excellence Award winner by Press Ganey for Patient Experience in Inpatient Care. This is the second year in a row that the hospital received this award by reaching the 95th percentile in patient satisfaction for each reporting period.
"We are proud to once again be recognized with this award, which exemplifies the efforts of our health care team in providing a superior patient experience at Paoli Hospital," said Jan Nash, VP of Patient Services. "It is an important honor to receive this award from the industry's leader in measuring, understanding, and improving the patient experience.
---
March of Dimes honors Paoli Hospital NICU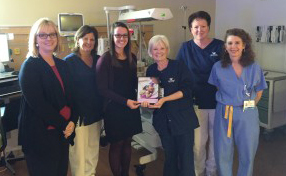 Last month, the March of Dimes marked a Day of Gratitude as well as Prematurity Awareness Month. To thank the Paoli Hospital NICU staff for all they do in caring for infants, The March of Dimes presented the NICU with a plaque for display. Last year, Paoli Hospital's NICU cared for 157 infants with an average length of stay of 8.9 days.
---
Honor your caregiver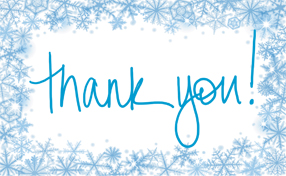 Patients and families whose lives have been touched by the care they or a loved one has received at Paoli Hospital often make a gift in honor of their physician, nurse, or staff. Last month, the Foundation received gifts in honor of the following individuals:
Myles Bastable
James R. Bollinger, MD
Julianne Cyr
Michael B. Dabrow, DO
Charles S. Gawthrop, MD
Matthew A. Goldstein, MD
Lawrence I. Katin, MD
Dan and Gloria Peterson
PH Emergency Room Staff
Christopher Rofi
Joseph and Maria Stellabotte
---
Gifts support the hospital's high priority needs, such as new facilities and technology, or a gift can even be designated to support a clinical area, such as the Cancer Center or the Maternity Unit. If you would like to make a gift in honor of your caregiver, please make a gift online or call the Foundation at 484.565.1385.