Your gifts at work: The rapid infuser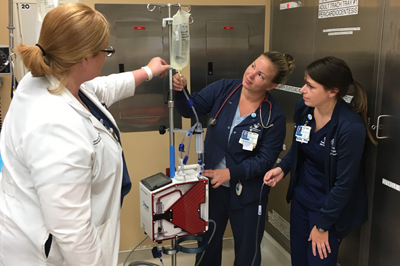 Earlier this month, a new Belmont Rapid Infuser was purchased to use in the emergency department with funds from the Paoli Hospital Foundation. This device is used during trauma resuscitations/surgery to infuse warm blood and fluid into patients experiencing massive blood loss. "The new infuser is easier to use, requires less prep time, results in less waste, and is overall more compatible with our current set-up in the operating rooms. We are so grateful to the Paoli Hospital Auxiliary and our broad community of donors who helped to make this purchase possible," explains Kerry Larkin, trauma center program manager.
Make a gift in support of our Trauma Center
Local fashion blogger shares the "art of second-hand" at The Palm Tree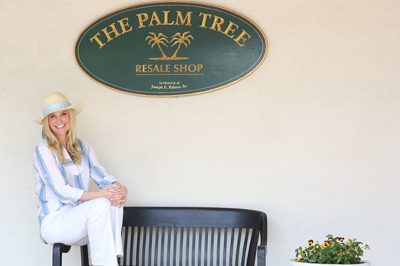 Ashley Meyers, a Main Line stylist and creator of lula belle recently visited Paoli Hospital's consignment shop, The Palm Tree.
Ashley teamed up with a local photographer, Little Nest Studios, and perused The Palm Tree's summer styles while offering tips and tricks to second-hand shopping. See the full article and Ashley's fashionable finds in lula belle fashion's newsletter.
Join Ashley on Friday, September 8, 2017 for lunch, drinks and fun at La Cabra in Berwyn. This is a chance to network with other local fashionistas and support Paoli Hospital! Bring a shopping bag of gently used clothing and accessories to donate to The Palm Tree.
Buy tickets for the Main Line Fashion Lunch
Paoli Hospital Auxiliary's Fine Art Show to feature local artists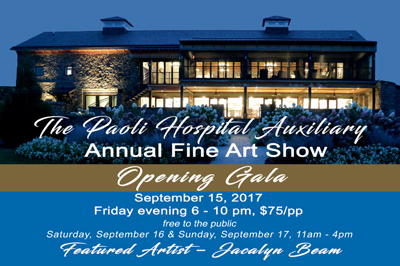 The restored barn at the new Liseter community in Newtown Square (formerly the John duPont estate) will be transformed into an art gallery the weekend of September 15–17, 2017 for the Paoli Hospital Auxiliary's Annual Fine Art Show.
The event kicks-off with an Opening Night Gala from 6:00–10:00 pm on Friday, September 15. Admission to the event is $75 per person and includes a full bar and hors d'oeuvres. On Saturday and Sunday afternoons, September 16 and 17, from 1:00–4:00 pm, the art show will be available to the public, and admission is free.
The art show will feature the original works of approximately 50 locally and regionally known artists, many of whom will attend the gala on Friday, September 15 to talk about their work. In addition, selected modern and contemporary art from the collection of Devon Fine Arts will be displayed.
Jen Curry, art show co-chair, said, "all types of media will be displayed, including oils, watercolors, mixed media, photography, glass, metal and pottery. We encourage everyone to come out and support these artists. In addition, Devon Fine Arts has one of the largest modern and contemporary art collections in this area and will be showcasing artists such as Picasso, Miro, Chagall, Basquiat, LeRoy Neiman and others. You won't want to miss this event!" Jacalyn Beam, a nationally known Brandywine Valley artist, will be the show's featured artist this year.
Attendees throughout the weekend will have the opportunity to purchase the art displayed, as well as raffle tickets for an original Jacalyn Beam painting specifically created for this event. A percentage of art sales will help fulfill the auxiliary's annual pledge to Paoli Hospital.
"Last year's art show was incredibly well-received by all who attended, and we look forward to another great turnout this year," said Paoli Hospital Auxiliary President Carol Rabe Palmer. "We are pleased to present the beautiful work of regional, national and international artists as we host a lovely evening at Liseter. We welcome everyone in our community to join us for an evening that will support a truly worthwhile cause."
Proceeds from last year's art show supported the auxiliary's pledge to help provide funding to equip two new operating rooms and upgrade the existing 14 rooms. More than 8,500 surgeries took place at Paoli Hospital in fiscal year 2017, and covered a full array of surgical specialties.
For more information about the Fine Art Show or to purchase tickets for the Opening Night Gala, please call 484.565.1380, email gerhart-lauvers@mlhs.org or visit paoliauxiliary.org/fineartshow.
Naming Paoli Hospital as the beneficiary of an IRA or retirement plan is a simple and tax-efficient way to help us advance our mission of care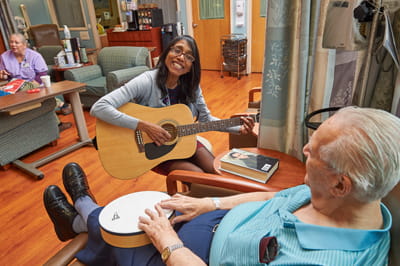 When Mary Morelli passed away at the end of 2015, her presence was sorely missed by the many members of the Paoli Hospital community she had touched with her caring demeanor, but her dedication to the hospital has lived on because Mary named the Paoli Hospital Cancer Center as a beneficiary of her IRA account.
These distributions are now supporting complementary therapies in our Cancer Center, including art, music, massage and reiki therapies for our patients undergoing chemotherapy and radiation treatments. Gifts from IRAs and qualified retirement plans support numerous other areas of the hospital, as well. Since these are some of your most highly taxed assets, naming Paoli Hospital as a beneficiary of your IRA, 401(k), 403(b), or other retirement account is a tax-efficient way to support programs that matter to you. Simply request a Change of Beneficiary form from your plan provider, or fill out this form online. Call us today at 484.565.1688 to find out more about this smart gift planning strategy!