Employee Giving Campaign kicks off this week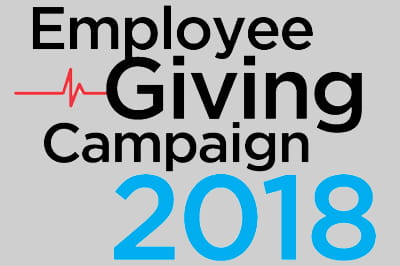 Each year, hundreds of Paoli Hospital employees choose to extend their commitment to our patients by making a charitable gift to the Paoli Hospital Foundation. In 2017, over $70,000 was raised from more than 380 employees who gave to the campaign either through payroll deduction, or by making an outright, one-time gift. Thank you to everyone who joined their colleagues in supporting this annual drive to raise money to support the hospital. Please consider renewing your support this year!
Gifts to the Paoli Hospital Foundation touch nearly every area of the hospital, including new equipment upgrades, staff training and patient support programs like music and art therapies.
Thank YOU Doctor!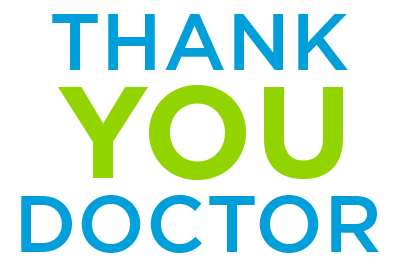 Grateful patients from across the community showed their appreciation to their favorite doctor on March 30—National Doctors' Day—by making a tribute gift to Paoli Hospital. These gifts recognized doctors' hard work and dedication while also serving as an important investment in patient care at Paoli Hospital. Many donors included a personal note of thanks to share with their doctor. View a sampling of the notes we received (Google Photos).
Paoli Hospital celebrates National Volunteer Week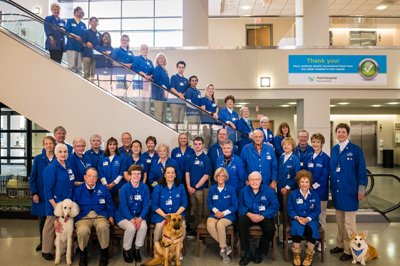 April 15–21 marked National Volunteer Week, an opportunity to celebrate the service of Paoli Hospital volunteers. Volunteers come from a wide variety of backgrounds and specialize in many areas of service across our hospital, even our four-legged volunteers who help to brighten the days for our patients and staff. Last year, Paoli Hospital volunteers contributed 61,000 hours of service. Through the generous gift of time, talents and personal interests, our volunteers supplement the work of staff members by offering many special services so important to patients, their families and hospital staff. While there are specific benefits to being a volunteer, the greatest reward is being part of a team that helps deliver the best patient care possible to those in need. For information on volunteering, visit the Paoli volunteer opportunities page.
Gifts at work: 30 new stretchers purchased for the emergency department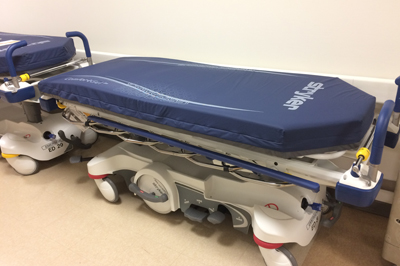 Last month, 30 new stretchers were purchased with a generous donation from the Paoli Hospital Auxiliary. The stretchers, which will serve the majority of patients in the emergency department, incorporate a scale that doubles as a bed alarm for patients at risk of falling. Other features include a pressure sensitive mattress and enhanced patient controls for positioning.
Bill Belmonte, nurse manager in the emergency department, explains that "this equipment upgrade was a high-priority for the emergency department. Our previous fleet of stretchers was very well maintained but becoming obsolete. We are so grateful for the tireless fundraising efforts of the Paoli Hospital Auxiliary for helping to make this purchase possible. Thank you for your support!"
The Paoli Hospital Auxiliary Golf Tournament honors Bob Ruggiero, MD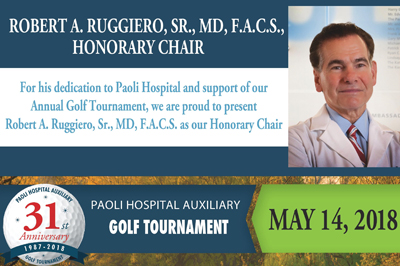 The Paoli Hospital Auxiliary will host its Annual Golf Tournament on May 14, 2018 at Gulph Mills Golf Club, 200 Swedeland Road, King of Prussia.
Enjoy a great day on the links, play a hole with a long-drive champion for a chance to win a fabulous trip for two, or sink a hole-in-one and take home a grand prize, all while supporting the state-of-the-art care Paoli Hospital delivers to our community.
Not a golfer? Please consider joining us for the honorary chair reception, including cocktails and dinner. This year, the Auxiliary is pleased to honor Bob Ruggiero, MD and his decades of service and support to Paoli Hospital. For tickets and information visit paoliauxiliary.org/golf or send an email to paoliauxiliary@mlhs.org.