Paoli Hospital nurses teach girls suturing techniques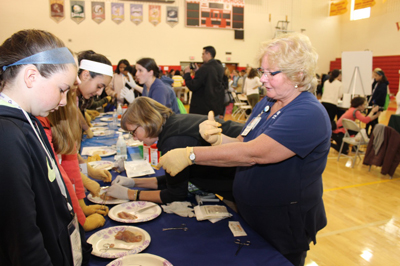 For the past three years, Paoli Hospital's Regional Trauma Center has participated in the Girls Exploring Tomorrow's Technology (GETT) conference as a sponsor and activity participant.
On Saturday, March 25, more than 400 girls, grades fifth through 10th, from over 100 schools in the tri-county region attended the annual event to work with women role models to encourage them to pursue careers in science, technology, engineering and math (STEM). Hosted by the Chester County Economic Development Council (CCEDC) and the Innovative Technology Action Group, the conference brings together over 50 business organizations, students, parents and teachers each year. The event introduces young girls to STEM professions that they may be unaware exist. Since today's educational environment expects college/professional major decisions by the end of the high school junior year, it is important to expose students to these professions early in their educational path.
This year, the Paoli Hospital station provided suturing and stapling lessons using chicken thighs, a demonstration on inserting a central intravenous line, putting on sterile gloves, and education on recognizing the dangers of being under the influence so to introduce some of the many skills that nurses and other health care professional participate in every day.
Your gifts at work: Holloway Breast Health Center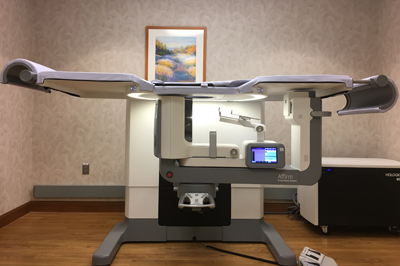 Earlier this month charitable gifts supported the purchase of new stereotactic equipment in the Holloway Breast Health Center. With this new stereotactic machine and imaging device, a biopsy is performed through a small incision that only requires local anesthesia and a Band-Aid for closure. This procedure eliminates the needs for many surgical procedures, is well tolerated, and is performed on an outpatient basis. The new devise will also allow for more precise biopsies of small lesions and decrease the number of patients referred to other facilities.
Paoli nurse navigator first to receive AONN certification at Main Line Health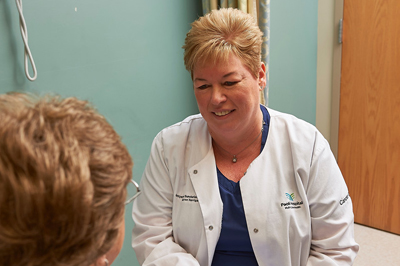 Bettyanne Sunderland, medical oncology nurse navigator in the Cancer Center of Paoli Hospital received her certification as an oncology nurse navigator–certified generalist through the Academy of Oncology Nurse and Patient Navigators (AONN). Sunderland is the first navigator for Main Line Health to receive this certification, which was just offered for the first time through AONN. The certification provides nurse navigators with the credentials and knowledge to enhance patient care and career development. The certification exam fees were funded by the Hoover Family Fund for Cancer Center Staff.
Grateful patients honor physicians through charitable giving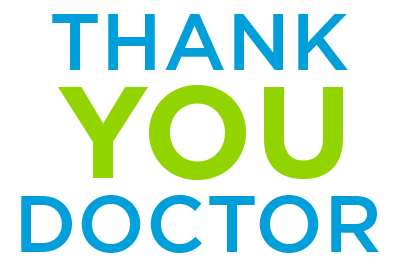 The Paoli Hospital Foundation recently launched Honor Your Doctor, a fundraising initiative to mark National Doctor's Day on Thursday, March 30. Grateful patients made donations in honor of their physician and were encouraged to write a note expressing appreciation for their care. To date, nearly 100 physicians were honored with personalized notes and more than $18,000 was raised to support Paoli Hospital's nonprofit mission. Check out a few of the notes we've received. Click here to make a charitable gift in honor of a Paoli Hospital physician or practice.
2017 Barbara Tachovsky – 5 Star Care Award Winner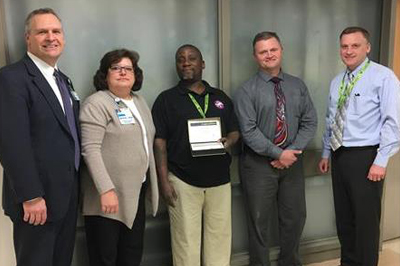 Donnell James, environmental services, Paoli Hospital, is the fourth recipient of the annual Barbara Tachovsky – 5 Star Care Award. The $1,000 award, named after the past Paoli Hospital president, is presented to a Paoli Hospital employee who exhibits 5 Star Care behaviors: sensitive, trusted, action-oriented and relationship driven. Recipients are selected by the senior management team from managers' nominations.
James was nominated by Bernadette Weis, director of nursing, who stated in the nomination form: "When one thinks of an employee that encompasses the characteristics we want as a foundation for providing a superior experience, he has them all. He anticipates the needs of patient flow in the ED. He cares about each patient that enters through our doors and each staff member the he works alongside of."
Foundation trustees honored at golf and polo events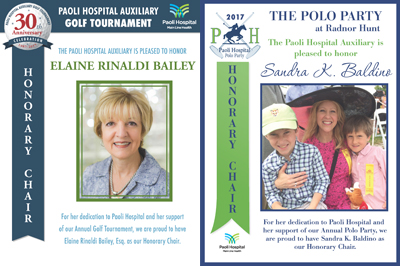 Paoli Hospital Foundation trustees Elaine Rinaldi Bailey and Sandra Baldino are this year's honorary chairs of the Paoli Hospital Auxiliary's Golf Tournament and Polo Party. The Auxiliary's Annual Golf Tournament will be held on Monday, May 15 at Gulph Mills Golf Club and the Annual Polo Party will be held on Sunday, June 11 at Radnor Hunt. Visit paoliauxiliary.org for tickets and more information.
---
Gifts support the hospital's high-priority needs, such as new facilities and technology, or a gift can even be designated to support a clinical area, such as the Cancer Center or the Maternity Unit. If you would like to make a gift in honor of your caregiver, please make a gift online or call the foundation at 484.565.1385.