Connecting with John Dougherty and James Conner, Security Officers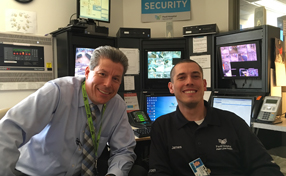 It may seem as though Safety and Security Manager John Dougherty and Dispatcher James Conner work 'behind the scenes' at Paoli Hospital, but in fact their work touches all corners of our campus. Their commitment to safety extends to every patient, staff member and hospital visitor. With 60 surveillance cameras in use and 24/7 staffing, the safety and security team are at the core of all hospital activity. From responding to elevator alarms, to assisting a visitor locked out of their car, or aiding in various drills at the hospital, each day brings something new.
"Many people call us as a starting point—if they don't know where else to turn," explains James Conner, Dispatch Coordinator. Having worked as a hospital operator before moving to security, James is well-equipped to respond to a variety of inquiries. One call he will never forget came in from a trucker on a CB radio. He was having chest pain while driving. James alerted the Emergency Department, stayed with the driver on the radio and guided him in to the hospital. "It's not every day that I have an opportunity to be there for somebody like that, but that's what I enjoy about working here—every day is different."
---
Employee Giving Kicks Off at Paoli Hospital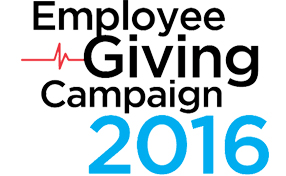 The Employee Giving Campaign, which encourages employees to make a charitable gift to the hospital, kicks off this week at Paoli Hospital and across Main Line Health System. With a goal of $65,000 (from 425 employee donors), the funds raised will support Nursing Excellence, the Regional Trauma Center, Always There with Great Care (Highest Priority Needs), the Cancer Center and the Maternity Unit. The Campaign runs through mid-June under the direction of a committee of employees from Nursing, Labs, the Cancer Center, Interventional Radiology, Volunteer Services, Patient Safety, Engineering and Construction, Maternity, the Emergency Department and the Paoli Hospital Foundation.
Employee donors can designate their contribution to any department or service area that is meaningful to them. Gifts can be made online or employees can elect to make their gift through payroll deduction via PeopleSoft.
---
Paoli's Donna Sinnott receives Barbara Tachovsky–5 Star Care Award
Paoli Hospital's Lactation Consultant Donna Sinnott was selected as the latest recipient of the hospital's annual Barbara Tachovsky– 5 Star Care Award. The $1,000 award is presented to a Paoli Hospital employee who exhibits 5 Star Care Behaviors: Sensitive, Trusted, Action Oriented and Relationship Driven. Recipients are selected by the senior management team from managers' nominations.
Sinnott was nominated by Childbirth Education Coordinator Mary Gentleman, who stated in the nomination: "Donna has worked with the medical team and administration to evaluate and amend policies to ensure the best possible approach for bonding and breastfeeding in the first hour after birth. The implementation of the Keystone 10 Breastfeeding program would not have been possible without a driving force. The driving force is Donna."
---
State Farm Supports Main Line Health's Mock Crash Events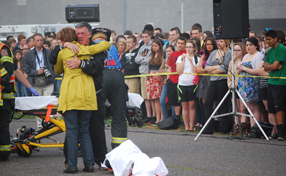 State Farm Insurance Company has awarded Main Line Health a $45,000 grant to support the System-wide expansion of Main Line Health System's mock crash and Cruisin Smart® demonstration programs. The mock crash and Cruisin Smart demonstrations raise awareness of the hazards of impaired and distracted driving.
The partnership between State Farm and Main Line Health extends back to 2007, when the first mock crash demonstration was presented by Riddle Hospital. Previous grants have supported funding for Paoli, Riddle and Bryn Mawr Rehab Hospitals, but this year's grant will allow the program to expand system-wide to Lankenau Medical Center and Bryn Mawr Hospital, as well.
The State Farm grant will allow Paoli Hospital to offer Cruisin' Smart and mock crash demonstrations for students at the following area high schools this spring: Villa Maria, Downingtown East, Ridley, Henderson and Collegium Charter.
Each mock crash offers students a first-hand perspective of a car crash caused by an impaired and distracted student driver. Actors, emergency medical services, police and fire companies bring the scene to life for students with crashed cars, stretchers, equipment and the Jaws of Life to convey to young drivers and passengers that driving distracted or impaired can lead to negative outcomes.
As part of the grant, Bryn Mawr Rehab's Cruisin Smart speakers will also travel to area schools to fully engage students in smart driving presentations, emphasizing what the results may be if they do not make a smart choice.
"With prom and graduation season swiftly approaching, we are proud to use this grant to educate young drivers in our region about the extreme danger of distracted and impaired driving," said Donna Phillips, Bryn Mawr Rehab Hospital president. "This grant will help deliver an impactful experience that we hope will encourage healthy habits and decision making for teen drivers, ultimately preventing avoidable tragedies from taking place."
---
A Note from Paoli Hospital Foundation Trustee Joe McLaughlin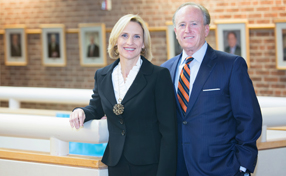 We all know that health care is changing. At times it can seem difficult to navigate these changes and stay informed. For that reason, it is important to us that we stay close to Paoli Hospital and support this great community resource. We do this through Joe's involvement on the Paoli Hospital Foundation Board of Trustees and by making charitable donations to support the Hospital mission. We have also included Paoli Hospital as a beneficiary in our will.
Two of our sons were born at Paoli and we like the idea that the Hospital will be here, providing the same great care for generations to come. Naming Paoli Hospital as a beneficiary of a will or living trust is an easy way to make a lasting impact in this community—and it doesn't require great wealth.
Really, few things in life are more important than good health. It's comforting to know that, if we need it, Paoli Hospital is here. I hope you will agree and consider including the Hospital in your will or financial plans.
– Joe and Ellen McLaughlin
Will you consider Paoli Hospital in your estate plans? To help us better understand your reasons and readiness for giving, please visit paoli.plannedgiving.org. You will receive a free Paoli Hospital branded fleece blanket just for responding!
---
Save the date for these upcoming events!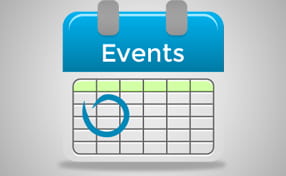 Hershey's Mill Showcase of Homes
Thursday, May 5 | 10:00 am–4:00 pm
$25 per person for the tour and $25 per person for lunch
PHA Golf & Tennis Tournament
Monday, May 9 | 11:00 am
White Manor Country Club
Polo Party at Radnor Hunt
Sunday, June 12 | 4:00–8:00 pm
Radnor Hunt
---
Gifts support the hospital's high priority needs, such as new facilities and technology, or a gift can even be designated to support a clinical area, such as the Cancer Center or the Maternity Unit. If you would like to make a gift in honor of your caregiver, please make a gift online or call the Foundation at 484.565.1385.