Book talk with Dr. Jennifer Gilbert, Paoli Ob/Gyn Associates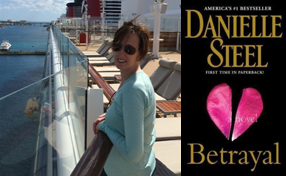 "We were on a Disney Dream Cruise last month when I read "Betrayal" by Danielle Steele. It's such an escape from the real world! Its boy meets girl, they fall in love and live happily ever after—with the perfect amount of drama in between!"

We would love to hear feedback of a book you have recently read. Let us know what you have read or are currently reading.
---
Always There with Great Care fundraising campaign launched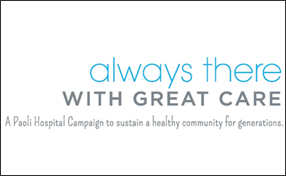 To respond to the fundamental shifts underway in health care, the Paoli Hospital Foundation has launched the Always There with Great Care campaign—a special fundraising effort to meet our community's most urgent health care needs, advance patient care and prepare for future programs.
Funds raised through the campaign will be allocated strategically to a variety of health care programs that support our mission, including: community health, patient support programs, technology, and specialized training for staff. The campaign serves as an important source of flexible funds for advancing patient care today, and for generations to come.
---
Matching Gift Challenge—double your impact!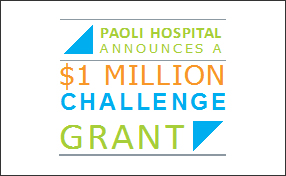 The hospital has received a very special commitment by anonymous donors of a $1 million Challenge Grant. Gifts or pledges starting at $10,000 from donors who have not given in the past three years and gifts of $1,000 or more from the Medical Staff will be matched dollar-per-dollar, up to $100,000.
If the Challenge Grant is met, $1 million will go towards the Always There with Great Care Campaign.
---
H. Phelps Potter Society Award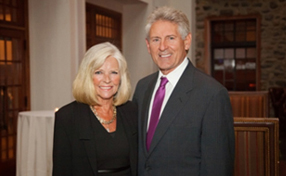 Tom and JoAnne Fillippo were honored with the 2014 H. Phelps Potter Society Award which recognizes their advocacy, leadership, and philanthropy. Tom has been a Trustee of the Paoli Hospital Foundation since 1991 and has held many leadership roles, including Chair, during one of the most transformative periods in our history.
Tom modestly attributes his generosity to his desire to support the community he loves and has been part of his entire life. JoAnne Fillippo is a long-time member of the Anthony Wayne branch of the Paoli Hospital Auxiliary, she served as the Chair of the annual Golf Tournament.
---
Foundation establishes Physician Advisory Council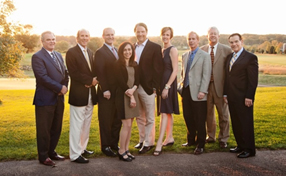 In an effort to facilitate and encourage physician involvement with the Paoli Hospital Foundation, Dr. Robert Fried, Vice President of Medical Affairs established the Physician Advisory Council. The Council will help to steward charitable gifts, and identify ways that donations can make a difference.
In return, physicians help Foundation Trustees and donors to understand the demands and complex environments in health care.
Physician Advisory Council comes together for a meeting at Applebrook Golf Club. From Left to Right: Robert Schuster, MD; Robert Fried, MD; Jonathon Garino, MD; Reem Ann Habboushe, MD; Stuart Brilliant, MD; Jennifer Gilbert, DO; Robert Pinsk, MD; Ernie Gillan, MD; Robert Ruggiero, MD. Not Pictured: Norman Callahan, DO; Michel Hoessly, MD; Michael Cabral, MD; Sean Ryan, MD; James Simon, DO.
---
Cancer Center awarded grant to support survivors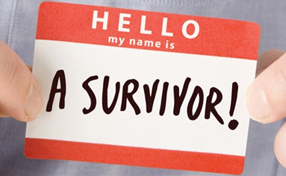 The Cancer Center received a $2,500 grant from Millennium Pharmaceuticals to fund the Survivorship Program. The grant provides the funding to host a series of programs designed to help support patients after cancer treatment.
The Survivorship Program serves as an educational forum to address areas of identified need such as nutrition, exercise, and screening recommendations while giving patients emotional assistance.
---
Barbara Tachovsky 5-Star Care Award goes to Elizabeth Ferrigno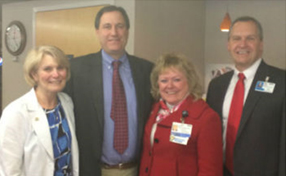 The Barbara Tachovsky 5-Star Care Award is presented annually to a Paoli Hospital employee who exhibits 5-Star Care Behaviors: Sensitive, Trusted, Action Oriented and Relationship Driven.
Paoli Hospital Pharmacist Elizabeth Ferrigno, was selected to receive the $1,000 annual Barbara Tachovsky 5-Star Care Award this year. "Liz exemplifies everything about a 5-Star employee at Paoli Hospital. She is friendly, compassionate, and dedicated to providing the best patient experience possible."
Elizabeth Ferrigno (left) is pictured here with Al Celidonio, Jan Nash, VP of Patient Services, and Jim Paradis, President, Paoli Hospital.
---
Honor your caregiver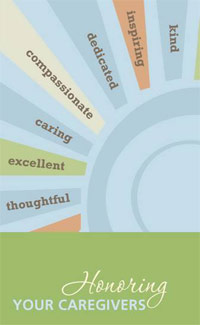 Patients and families whose lives have been touched by the care they or a loved one has received while in the hospital often make a gift in honor of their physician, nurse or staff. Last month, the Foundation received gifts in honor of the following physicians, staff and volunteers:
James R. Bollinger, MD
Norman M. Callahan, III, DO
Louis J. Ciliberti, Jr., DPM
Thelma M. Ernst – Volunteer
William R. Greer, MD
Kathy Hicks
Charlie Holloway
Michael Holloway, Jr.
Wayne R. Huey, Jr.
Dotty Jones
Margaret LeJeune
Tina LeJeune Vucenovic
Gregory T. Narzikul, MD
Charles J. Odgers, IV, MD
John J. O'Hara, Jr., MD
PH Emergency Room Staff
PH Nursing Staff
Nursing Staff – Intensive Care Unit
David R. Trevino, MD
Richard P. Tucci, MD
---
Gifts support the hospital's high priority needs, such as new facilities and technology, or a gift can even be designated to support a clinical area, such as the Cancer Center or the Maternity Unit. If you would like to make a gift in honor of your caregiver, please make a gift online or call the Foundation at 484.565.1385.