Dear Friends,
In this second edition of Latest, Lankenau Medical Center Foundation's electronic newsletter, we are proud to share some highlights from this past year that showcase exciting achievements at Lankenau, despite the continued challenges and uncertainty brought on by the pandemic. In the months ahead you will hear more about one such important milestone — the 160th anniversary of Lankenau— which we will proudly celebrate this year (one year late given the obstacles of 2020). Stay tuned for more on this milestone anniversary—and the incredible growth of Lankenau over the years — in future communications.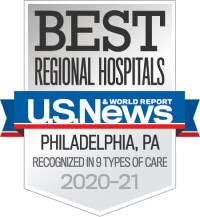 I am also proud to announce that U.S. News & World Report has released its 2021–2022 Best Hospital rankings, and once more, Lankenau Medical Center has been recognized among the very best. We distinguished ourselves, once again, as a premier health care facility in the region being ranked as #3, up from #5 last year! For the second consecutive year, we ranked as #10 in the state, out of the more than 200 hospitals in Pennsylvania!
We express our sincere gratitude for all you do to support Lankenau Medical Center and help keep our community healthy and safe. Thank you for your partnership.
Sincerely,
Phillip D. Robinson, FACHE
President, Lankenau Medical Center
---
Be Seen Virtual Events: Trauma and the Continuum of Care at Lankenau Medical Center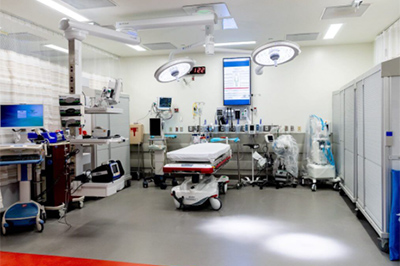 Main Line Health created the Be Seen event series as a way to highlight important priorities of this past fiscal year while following COVID-19 safety protocols. Topics included:
Trauma and the Continuum of Care at Main Line Health
Advancing the Future of Cardiac Care at Lankenau Medical Center
Behavioral Health program and the Inpatient Unit renovation at Bryn Mawr Hospital
WATCH EVENT RECORDING AND LEARN MORE ABOUT THIS PRIORITY CAMPAIGN
---
Feeding, teaching and healing: Delema G. Deaver Wellness Farm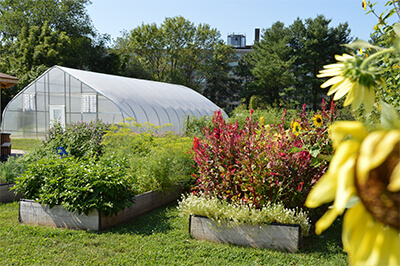 The Deaver Wellness Farm, established on Lankenau's campus in 2016, has served as not only a food resource for our patients and community members, but also a peaceful environment for much needed respite for patients' families and staff, particularly in the height of the pandemic. Since patients were not visiting provider offices nearly as often in 2020, we amended our produce distribution program to offer home deliveries to patients who identified as food insecure. We also pivoted to offer farm educational programming virtually to school groups and camps. Lankenau staff visited the farm on their breaks to help reduce the stress of caring for very sick patients.
The beautiful garden is currently in full bloom, showcasing various vegetables, herbs and flowers. Come visit this unique haven the next time you are visiting Lankenau (located across the street from the Emergency Department).
---
Lankenau research highlights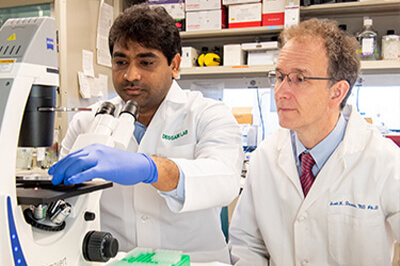 Research is essential for advancing health care, leading to medical breakthroughs that improve and save lives. Our goal is to rapidly translate research findings into clinical care that benefits our patients.
Lankenau Ventures: New business model moves our health care workers' inventions to market
Lankenau Ventures is a new initiative established to accelerate development and commercialization of medical inventions conceived by Main Line Health frontline workers. The joint venture is comprised of Lankenau Institute for Medical Research (LIMR) and commercialization and entrepreneurship experts. These experts will help LIMR traverse the many stages in converting ideas into patentable inventions and moving those inventions to viable products.
Human antibody technology
Check out this short video highlighting LIMR's Dr. Scott Dessain's groundbreaking research in human antibody technology.
Learn more about LIMR giving opportunities
---
Keeping our community safe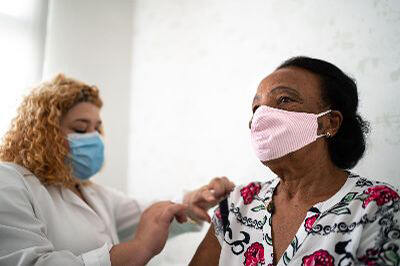 Since the beginning of the pandemic Lankenau and Main Line Health have been dedicated to our community in all aspects of virus treatment, testing and prevention. As of July 2021 Lankenau and Main Line Health had vaccinated more than 72,260 community members, including more than 15,000 employees. We have tested more than 117,000 people for the virus and have provided education and outreach to many more through a myriad of virtual and in-person channels. Our community outreach efforts included vaccination clinics for SEPTA employees, as well as for members and neighbors of several area religious institutions and similar venues in an effort to meet our community where most convenient for them.
Learn more about our response to the pandemic
---
Your IRA – a Multifaceted Retirement and Charitable Giving Vehicle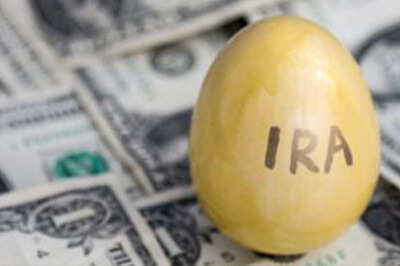 As many donors to Lankenau Medical Center know, creative giving techniques can help meet philanthropic goals while also presenting potential savings on taxes.
For example, if you are age 70½ or older, you can take advantage of the Qualified Charitable Distribution (QCD) provision to donate meaningful gifts through your IRA. In most cases, these gifts are excluded from gross income for federal tax purposes.
Another benefit for those age 72 and older: QCDs meet your Required Minimum Distribution.
Here's everything you need to know about making a gift to Lankenau Medical Center through a QCD
IRAs can be tapped for beneficial charitable giving in another way. Some donors choose to make a deferred gift to Lankenau by designating the hospital a beneficiary of their IRA or retirement account. In doing so, they make a gift that is beneficial for both the hospital and their heirs, since IRAs can be highly taxed assets to inherit. If this is of interest to you, a simple change of your beneficiary designation form can accomplish this. Learn more about including Lankenau as a beneficiary of your IRA.
Charitable contributions through your IRA can help Lankenau fulfill its mission of providing a superior, compassionate patient experience through top notch care, innovative research and medical education. As always, we encourage you to contact us if you have any questions about these methods of giving.
Please note: be sure to check with your financial or tax advisor to determine whether this method of giving is right for you. This information is not meant as tax or legal advice.
---
In case you missed it, check out our publications from the past year
Spring 2021 edition of Catalyst, the Lankenau Institute for Medical Research magazine
Inside this issue:
Cardiogenetics program helps patients make informed decisions about care
Improving immunotherapies
Forging paths in cardiac research and patient care
Turning lab findings into approved therapies
Read the latest edition of Catalyst
Fall 2020 edition of Lankenau Leaders Magazine
Inside this issue:
Stories of strength from the ICU
Ready to respond 24/7: Trauma care at Lankenau
Enhancements make a difference for patients and families
Thank you essential workers
Read the latest edition of Lankenau Leaders
Lankenau Colorectal Center Report
This report provides an update on Lankenau's Colorectal Center, our internationally acclaimed colorectal disease program led by Dr. John Marks. Our groundbreaking clinical care is complemented by innovative research and physician education necessary for improved outcomes for patients with colorectal cancer or related disease.