Looking for an enjoyable way to help your community? Join the Bryn Mawr Rehab Hospital volunteers! You can use your communication and professional skills or fulfill school requirements. People from across the Delaware Valley enjoy the positive experience of volunteering at Bryn Mawr Rehab Hospital. Our volunteers are working professionals and retirees from all walks of life, as well as parents, grandparents and students.
Ways to volunteer
Our volunteers are crucial in supporting Bryn Mawr Rehab Hospital's mission to serve individuals and their families whose lives can be enhanced through physical or cognitive rehabilitation. Through the generous gift of time, talent and personal interests, our volunteers supplement the work of staff members by offering many special services.
We offer you a number of unique volunteer opportunities, covering a wide range of patient-assistance and administrative needs. So whatever your interests, talents or skills, we can find the right fit for you to support the recovery needs of others.
Art Ability
The Art Ability Program at Bryn Mawr Rehab Hospital offers a unique and accessible venue for artists with disabilities to display and sell their work. The Program relies on the help of our dedicated volunteers to help ensure the success of the program by helping to hang the art and with clerical tasks. There are many opportunities to get involved in Art Ability depending on your interests and time. Volunteers are welcomed at both the Committee level and on an as needed basis.
Bryn Mart Gift Shop
More than just a store, the hospital gift shop is also an important opportunity for patient therapy. Our therapists assist patients, to visit the Gift Shop and incorporate therapy time to re-learn important skills—with the generous help of volunteers. The shop operates seven days a week.
Bryn Mawr Rehab Hospital Volunteer Association
The mission of the Volunteer Association of Bryn Mawr Rehab Hospital is to assist the Hospital in meeting its charitable mission and goals through its fundraising efforts. The efforts of the Volunteer Association support programs and initiatives of the Hospital and the community it serves.
In the past dozen years, the Volunteer Association has raised nearly $400,000 to benefit Bryn Mawr Rehab Hospital. Those funds supported programs such as:
Condition-specific Patient Support programs
Bryn Mawr Rehab Hospital's Project SEARCH program that teaches work skills to employable individuals with physical or cognitive disabilities
The acquisition of physical therapy equipment to facilitate the recovery of Hospital patients, including the Lokomat® for robot-assisted walking therapy, and the SMART EquiTest® for the assessment and rehabilitation of patients with balance and mobility disorders
Volunteer Association history
The history of the Bryn Mawr Rehab Hospital Volunteer Association closely follows that of the Hospital. Bryn Mawr Rehab Hospital was built on this site in Malvern, PA in 1902, as a division of Rush Hospital. The Volunteer Association grew out of the Women's Board of Rush Hospital in the 1960s.
In 1970, Bryn Mawr Rehab Hospital merged with Bryn Mawr Hospital and became a center of rehabilitative medicine, pioneering programs for people who experience the effects of brain injury, orthopaedic problems, neurological disorders, and spinal cord injury.
Today, Bryn Mawr Rehab Hospital provides a broad range of programs at every level of care including inpatient and outpatient. The Volunteer Association activities have grown to match the needs of individuals in the Hospital's care.
Early fundraising events included Fashion Shows, a booth at the Devon Horse Show and Black Tie Galas. Over the years the Volunteer Association has organized a number of successful events that have raised substantial funds for the Hospital. A short list would include Golf Outings, Antique Car Shows, Phillies Baseball games and Luncheons featuring well-known personalities.
The continuing efforts of the Volunteer Association support the initiatives of Bryn Mawr Rehab Hospital and the community it serves. Proceeds from the Volunteer Association's fundraising events have benefited various Patient Programs, and gone toward the acquisition of equipment.
Volunteer Association special event volunteering
Volunteers support Bryn Mawr Rehab Hospital through a variety of special events designed to raise funds and increase awareness of Bryn Mawr Rehab Hospital's programs. Every fundraiser has a core group of volunteers or committee members that work toward planning a successful event. Our volunteers are working professionals and retirees from all walks of life, as well as parents, grandparents and students.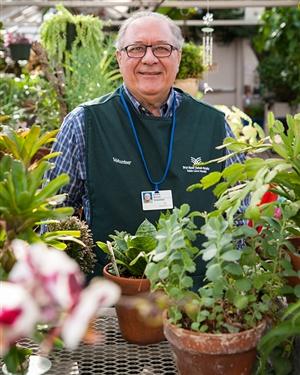 Through the generous gift of time, talents and personal interests, our volunteers develop, organize and execute a variety of fundraising events. Over the years many fundraising ideas have been tried, however we are always looking for new ideas and people to lead the event.
Horticultural Therapy Center
Our Horticultural Therapy Center includes a green house, pond, gazebo and outdoor gardens. It is a wonderful place where patients receive therapy working with plants and flowers. Patients develop skills in cultivating plants, creating flower arrangements, and growing and selling fresh flowers. Our volunteers help in all of these areas, as well as in transporting patients to the center.
Learn more about our horticultural therapy center
Pet-assisted therapy
Bryn Mawr Rehab Hospital uses more than a half dozen dogs as effective assistants for our therapists. All dogs must be certified by a recognized Pet Therapy Certification program. Certified dogs at Bryn Mawr Rehab Hospital may become involved in a structured therapy session with a therapist and a group of patients, and/or may visit patients by walking through the hospital, spreading comfort and cheer. If you have a dog you feel could help a therapist motivate patients to higher achievement, this might be an excellent opportunity for you. We can arrange an interview for you and your pet.
Student shadowing—therapy
Shadowing opportunities are available in a variety of disciplines for college students interested in pursuing a career in physical therapy, occupational therapy, or speech therapy. Assignments are issued on a monthly basis. Each opportunity is handled on an individual basis. For more information on the Bryn Mawr Rehab Hospital Shadowing Program, please contact the Volunteer Department at 484.596.5599.
Other ways to volunteer
Administrative activities – a variety of programs and departments that keep Bryn Mawr Rehab Hospital responsive to patients needs often need an extra set of hands—your hands. Some of these administrative activities include copying, faxing, filing, laminating, and collating of documents, and answering phones.
Beautician escort – work directly with beautician taking patients to and from.
Front desk/reception – direct patients and visitors to their desired location, deliver flowers to patients and escort patients to therapy if support or guidance is needed.
Gift Shop – retail responsibilities, cashier, sales, replenishment.
Kitchen – daily inventory support and restocking of cafeteria items; help with data entry.
Volunteer Ambassador – welcome newly admitted patients to the hospital and help ensure that their requests have been addressed. This activity is geared toward experienced Bryn Mawr Rehab Hospital volunteers.
Volunteer application process
If you are interested in becoming a volunteer please complete the appropriate application below and either email it to [email protected] or send it in the mail to:
Bryn Mawr Rehab Hospital
Attn: Volunteer Department
414 Paoli Pike
Malvern, PA 19355
Once your application and letters of recommendation are received, you will be contacted for an appointment which includes a tour of Bryn Mawr Rehab Hospital and orientation materials.
All volunteers must be at least 15 years of age.