A message of gratitude from President, Donna Phillips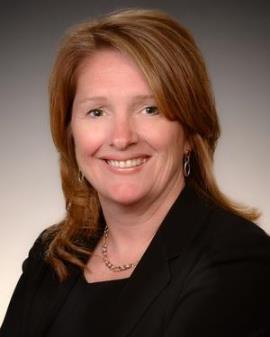 As you know, so much has changed in our world within a short period of time, challenging us to behave and make decisions in ways that are very different from past practices. At Bryn Mawr Rehab, our mission of providing human care and keeping our community well has never been more important. We are thinking of you and your loved ones during this time and are here to assist you in any way we can.
While much of our daily hospital life remains the same, in caring for patients requiring cognitive and physical rehabilitation, much has changed as well. Personal protective equipment (PPE) and social distancing are now part of our daily vernacular. We are caring for COVID patients, most of whom come to us following serious acute care stays, and are deconditioned. But what hasn't changed is our staff's commitment to practice expert and compassionate care. I am extremely proud of our Rehab team.
In this issue of Inspiring Hope, you can read about and watch the uplifting video of our first discharged COVID patient, Mr. Fisher, from a few weeks ago. Since then, there have been others we have celebrated. I also want to thank the many community partners who have come alongside us, with donations of food, masks, cards, flowers, and the exhilarating display of lights and sirens by our first responders. These gestures of kindness mean so much to us.
Thank you for being a friend and supporter of Bryn Mawr Rehab. Together, we will get through this.
---
Celebrating recovery of our COVID patients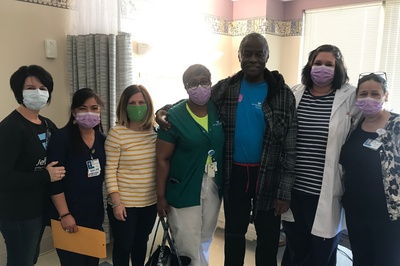 Bryn Mawr Rehab Hospital has celebrated a number of COVID patient discharges. Staff line the first floor hallway cheerfully applauding, while the Rocky theme song, Gonna Fly Now, plays over the speaker system. It's a moving experience for patients, their families, and staff alike!
Mr. Fisher was Bryn Mawr Rehab's first discharged COVID patient. He was originally admitted to Lankenau Medical Center for 11 days, and then spent two weeks with us. Mr. Fisher not only walked, but danced, out the front doors of Rehab. Victory at its best! Such a beautiful man as he shared about all the love, inspiration and great care he received from his Rehab family.
View Mr. Fisher's celebration video
---
Main Line Health COVID-19 employee emergency and research funds
While our lives today feel so very different, one thing that has remained constant is the generosity of the human spirit. We have been so grateful to have many community members and friends reach out to Bryn Mawr Rehab, and our sister hospitals throughout Main Line Health, asking how they can help during this time. In response to these offers of generosity, Main Line Health has established two new funds–the Employee Emergency Fund and COVID-19 Research Fund.
Gifts to the Employee Emergency Fund ensure we can support our health care team with financial relief to cover personal expenses including childcare, housing, commuting costs and wellness needs. The COVID Research Fund is allowing several biomedical scientists at the Lankenau Institute of Medical Research (LIMR) who have pivoted their research toward battling the coronavirus to advance their studies to better diagnose, treat and prevent COVID-19 infection.
As of May 20th, we received 725 gifts totaling $432,283 to both funds.  The Employee Emergency Fund has already supported nearly 450 Main Line Health employees, and more awards will be distributed in a future round of grants once the fund grows.
As shared by one of the recipients of the Employee Emergency Fund, "I wanted to reach out and say thank you so very much for your generous and thoughtful donation during this time of need. I will use the money from the Emergency Fund directly for food and groceries to help feed my five daughters who are now home full-time…It is truly an honor and privilege to work for Main Line Health. While it is sometimes scary, sad, and difficult to work in the Emergency Department during the Covid-19 pandemic, I always know that my BMH family and co-workers stand behind me with infinite amounts of love, compassion and support."
If you are interested in learning more about these funds, or would like to make a donation, please visit the Main Line Health website or contact Marissa Keough, Associate Director of Development, at 484-596-5614 or [email protected].
---
Outpouring of support from the community
In addition to financial contributions, community members and friends have been generously supporting our staff with kind words of thanks, food, and even special tributes recognizing their hard work during this time.
The walkways of Bryn Mawr Rehab's campus are adorned with chalk messages thanking and encouraging our staff. Our administrators receive letters and messages from patients and family members thanking them for their compassionate and skilled care. Countless meals and other treats continue to be delivered to our staff on a weekly basis. And local first responders paid a visit to our campus, sounding their sirens and applauding our health care workers.
These acts of kindness are greatly appreciated and have a lasting impact on our staff. View some of these special moments here.
---
How the new CARES act may affect your gift planning
As you may know, Congress passed a new law called the Coronavirus Aid, Relief and Economic Security (CARES) Act to help individuals, families and businesses cope with the economic fallout from the COVID-19 crisis. The legislation contains provisions beneficial to donors, summarized here for the year 2020:
Required Minimum Distributions Waived – the CARES Act impacts owners of Individual Retirement Accounts (IRAs) by providing a temporary waiver of Required Minimum Distributions (RMDs) for 2020, allowing IRA owners age 72 and older to keep funds in their IRAs and other qualified retirement plans. Given the recent losses in investment markets, some people may wish to keep funds in their accounts this year. You may still make direct distributions to Bryn Mawr Rehab and other charities from your IRA, just as before, if it makes financial sense for you to do so.
Example: A donor over the age of 59 ½ with a large IRA balance not needed for living expenses wants to give more of that IRA now but do so without paying taxes. In 2020, the donor withdraws $500,000 from the IRA and then contributes it to charity. This adds $500,000 to adjusted gross income, but the donor can deduct the entire $500,000 since charitable gifts in 2020 are deductible to the full extent of adjusted gross income. The deduction offsets the taxable income, which is the equivalent of a tax-free charitable rollover.
Charitable Deduction Limits Modified for Individuals – if you made a large cash gift in 2019, you could deduct it only to the extent of 60% of your adjusted gross income. This year, the CARES Act allows you to deduct it to the extent of your entire adjusted gross income.
Example: Suppose you had income of $300,000 in 2019, but from cash investments you made a cash gift of $500,000.Your previous deduction limit would have been $180,000 (60% of $300,000). In 2020, you can deduct $300,000. In both cases, the unused amount of the deduction could be carried forward and used to the extent of the limitation applicable to the carryover year.
New Charitable Deduction Available for Non-Itemizers – the law allows a special income tax charitable deduction up to $300 per "tax-filing unit" for those who claim the standard deduction and don't itemize their 2020 income tax return. This provision was inserted specifically to encourage charitable giving this year. Married couples filing jointly are considered one "tax-filing unit" and can deduct up to $300.
Example: Suppose you are over the age of 65 and your itemized deductions would total $12,000. You would claim the standard deduction of $13,700 rather than itemizing . If you give at least $300 in cash to qualifying charities this year, you can elect the standard deduction of $13,700 and also deduct $300 – for total deductions of $14,000.
The CARES Act is several hundred pages long and includes numerous provisions that could benefit you financially. Consult your advisors about these provisions, and us if we can help you with any gift-planning opportunities – Karen Gadson, Executive Director of Development ([email protected]). Thank you for caring about Bryn Mawr Rehab and the work we do.
---
Gifts at work
Bryn Mawr Rehab Hospital continues to raise funds in support of priority programs like the Patient Therapy Scholarship Fund, which provides financial assistance to patients who lack the personal or insurance means to continue on their path to recovery. Recently, this fund was able to provide a patient with transportation upon discharge as her family was unable to come pick her up due to COVID related travel restrictions. Grants range in size from $25 to help with prescription co-pays, to $2,000 to purchase a wheelchair for a patient.
To support this fund, or one of Bryn Mawr Rehab Hospital other funding priorities, please visit Ways to Give.Thank you!
---
Welcome! Barry Berkowitz and Kirk Rebane join the Bryn Mawr Rehab Hospital Foundation board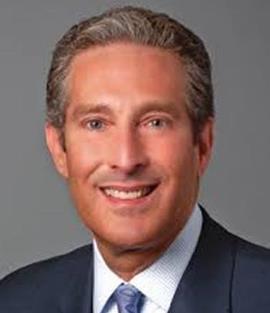 : Barry, a CPA, is Managing Director/Shareholder at CBIZ & Mayer Hoffman McCann P.C. He has over 30 years of experience in public accounting, including extensive experience with the real estate and construction industries, HVAC industry, not-for-profit housing communities and HUD audits, in addition to extensive consulting and professional services firms throughout the country. Barry has served as treasurer of the Delaware Valley Chapter of the Crohn's and Colitis Foundation of America, as well as on the United Way Network Relations Committee of the Southeastern PA Chapter.  He and his wife have been guests and supporters of the annual Art Ability event.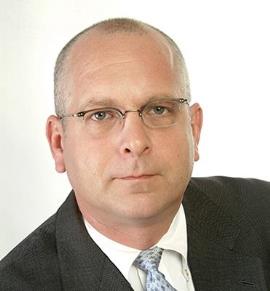 Kirk is the co-Founder of Haverford Healthcare Advisors, as well as a Chartered Financial Analyst (CFA).  Kirk has over 30 years of business valuation advisory and transaction advisory experience, having completed projects during that time for more than 2,500 business entities.  During his career as a valuation expert, he has valued companies throughout the U.S. and in other countries with a combined value in excess of $50 billion.  He has directed the preparation of valuation projects, and/or testified, in numerous litigation support actions.  Kirk is a Board Member and Former President of the Northeast Chapter of the Radiology Business Management Association.  He and his wife have also attended and supported the annual Art Ability event."