Enhancements to the Laurels Family Center on the horizon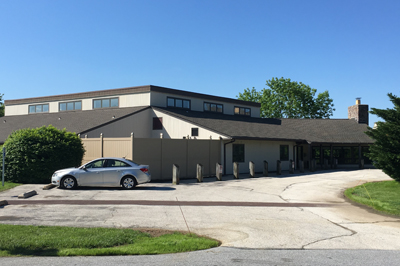 Patricia and John Walsh have generously made a six-figure gift commitment to renovate the Laurels at Bryn Mawr Rehab Hospital. John serves on the Main Line Health Board of Governors. Located on Bryn Mawr Rehab's campus, the Laurels provides free-of-charge accommodations to families who want to be close to their loved one during their recovery.
Upwards of 15 to 22 families a month stay at the Laurels, from a few days to several weeks. The Walshes' commitment will renovate ten guest rooms and private baths, and two large kitchenette and dining areas, as well as make possible the addition of a family suite and laundry room.
We are extremely grateful to Patricia and John for partnering with us and helping to create a warm and inviting space for patient families.
---
Bryn Mawr Rehab Hospital receives renewed CARF accreditation
It is with great pride we announce Bryn Mawr Rehab Hospital has again been accredited for a period of three years by the Commission on Accreditation of Rehabilitation Facilities (CARF). This accreditation decision represents the highest level of accreditation an organization can receive and indicates the organization's substantial compliance with CARF standards.
In January, a team of surveyors visited our campus and we successfully demonstrated our commitment to offering programs and services that are measurable, accountable, and of the highest quality. This accreditation reflects the commitment to excellence shown by all our staff and volunteers.
---
Designer Handbag Bingo – Saturday, June 15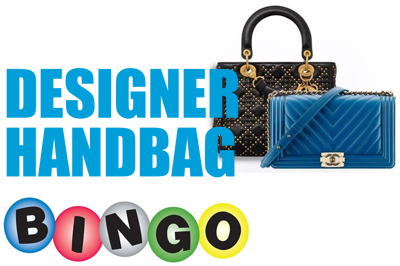 Please consider joining us for Designer Handbag Bingo on Saturday, June 15! Sponsored by the Bryn Mawr Rehab Hospital Volunteer Association, the event will be held at SS. Simon & Jude on Route 3 in West Chester, Pa. Grab some friends, bring some food and drink, and enjoy an afternoon of bingo—and the chance to win a great handbag (Kate Spade, Dooney & Bourke, Tory Burch, and more). You can purchase tickets online at one.bidpal.net/vabingo or send your check into the Volunteer Association (see bingo flyer PDF for mailing instructions).
---
The Benjamin Rush Society hosts its annual Evening of Appreciation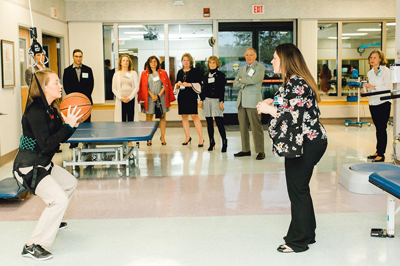 In May, the Benjamin Rush Society hosted its annual Evening of Appreciation thank you reception. This society of leadership donors is comprised of friends and supporters who make annual gifts of $1,000 or more.
The event, which was held at Bryn Mawr Rehab Hospital, provided guests with an inside look of some of our distinguishing hospital hallmarks, through guided tours of our state-of-the-art equipment and unique therapy programs. Many of the tour areas, and equipment featured, were made possible thanks to the generosity of our donors. Guests enjoyed seeing the impact of their support.
View photos from the Evening of Appreciation (Google Photos)
---
Bryn Mawr Rehab Hospital doctors and therapists featured in CBS3 webcast series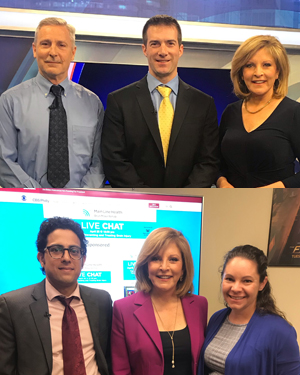 Brian McDonald, DO, director of the Outpatient Brain Injury and Concussion Program, and Clint Beckley, occupational therapist, educated CBS3 viewers about concussion treatment at Bryn Mawr Rehab during their live webcast with CBS3 Health Reporter Stephanie Stahl.
View the McDonald and Beckley webcast
Mithra Maneyapanda, MD, physiatrist at Bryn Mawr Rehab, and Casey Converse, occupational therapist, also participated in a live webcast with CBS3 Medical Reporter Stephanie Stahl on April 25. They discussed the topic: preventing and treating brain injury and offered tips and recommendations on staying safe.
---
Introducing art therapy as part of Brain Injury Awareness Month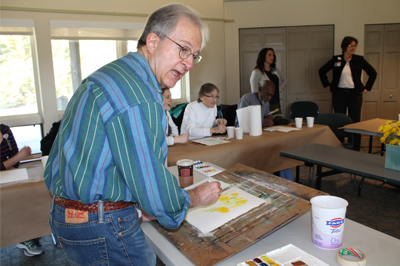 As part of Brain Injury Awareness Month in March, 11 patients participated in a watercolor workshop hosted by Art Ability artist and Bryn Mawr Rehab former patient, Sal Panasci. After 25 years in the advertising field and receiving numerous awards for his design work, in 1995, Sal's life took a dramatic turn. He was injured in an accident as a passenger in a taxi, which resulted in a mild traumatic brain injury and blindness in one eye.
During his initial rehab, he was encouraged to try painting in watercolor, a medium that was new to him. Sal says, "I become emotionally attached to the color palette, the texture of the paint, and the composition. Through this, the painting takes on a character of its own and a specific visual interest, allowing the viewer to recognize a familiar subject in a new fashion."
The workshop Sal led provided patients with an opportunity for a change of pace from their traditional therapy. It was nothing short of amazing; patient feedback was very positive. One gentleman commented he discovered a new hobby. Others simply enjoyed losing themselves in the moment through the healing power of art. Supplies for the workshop were funded through the Dana Jones Art Therapy Fund.
---
May events benefit brain injury programs and services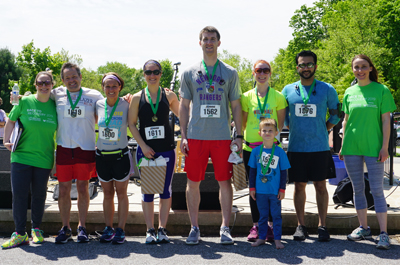 On May 11, Bryn Mawr Rehab Hospital and the Brain Injury Association of Pennsylvania hosted more than 200 runners, walkers and rollers for the 5K race and one-mile walk/roll at the annual Race to Recovery event in East Goshen Park. Race to Recovery raises awareness and promotes safer choices to decrease the incidence and severity of traumatic brain injuries. One death every day and one brain injury every four minutes can be prevented. The race additionally provides education on the effects of a brain injury while bringing together individuals who are involved in the brain injury community. Event proceeds, over $10,000, benefit Bryn Mawr Rehab Hospital and the Brain Injury Association of Pennsylvania, supporting equipment, scholarship programs, school/work and community re-entry programs, support groups, as well as many educational events. The Blue Sky Band, featuring Main Line Health neurologists Dr. David Long and Dr. Thomas Graham, provided race day entertainment.
On May 22, the Bryn Mawr Film Institute presented the documentary Music Got Me Here. The documentary is about a young man, Forrest Allen, and the role music therapy played in his recovery following a snowboarding accident and traumatic brain injury. A large audience attended, and following the film, there was a Q&A with Forrest, his parents, music therapist and director. Bryn Mawr Rehab benefited from 50 percent of the ticket sales.
---
Welcome Bryn Mawr Rehab Hospital Development Representative Anna Lorine
We are pleased to welcome our new colleague, Anna Lorine. Anna is an Ursinus alumna. After spending a few years in the medical field, including work as an ED technician at Lankenau, Anna decided to change paths and pursue a career in the development profession.
In her role, Anna spearheads the Employee Giving Campaign, as well as assists with grant requests and progress reports, Art Ability and other fundraising and stewardship events, the annual development magazine, and overall daily operations of the development office.
---
Mark your calendars for the 2019 Art Ability Preview Party!
The annual Art Ability Preview Party will be held on Saturday, November 2, 2019. We are excited to once again host a dinner and auction as part of the evening, giving us the opportunity to further share the mission of Bryn Mawr Rehab Hospital by highlighting an inspiring patient story.
Stay tuned for ticket information. Please visit our website if you or your company is interested in sponsoring the event.
---
'Amazing' care for hemorrhagic stroke
Thanks to her Main Line Health team, a Coatesville woman recovered from a potentially devastating brain bleed.