Board Chair Brian McTear hands over the reins to Joseph McHale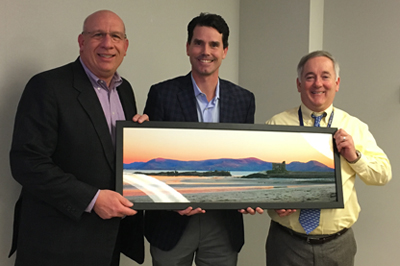 In March, Joseph McHale, who joined the Bryn Mawr Rehab Foundation Board in July 2014, was elected Foundation Board Chair. McHale is a partner in the law firm Stradley Ronon. Brian McTear is immediate past president of the foundation.
McTear joined the foundation board in January 2012 and assumed the role of foundation chair in September 2015. During his tenure, the $2M goal Art Ability Endowment Campaign was successfully achieved; Bioness Vector therapy equipment was purchased, largely funded through philanthropy; the foundation board grew from 12–17 members and board engagement was strengthened through the establishment of annual giving, major gifts, planned giving and nominating committees. McTear also was a major voice and advocate for the inaugural Art Ability Dinner & Auction in 2017, which netted in excess of $170,000.
---
Dircks Foundation supports the purchase of a driving simulator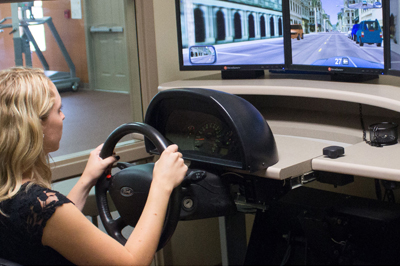 Many times, when a patient has a positive experience with Bryn Mawr Rehab Hospital, they look for ways to give back and help other patients like them. Joan Walsh, a former patient, did just that when she introduced the hospital to her family foundation, The Robert and Joan Dircks Foundation. The foundation, which was founded by Joan's father Robert in 1991 following the untimely death of his wife Joan, made their first leadership gift to the hospital in 2012 in support of our NeuroRehab Center. This June, they renewed their generosity to the hospital with a leadership gift of $20,000 to support the purchase of a driving simulator for the Driver Rehab Program. The equipment will be an essential tool to help safely assess and train patients with a desire to return to driving. Both Joan, and her sister Carolyn, were instrumental in helping the hospital secure this equipment that will impact hundreds of patients annually.
---
Bryn Mawr Rehab Hospital Receives HAP Achievement Award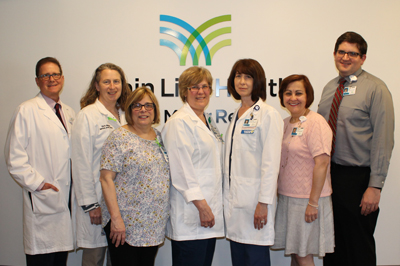 Bryn Mawr Rehab Hospital is a recipient of the Optimal Operations Award from the Hospital Association of Pennsylvania. The award, which was presented in May at the 2018 Leadership Summit in Harrisburg, was in honor of recent enhancements made to protocols for the one-on-one supervision of patients, ensuring the best care and safety for our patients, while also increasing productivity.
---
Project SEARCH family members give back
Project SEARCH at Bryn Mawr Rehab Hospital helps individuals with disabilities build the skills and experience necessary to secure competitive employment. More than 90 percent of participants secure employment, just like recent graduate James, who secured a rewarding career at completion of the program. Given his positive experience, his mother, Alix James, and his grandparents, Richard and Elsie Kellerman, wanted to support the program and help others like James on their path to a career. Therefore, together, they made a $10,000 charitable contribution in support of Project SEARCH. Their gift will allow for the purchase of assistive technology equipment for the program, which will provide interns, especially those with vision and physical impairments, the tools they need to have greater success in completing their tasks.
---
Art Ability exhibition featured at City Hall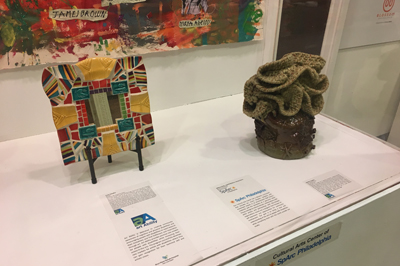 In March, 12 artists from Bryn Mawr Rehab Hospital's Art Ability were showcased at the Art Gallery at City Hall in Philadelphia. Six artists from Art Ability attended the kick-off reception along with other artists participating in the InvisAbility exhibition that highlighted works from artists with disabilities in recognition of March as Intellectual and Developmental Disabilities Month.
Mark your calendars! The 2018 Art Ability preview reception, dinner and auction will be held on Saturday, November 3. For more information about the event, as well as sponsorship opportunities, visit our website at mainlinehealth.org/artability.
---
Bryn Mawr Rehab Hospital physical therapist is recipient of the National Geographic Channels' Chasing Genius Award
Asha Gummadi, neurological physical therapist, Bryn Mawr Rehab Hospital, received the Chasing Genius Award from the National Geographic Channel, celebrating her hard work, innovation and commitment to global outreach for physical therapy services. Gummadi created a web application for an exercise prescription for different diagnoses in both English and multiple Indian dialects. Her intention is to bring physical therapy access to underserved areas and remote regions across the globe.
"The idea stemmed from a personal experience of advising exercises to my family who live in India," explained Gummadi. "In general, even if we are bilingual, we understand better in a language that we learn in childhood. My intent is to help the patients make it easier for therapists by utilizing a solution that improves access and open communication between therapist and patient."
Along with the award, she received $25,000 to continue with this project. Read the article and watch the video on her work.
---
Welcome new board members!
The Bryn Mawr Rehab Hospital Foundation Board continues to grow, attracting business and community leaders who are eager to help the hospital achieve its goals. Four new individuals were recently elected to the hospital foundation board: Robert McCann, founding member, McCann & Wall; Kenneth Mumma, retired, former founding chairman and chief executive officer of Customers Bank (formerly New Century Bank); Michael Prendergast, senior vice president and senior director, Capital One; and Geoffrey Sheehan, regional vice president, Meridian Bank.