Bryn Mawr Rehab Hospital hosts Race to Recovery benefitting the Brain Injury Association of Pennsylvania and Bryn Mawr Rehab Hospital Patient Scholarship Fund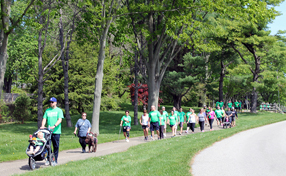 On Saturday, May 14, 2016 volunteers from Bryn Mawr Rehab Hospital and the community came together to support the Race to Recovery in East Goshen Park. A total of 189 walkers, runners and rollers struck out through the park and surrounding neighborhood for the one mile fun run, and 5k walk, run and roll. Overall winners of the race were Mike Padilla with a finishing time of 16:43 and Brynn Bergin with a finishing time of 22:39. Post-race, attendees enjoyed live music of the Blue Sky Band at the parks bandstand. Over $17,000 was raised, half of which will benefit Bryn Mawr Rehab Hospital's Patient Therapy Scholarship Fund. This fund provides scholarships to patients who are unable to afford the care or equipment need to help them in their recovery. The remaining funds will assist programs offered by the Brain Injury Association of Pennsylvania. The Race to Recovery committee would like to thank the sponsors who supported the event through their generous donations: CTDI; Numotion; Bryn Mawr Rehab Hospital; RAML; Hershey Mills; Integrative Health; Bryn Mawr Rehab Hospital Brain Managers; Restart Your Mind; Remed; Dunbar; NeoPolitan Deli; Pepsico.
---
'Unmasking Brain Injury' exhibit and reception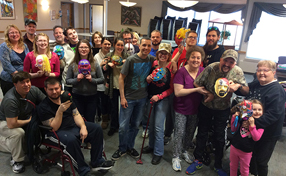 In April, Bryn Mawr Rehab Hospital hosted a reception to view the gallery display of more than 30 masks created by survivors of brain injury. Approximately 65 former patients, members of the community and clinicians attended the event to view the masks and to hear the stories behind the mask.
Speech language pathologist Jessica Petrongolo spearheaded this project at Bryn Mawr Rehab and introduced the concept to her patients as a method of expressing their feelings associated with their brain injury. It quickly caught on and the project expanded into other areas of treatment including survivor support groups.
Bryn Mawr Rehab Hospital is a recognized leader in the field of brain injury rehabilitation whose goal is to help individuals achieve their maximum recovery and best quality of life possible after tragedy strikes. The mission of the Unmasking Brain Injury project is:
To promote awareness of the prevalence of brain injury
To give survivors a voice and the means to educate others of what it's like to live with a brain injury
To show others that persons living with a disability due to their brain injury are like anyone else, deserving of dignity, respect, compassion and the opportunity to prove their value as citizens in their respective communities
The event included opening remarks from Dr. David Long, Medical Director of Bryn Mawr Rehab's Brain Injury Program, an introduction to the project by Petrongolo, and the presentation of two masks by the brain injury survivors who created them.
---
Honoring our dedicated volunteers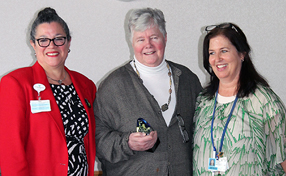 During National Volunteer Week in April, Bryn Mawr Rehab Hospital hosted a luncheon to honor the talent and dedication of our volunteers, who not only support and enhance the work we do, but directly contribute to our success.
Throughout the past year, 255 volunteers generously offered 14,065 hours of service to Bryn Mawr Rehab Hospital. Whether it's assisting patients through the hospitals, greeting visitors as they enter through our doors, bringing smiles to faces of patients and employees through pet therapy or staffing our gift shops, our volunteers make a difference every day. The dedication, cheerfulness, service and compassion that our volunteers bring to the workplace by serving our communities have proven to be invaluable. Their presence is instrumental to our common goal of providing a superior patient experience.
---
IRA rollover update
In 2015, Congress enacted a permanent extension of the IRA charitable rollover. As a result, individuals age 70½ or older can make gifts directly from their IRA to charity now and in the future. This is a great opportunity to make a significant impact in the lives of our patients at Bryn Mawr Rehab Hospital. If you are 70½ or older, you may also be interested in a way to lower the income and taxes from your IRA withdrawals.
Benefits of an IRA charitable rollover:
Avoid taxes on transfers of up to $100,000 from your IRA to our organization
Satisfy your required minimum distribution (RMD) for the year
Reduce your taxable income, even if you do not itemize deductions
Make a gift that is not subject to the 50 percent deduction limits on charitable gifts
Help further the work and mission of Bryn Mawr Rehab Hospital
How an IRA charitable rollover gift works:
Contact your IRA plan administrator to make a gift from your IRA to us
Your IRA funds will be directly transferred to us to help continue our important work
Please note that IRA charitable rollover gifts do not qualify for a charitable deduction
Please contact us you wish for your gift to be used for a specific purpose
If you have any questions about an IRA charitable rollover gift, please contact Karen Gadson, executive director of development, at 484.596.5638 or [email protected]
---
Bryn Mawr Rehab Hospital Foundation elects new board members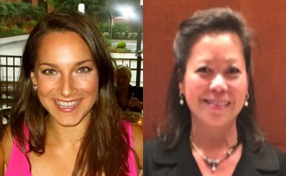 Bryn Mawr Rehab Hospital Foundation recently elected two new members to our Foundation Board: Maria Luisa Nunez, Vice President, Financial Planning and Analysis AlliedBarton Security Services, LLC; and Erin Russell, Consultant, North Highland. The Bryn Mawr Rehab Hospital Foundation Board is comprised of talented and generous community members. The board will continue to grow in the coming months in an effort to diversify our members and expand our reach within our communities.
---
Project SEARCH networking breakfast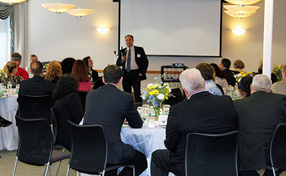 In March, 45 community corporate leaders came to Bryn Mawr Rehab Hospital for a networking breakfast on Training the Future Workforce. Attendees learned about the Project SEARCH program and were encouraged to become business partners. As a business partner of Project SEARCH, a company would offer internship opportunities within their organization to aide our interns in gaining the experience and skills necessary to succeed in the workforce. Keynote speakers at the event included Jack Lynch, President and CEO of Main Line Health, Project SEARCH's largest business partner; and David De Notaris, Executive Director, Department of Labor and Industry's Office of Vocational Rehabilitation, who partners with us to assist individuals with disabilities through the program. Many new connections were made at the event, and we look forward to increasing our number of business partners as a result of the event.
---
Bryn Mawr Rehab Hospital hosts a screening of Concussion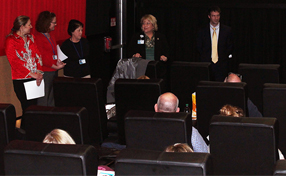 In February, Bryn Mawr Rehab Hospital hosted a screening of the movie Concussion at the Regal Cinemas in Edgmont, followed by an educational session facilitated by Bryn Mawr Rehab Hospital clinicians. With concern growing around the long-term effects on the health of people who suffer from multiple concussions, this forum provided education and conversation among health care providers and community leaders about the risks of concussion and persistent symptoms, as well as best practices for treatment of unresolved concussions, and how each member of the multi-disciplinary team contributes to the treatment plan.
Approximately 120 physicians, nurses, school administrators, guidance counselors and coaches attended, and had the opportunity to hear a panel of concussion experts and participate in a Q&A session led by Bryn Mawr Rehab Hospital's David F. Long, MD; Brian P. McDonald, DO; Edward Murphy, PsyD; Cris Chambers, PsyD; Donna Merkel, PT; Clint Beckley, OT; Rita Marck, OT; Cori Bortnem, SLP; Kristen Seiz, SLP; and Deborah Watson-Shaeffer, PT.
Bryn Mawr Rehab Hospital is a recognized leader in the evaluation and treatment of concussion. Clinicians from The Concussion Program at Bryn Mawr Rehab Hospital treat more than 500 patients per year and have seen a 20 percent increase in patient volume each year for the last three years.
---
Evening of Fashion hosted by Paula Hian to benefit Bryn Mawr Rehab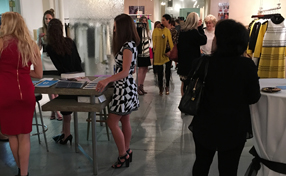 In April, internationally-acclaimed fashion designer, Paula Hian, hosted an Evening of Fashion in support of Bryn Mawr Rehab Hospital. Guests were invited to Ms. Hian's studio in Manayunk to explore and shop her beautiful clothing line while enjoying cocktails and hors d'oeuvres. 20 percent of the events proceeds were generously donated to Bryn Mawr Rehab Hospital.
---
Support your community hospital
Bryn Mawr Rehab Hospital is a non-profit community hospital. We rely on the generosity of individuals and organizations throughout the Philadelphia suburbs and beyond to help us continue to provide exceptional physical and rehabilitative medicine services to the families in our community and for future generations to come.
Your gift to Bryn Mawr Rehab Hospital will help support the programs and services for the many patients we serve. Consider making a tax-deductible contribution to Bryn Mawr Rehab Hospital.