Nearly 400 attend Bryn Mawr Rehab Hospital's 21st Annual Art Ability event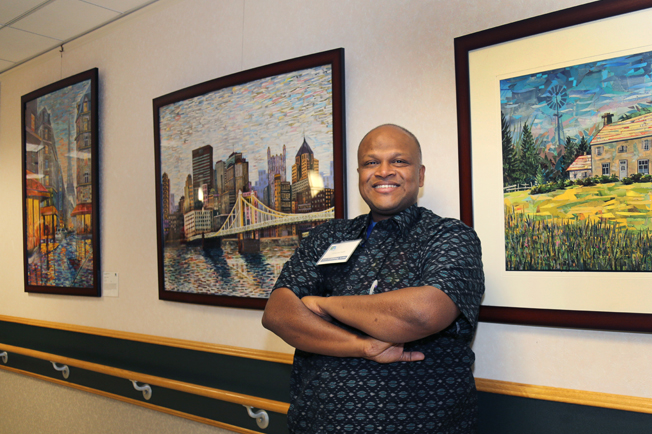 Nearly 400 people enjoyed the creative works of 202 artists with physical and cognitive disabilities at the opening reception for Bryn Mawr Rehab Hospital's 21st Annual Art Ability Exhibition and Sale on Saturday, November 5, 2016. Guests mingled with many of the exhibiting artists and made their purchases before the exhibition opened to the public the next day. A small jazz ensemble added to the festive mood.
This year's 12-week exhibition and sale features over 400 artworks by artists from 30 states and three countries in such media as jewelry and fine crafts, sculpture, mixed media and photography as well as works on canvas and paper. The exhibition is free and open daily to the public from 9:00 am–5:00 pm through January 2017. All works are for sale. A percentage of the funds raised through the sale of artwork support Bryn Mawr Rehab Hospital's nationally-recognized rehabilitation programs while 80 percent of the sale goes directly to the artist.
Bryn Mawr Rehab Hospital's Art Ability is a year-round showcase and celebration of art by artists with disabilities. As the country's largest, international juried exhibition and sale of art and fine crafts created by artists with cognitive, physical, hearing and/or visual disabilities, Art Ability offers a unique and accessible venue for artists with disabilities to display and sell their work. In addition to supporting Bryn Mawr Rehab Hospital's vision and mission to advocate for those with disabilities in our community, Art Ability provides community outreach and education; a corporate art acquisition program; and a permanent collection at the hospital where art is incorporated into therapy.
"Art Ability focuses our appreciation, not on the artists' disability, but, rather, on their astounding artistic abilities," said Sherman Fleming, Art Ability curator. "I am humbled and inspired by the artwork." The Art Ability Exhibition has many generous sponsors including leadership support from Construction Services Group (Presenting Sponsor) and Encore, a Quintiles Company (Preview Reception Sponsor). In addition, the program has many philanthropic partners including The William Penn Foundation, Eden Charitable Foundation and the Greater Philadelphia Cultural Alliance, in partnership with the PA Council on the Arts. Visit our website for a full list of event sponsors and philanthropic partners.
Through the generous support of The William Penn Foundation, Art Ability is now able to offer an online sales gallery that provides the opportunity to view works for sale from our consignment inventory. Connect… Shop… Support at art-ability.org.
For more information about Art Ability 2016, including purchasing available pieces from this year's exhibition or taking a tour, please contact the Development Office at 484.596.5614.
Donna Phillips receives March of Dimes Achievement Award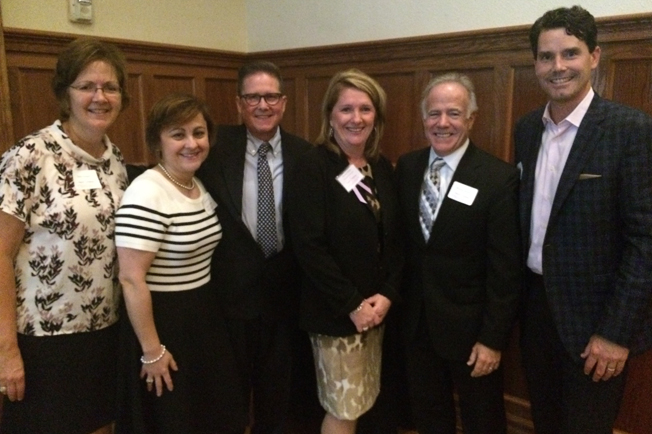 In October, Donna Phillips, president of Bryn Mawr Rehab Hospital, received the March of Dimes Achievement Award for Excellence in the Field of Health at the organization's Salute to Women of Achievement event at Aronimink Golf Club. This year marked the 27th anniversary of this annual event that honors the women who have made Chester County a better place to live and work while raising important funds for the March of Dimes mission to improve the health of mothers and babies.
In presenting the award to Phillips, Main Line Health Board of Governors Chair Steve Aichele said: "On behalf of the entire Main Line Health team, I want to thank Donna for her inspirational and energetic leadership AND I want to thank her family—her husband Chris, and children Sean and Jenna—for sharing their wife and mother with us so that she can continue to make such a positive impact on the communities we serve."
Accepting the award, Phillips spoke to the attendees about her experience having a child born with complications. "Because I was a high-risk pregnancy, my son Sean required close monitoring after birth and spent several days in the NICU. To this day, whenever I visit Bryn Mawr Hospital for work, I often see the physicians and nurses who cared for Sean, and 20 years later, I still thank them for the impact they made on our lives." She added, "The strides the March of Dimes has made throughout their history is truly remarkable—steadily decreasing the rates of premature birth across our country." Other award recipients included Chaya Scott, executive director of the Coatesville Youth Initiative, who received the Award for Public Service and Eileen Connolly Robbins, the POWER of Professional Women and founder of the Society of Professional Women (SPW) for business. Funds raised by the Salute to Women of Achievement help support prenatal wellness programs, research grants, neonatal intensive care unit (NICU) family support programs and advocacy efforts for stronger, healthier babies.
Main Line Health Center host grand opening of its new outpatient facility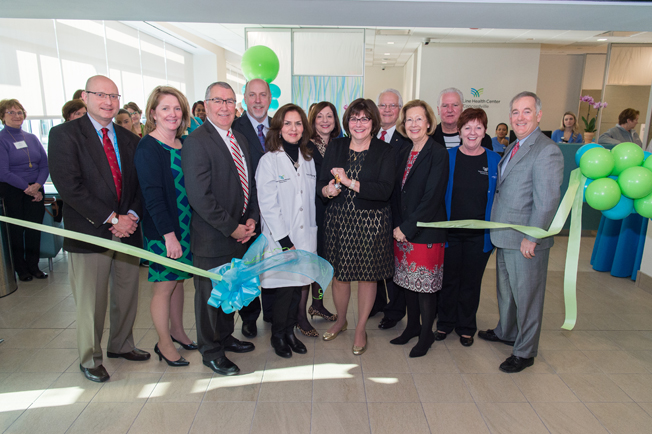 The new Main Line Health Concordville has opened as a premier destination for enhancing health and wellness for residents of Western Delaware County, Eastern Chester County and Northern Delaware. A ribbon cutting to mark the opening was held on Wednesday, December 14, 2016. Located on Route 1/Baltimore Pike, near the intersection of Route 202, Main Line Health Concordville is a 135,000 square foot, three-story facility, strategically positioned in the growing Concordville community.
The center demonstrates the system's commitment to enhancing the health status of the communities we serve. Services of the health center include: primary care, urgent care and specialty care including Lankenau Heart Group, OB/GYN and Nemours duPont pediatrics primary care, and a full complement of laboratory and imaging services. Also, Bryn Mawr Rehab will offer rehabilitation services and a concussion program.
An added feature of the health center is the new Fitness & Wellness Center, which includes cardiovascular, strength and free weight training equipment, fitness classes, an aquatic center and childcare services.
Pictured in the photo from the ribbon cutting (left to right): Paul Kempinski, enterprise vice president and president of Nemours/Alfred I. duPont Hospital for Children; Donna Phillips, president, Bryn Mawr Rehab Hospital and executive sponsor, Main Line Health PIVOT Project; Gary Perecko, president, Riddle Hospital; Eric Mankin, MD, president, Main Line HealthCare; Tomi McCann, MD, internal medicine; Lydia Hammer, senior vice president, Marketing and Business Development; Maria Flannery, director, Physician Practices and Ambulatory Care, Main Line HealthCare; Stephen Aichele, Esq., chair, Main Line Health Board of Governors; JoAnn Magnatta, senior vice president, Facilities Design and Construction; Gary Reidy, managing partner, Fitness and Wellness Professional Services; Kathy Jackson, patient service representative, Main Line Health Concordville; and Jack Lynch, president and CEO, Main Line Health.
National Rehab Awareness Week celebrations
Each September, Bryn Mawr Rehab Hospital hosts a week-long celebration for employees and the community in honor of National Rehab Awareness Week, September 19–26, 2016. The week is dedicated to raising awareness of the value and impact of rehabilitation on individuals and the community. Many activities are planned for the week, including a Patient Success Stories panel, where former patients share their compelling medical stories and their positive experiences on their road to recovery at Bryn Mawr Rehab Hospital. Watch the video to hear some of our speaker's stories.
Many milestones for Project SEARCH
In September, Bryn Mawr Rehab hosted its sixth Project SEARCH Graduation. Over 90 people were in attendance to celebrate the graduates and what they have accomplished over the course of their program. Secretary of the Pennsylvania Department of Labor and Industry, Kathy Manderino, was keynote speaker of the event and was joined by Project SEARCH graduates Jeremy Spielman and Brian Cunningham, who both shared their stories.
Project SEARCH is an innovative program that was established at Bryn Mawr Rehab that focuses on adults with disabilities who want to enter or re-enter the workforce. Interns are taught employable skills through on-the-job experience in community businesses and organizations. The Bryn Mawr Rehab Project SEARCH program is the first adults-only program in Pennsylvania and only the second in the United States.
This year, Project SEARCH received the Employment Outcome Award from the National Project SEARCH organization for achieving 90–99 percent employment for its 2015 program graduates. Bryn Mawr Rehab was one of only 12 other program sites to receive this award. Michelle Epstein, manager of community outreach, shares "This award is a tremendous honor for the program. It takes hard work, commitment, a strong team, and support from our community partners to achieve this recognition. It is a privilege to work with our interns and be a part of their success."
Bryn Mawr Rehab Hospital hosts First Swing Golf Clinic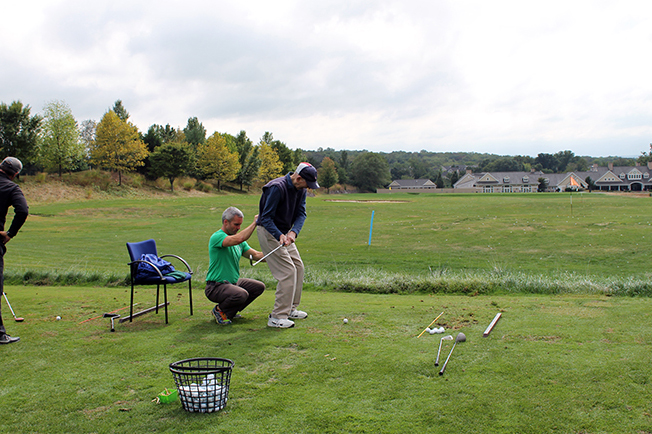 In the fall, Bryn Mawr Rehab Hospital hosted the 2016 First Swing Golf Clinic, in partnership with the Eastern Amputee Golf Association (EAGA) and RiverCrest Golf Club & Preserve. Despite the rainy weather, 23 eager golfers took part in the clinic, and a representative from the EAGA, four RiverCrest Golf Pros, and 16 staff members from Bryn Mawr Rehab Hospital helped out with the lessons throughout the day. The diversity of participants included individuals with amputation, stroke, brain injury and spinal cord injury. Some participants had never golfed before, while others were back on the course for the first time since their injury/illness.
"The golf event is truly inspiring and reminds us all why we chose to work at a place like Bryn Mawr Rehab Hospital. The diversity and number of participants, and the commitment of staff, makes this an event that we hope will continue to grow even more in the coming years," said Clare Small-McEvoy, director of therapy services at Bryn Mawr Rehab Hospital.
Bryn Mawr Rehab Hospital offered this program at no cost to participants through the generous support from sponsors, including Lawall Prosthetic & Orthotic Services; Kinetic Prosthetics; BOAS Surgical; Brandywine Living; Cocco Enterprises, Inc.; Prosthetic Innovations, LLC; Baylinks Golf; Dick's Sporting Goods, Inc.; Eastern Amputee Golf Association; and RiverCrest Golf Club & Preserve.
Bryn Mawr Rehab Hospital staff hosts coat drive in support of St. Agnes Day Room
For the last few years, Bryn Mawr Rehab Hospital has had an active partnership with the St. Agnes Day Room in West Chester, a parish ministry providing families in the community with a place of safety and dignity where everyone is treated with respect.
Last month, Bryn Mawr Rehab Hospital's support included the delivery of 104 winter jackets, coats, vests and pullovers, as well as snow pants, sweaters, socks, scarves, and many hats and gloves. The team at St. Agnes was absolutely thrilled and is quickly distributing all the items to their clients who will benefit from new and warm winter wear in time for the season.
"The outpouring of generosity for the St. Agnes coat drive was amazing," said Karen Gadson, executive director of development at Bryn Mawr Rehab Hospital. "We are grateful to all who contributed." The St. Agnes Day Room serves many immigrants from Central and South America, Albania, Italy, Africa and China.
During the course of a year, the Day Room provides 9,700 breakfasts and 18,000 hot lunches in addition to numerous other services. The Bryn Mawr Rehab Hospital leadership team also participates in this lunch program several times a year.
ACT NOW!
Congress has made the IRA charitable rollover provision PERMANENT going forward!
Gifts from your IRA to the Bryn Mawr Rehab Hospital Foundation can:
Be an easy and convenient way to make a gift from one of your major assets
Be excluded from your gross income in the year of the gift: a tax-free rollover
Count towards your annual required minimum distribution (RMD)
For your gift to qualify for benefits under the now-permanent extension:
You must be 70 ½ or older at the time of your gift
The transfer must go directly from your IRA to the Bryn Mawr Rehab Hospital Foundation
Your total IRA charitable gift transfer(s) cannot exceed $100,000
Your gift must be outright—no planned gift arrangements are allowed
For information on how to structure such a charitable gift, please contact Karen Gadson, executive director of development, at 484.596.5638 or [email protected].
This information is for general educational purposes. Please consult your advisors for applicability to your personal situation.
Please consider a year-end gift
Bryn Mawr Rehab Hospital continues to grow and prosper thanks, in large part, to our friends and donors. Charitable gifts impact all aspects of the hospital, helping to purchase specialized equipment for the best quality patient care; providing advanced training for our staff of dedicated professionals; making possible the hospital's annual signature special event, Art Ability; as well as supporting community outreach programs like Cruisin' SMART, which educates students on the dangers of impaired and distracted driving, and Project SEARCH, an educational and work transition program for individuals with disabilities. The many ways to give include the Annual Fund, Special Programs and Capital Projects, Endowed Funds and Planned Gifts. For more information, please contact the Development Office at 484.596.5614.