Art Ability Preview Reception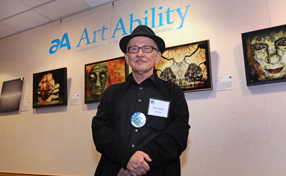 More than 350 people enjoyed the creative works of 186 artists with physical and cognitive disabilities at the opening reception for Bryn Mawr Rehab Hospital's 20th Annual Art Ability Exhibition and Sale on Saturday, November 7, 2015. Guests mingled with 50 of the exhibiting artists and made their purchases before the exhibition opened to the public the next day. A small jazz ensemble added to the festive mood.
113 pieces of art, jewelry and sculpture sold during the reception. The sale of art and jewelry at the 20th Annual Art Ability Preview Reception ensures that artists will receive more than $30,000 in commissions from opening night. A percentage of the funds raised through the sale of artwork support Bryn Mawr Rehab Hospital's nationally-recognized rehabilitation programs while 80 percent of the sale goes directly to the artist.
View photos from the 2015 Art Ability Preview Reception.
This year's 12-week exhibition and sale features over 500 pieces of art by 186 artists from 30 states and two foreign countries and includes jewelry, sculpture, mixed-media, fine craft, photography, works on paper and works on canvas or board. The exhibition is free and open daily to the public from 9:00 am–5:00 pm through January 2016. All works are for sale.
Bryn Mawr Rehab Hospital's Art Ability is a year-round showcase and celebration of art by artists with disabilities. As the country's largest, international juried exhibition and sale of art and fine crafts created by artists with cognitive, physical, hearing and/or visual disabilities, Art Ability offers a unique and accessible venue for artists with disabilities to display and sell their work. In addition to supporting Bryn Mawr Rehab Hospital's vision and mission to advocate for those with disabilities in our community, Art Ability provides community outreach and education; a corporate art acquisition program; and a permanent collection at the hospital where art is incorporated into therapy.
Art Ability is supported by generous grants from the Pennsylvania Council on the Arts and the William Penn Foundation as well as this year's presenting sponsor, Construction Services Group, among other friends and donors. For more information about Art Ability 2015, including group tours and to buy art please contact the Art Ability Office at 484.596.5607 or visit the Art Ability website.
A new online sales gallery also was launched this year at art-ability.org. The online gallery presents works from prior exhibitions which the artists have chosen to offer for sale on consignment.
---
Art Ability endowment – securing the future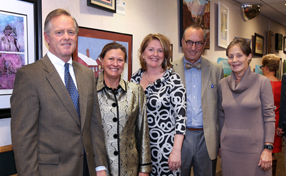 Bryn Mawr Rehab Hospital is proud of the role Art Ability plays in the life of our artists, patients, staff and community. While the hospital is pleased to underwrite the cost of Art Ability through ticket sales, a small percentage of proceeds from art sales, and annual contributions, we also recognize the best opportunity for securing the long term growth and success of Art Ability is through the establishment of a $2 million endowment.
This will create a reliable source of income in perpetuity, further enhancing the prestige of Art Ability. Commitments currently total $1.3 million toward this goal.
We gratefully acknowledge the many friends and donors who have partnered with us through their support of the Art Ability Endowment Campaign, including the following Leadership Donors of $25,000 and above: Thomas & Suzanne Reider Beach; The Chappell Culpeper Family Foundation; Construction Services Group LLC; Dorrance H. Hamilton; Nancy G. Harris; The KatherineAlexandra Charitable Foundation; The Muirfield Foundation; Sal & Linda Panasci; Tad Sperry & Ellen Harvey (campaign co-chairs); and Bill & Lee Warden (campaign co-chairs).
For more information about the Art Ability Endowment Campaign, please contact Karen Gadson, Executive Director of Development, at 484.596.5638 or [email protected].
---
Many milestones for Project SEARCH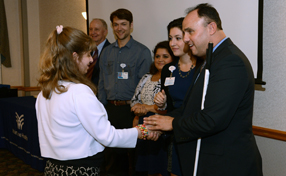 2015 marks Project SEARCH's five year anniversary! Project SEARCH is an educational and work transition program for adults with disabilities with a goal of helping them achieve competitive, sustainable employment and greater independence. The program was established at Bryn Mawr Rehab Hospital in October 2010 through a generous grant from the American Recovery and Reinvestment Act awarded by the Office of Vocational Rehabilitation (OVR).
OVR continues to be a strong partner and supporter of the program, and we have also been fortunate to partner with many other generous funders including corporations and foundations, as well as individual donors, in support of the program.
The program has evolved in many ways over the past five years, most notably with our expansion to a satellite site at Lankenau Medical Center. We now have the opportunity to serve double the amount of interns per year, with a high success rate of 81 percent career placement for our interns.
In September, we celebrated our most recent class of Project SEARCH graduates. Sixteen members were honored in front of an audience of more than 80 family, friends, and supporters. Keynote speaker David De Notaris, Executive Director for the Office of Vocational Rehabilitation (in photo congratulating graduates), delivered a moving and inspirational speech for the graduates and guests. Jack Lynch, President and CEO of Main Line Health, also offered inspiring remarks and congratulations to our graduates. Lastly, Lior Liebling, a 2015 graduate, candidly shared his experience with Project SEARCH and his appreciation for the program and team.
To learn more about Project SEARCH, please contact Michelle Epstein, Community Outreach Manager, at 484.596.5765 or [email protected].
---
Brain Injury Program on the forefront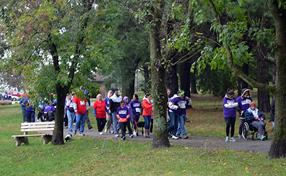 On October 4, 2015, 23 volunteers from Bryn Mawr Rehab Hospital, the community and Brain Injury Association of Pennsylvania (BIAPA), came together to support the Race to Recovery in East Goshen Park. In spite of the rainy weather, 37 runners and 99 walkers struck out on the 5K course through the park and surrounding neighborhood.
Overall winners of the race were Kevin Donnelly with a finishing time of 17:48 and Lisa Pagano with a finishing time of 20:49. Post-race attendees enjoyed live music of the Blue Sky Band under the pavilion. Volunteers and donors raised over $14,000 to help fund BIAPA programs including support groups, BrainSTEPS, education for medical staff and social service agencies, and fitting and distribution of free bicycle helmets at Brain Safety Fairs.
In addition, David F. Long, MD, medical director of the Brain Injury Program at Bryn Mawr Rehab, was recently recognized by the Council on Brain Injury (CoBI) for his long-standing professional commitment to serving individuals throughout their lives after brain injury. A board-certified neurologist specializing in neurorehabilitation and behavioral neurology, Dr. Long has been treating patients with Traumatic Brain Injury (TBI) since 1983.
---
Loving the game of golf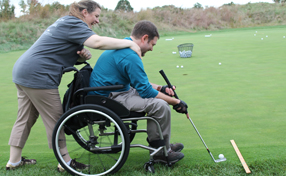 In September, Bryn Mawr Rehab Hospital hosted the 2015 First Swing Golf Clinic in partnership with the Eastern Amputee Golf Association(EAGA) and RiverCrest Golf Club & Preserve. In spite of threatening weather, 15 eager golfers took part in the clinic, with representatives from the EAGA, RiverCrest Golf Pros, and 15 Bryn Mawr Rehab Hospital staff members (including Aimee Scafaria, Advanced Clinician Spruce Unit at left in photo) helping with the event.
Participants included individuals with amputation, stroke, brain injury, and spinal cord injury. Some participants had never golfed before, while others were back on the course for the first time since their injury/illness.
Bryn Mawr Rehab Hospital offered this program at no cost to participants with the generous support from our sponsors: Lawall Prosthetic & Orthotic Services; Kinetic Prosthetics; Prosthetic Innovations, LLC; Independence Prosthetics - Orthotics, Inc.; Reha Technologies; Eastern Amputee Golf Association and RiverCrest Golf Club & Preserve.
The Eastern Amputee Golf Association's objective is to assist in the rehabilitation of amputees and provide for their general welfare, both physical and psychological, through the medium of golf and its associated activities.
In November, the hospital installed an outdoor putting green as part of the Occupational, Physical and Recreational Therapy programs. Portable indoor putting surfaces are already being used in and around the gyms.
"Many of our therapists use the indoor putting trainers to improve balance and coordination as well facilitate weight shifting, while integrating patient interest with these interventions," said Kimberly Cooper, Rehab program manager. "An outdoor putting green will allow more patients to benefit from this modality as it could accommodate more than one person at a time. In addition, this is another treatment method that can be added to our growing list of unique approaches to helping patients regain their independence."
Donna Merkel, Bryn Mawr Rehab Hospital physical therapist, said, "Both neurology and orthopaedic patients can benefit from this. Skills including balance, coordination, cognition and strength can all be practiced with the putting green, not to mention a positive mental boost from being outdoors and getting to play."
---
Meet our foundation board chair, Brian McTear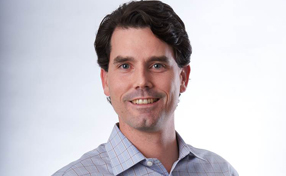 Brian McTear, chair of the Bryn Mawr Rehab Foundation Board of Directors, serves as Senior Vice President, Technology and Corporate Development, Preferred Sands, LLC. As the Senior Vice President of Technology and Corporate Development, Brian is responsible for leading Preferred's world class technology team in executing Preferred's mission of creating innovative and sustainable solutions that drive efficiencies for the oil and gas industry.
Brian is also intimately involved in developing and executing on Preferred's corporate and strategic initiatives. Prior to joining Preferred, Brian was a Partner in the Mergers & Acquisitions and Private Equity Group at Blank Rome, LLP, a full service to top 100 law firm in the US. Brian has been listed on the SmartCEO's Legal Elite List and recognized as a "Rising Star" of Pennsylvania lawyers under 40 by Super Lawyers Magazine. Brian graduated Magna Cum Laude from Widener Law School and is a graduate of Ursinus College. Brian joined the Bryn Mawr Rehab Foundation Board in 2011. His father Jerry previously served on the board and both of Brian's parents were patients at the hospital. Brian felt joining the board was a great opportunity to give back and be part of an institution that had come to mean a lot to his family. Brian and his wife Allyson reside in Newtown Square with their four children.
View the other members of our foundation board.
---
Main Line Health receives System Magnet® designation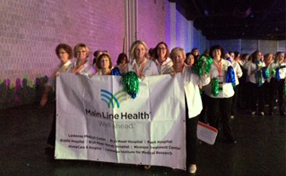 Main Line Health has received System Magnet® designation from the American Nurses Credentialing Center (ANCC), the nation's highest award for recognizing excellence in nursing care, which has been awarded to only seven percent of hospitals and 22 health systems in the world.
Riddle Hospital (pictured), Bryn Mawr Rehab Hospital and the Main Line Health HomeCare & Hospice division have received initial designation, and Lankenau Medical Center, Bryn Mawr Hospital and Paoli Hospital have been designated for the third time. Main Line Health is the only health system in the nation to bring on two initially designating entities and the HomeCare & Hospice division, along with three re-designating hospitals. With this designation, Bryn Mawr Rehab Hospital becomes the fourth acute rehabilitation facility in the country—and the only one on the East Coast—to receive Magnet recognition.
"This designation is a direct reflection of the superior care that we provide at Main Line Health," said Senior Vice President and Chief Nursing Officer Barbara Wadsworth. "The journey of excellence at Main Line Health is palpable. The energy, enthusiasm and hard work of our nursing staff are a true example of nursing excellence and the values emphasized in the Magnet program. I couldn't be more proud of everyone who worked diligently to ensure that our Magnet journey was a success."
The Magnet designation is widely accepted as the gold standard of patient care and recognizes excellence and professionalism in nursing. Main Line Health, which employs more than 3,000 nurses, began its System Magnet journey 14 years ago. The American Nurses Credentialing Center's new submission guidelines, released in 2014, presented the opportunity for each Main Line Health hospital to demonstrate a larger number of patient-centered outcomes to validate the nursing excellence of each hospital and the HomeCare & Hospice division.
"Magnet designation provides a benchmark for patients and their families to measure the superior quality of care they can expect at Main Line Health," said Jack Lynch, president and CEO with Barbara Wadsworth at Paoli for the announcement. "While Magnet is a standard for nursing excellence, providing a superior experience and exceptional patient care represent the core focus for every staff member throughout Main Line Health. I am incredibly grateful to our entire nursing team and every Main Line Health employee for continuously improving the health and wellness of our communities."
According to the American Nurses Credentialing Center, Magnet facilities consistently outperform non-Magnet organizations, deliver better patient outcomes, spend more time at the patients' bedsides, and have shorter lengths of patient stay. Achieving Magnet status benefits patients, nurses and health care organizations by attracting and retaining top talent, improving patient care, safety and satisfaction, fostering a collaborative culture, advancing nursing standards and practice, and growing business and financial success. The Magnet designation lasts for four years, after which Main Line Health will have to reapply to retain its Magnet status.
Main Line Health was officially recognized for being Magnet designated as a System at the American Nurses Credentialing Center Magnet Conference, October 7–9, 2015 in Atlanta. Nursing directors, Magnet ambassadors and clinical nurses from across Main Line Health were present and paraded enthusiastically across the stage when the announcement was made.
---
Happy holidays from Bryn Mawr Rehab Hospital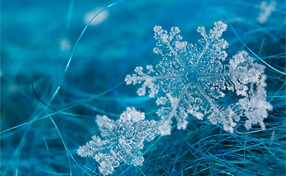 We wish you and your loved ones a happy and healthy holiday season!
---
Please consider a year-end gift
Bryn Mawr Rehab Hospital continues to grow and prosper thanks, in large part, to our friends and donors. Charitable gifts impact all aspects of the hospital, helping to purchase specialized equipment for the best quality patient care; providing advanced training for our staff of dedicated professionals; making possible the hospital's annual signature special event, Art Ability; as well as supporting community outreach programs like Cruisin' SMART, which educates students on the dangers of impaired and distracted driving, and Project SEARCH, an educational and work transition program for individuals with disabilities. The many ways to give include the Annual Fund, Special Programs and Capital Projects, Endowed Funds and Planned Gifts. For more information, please contact the Development Office at 484.596.6071.