Art Ability Preview Reception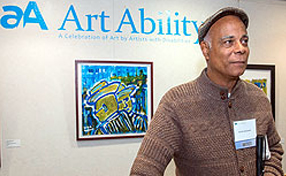 More than 400 people attended the opening reception of Bryn Mawr Rehab Hospital's 19th Annual Art Ability Exhibition and Sale on Saturday, November 1, 2014. Guests mingled with more than 50 of the exhibiting artists and made their purchases before the exhibition opened to the public the next day. Close to 125 pieces of art, jewelry and sculpture sold during the reception.
The sale of art and jewelry at the 19th Annual Art Ability Preview Reception ensures that artists will receive more than $32,000 in commissions from opening night. 80 percent of the sale of artwork goes directly to the artists, and the remaining 20 percent supports the Art Ability program, and other hospital programs that benefit our patients.
This year's 12-week exhibition and sale features over 450 pieces of art by 168 artists from 28 states and four foreign countries and includes works on paper, sculpture, photography, mixed media, jewelry, metalwork and more. The exhibition is free and open daily to the public from 9:00 am–9:00 pm through January 25, 2015.
Bryn Mawr Rehab Hospital is thankful for the support of our presenting sponsor, Aramark, and our many other generous sponsors of the event. Visit the Art Ability website to learn more.
---
Newly elected Bryn Mawr Rehab Hospital Foundation board members
Bryn Mawr Rehab Hospital Foundation recently elected three new members to our Foundation Board: Stephen J. DiOrio, Agent at State Farm Insurance; Trey Ott, Portfolio Manager at Susquehanna International Group, LLP; and Cynthia W. Pelton, Senior Development Officer at breastcancer.org.
The Bryn Mawr Rehab Hospital Foundation Board is comprised of talented and generous community members. The board will continue to grow in the coming months in an effort to diversify our members and expand our reach within our communities.
---
The power of rehab: the story of Michael Kings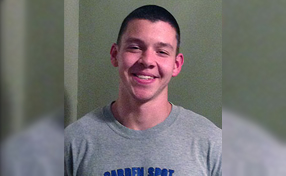 On July 25, 2013, recent high school graduate Michael Kings sustained a severe traumatic brain injury when a tractor trailer collided into his friend's car less than two miles from his home. Michael spent almost two months receiving treatment as an inpatient at Bryn Mawr Rehab Hospital. During his stay, Michael made tremendous progress and was eventually discharged to home.
Jessica Petrongolo, Michael's inpatient Speech Therapist, remarks: "Michael's recovery was one of the most dramatic that I've seen in my career thus far. I attribute a large part of his success to his drive and determination. Patients like Michael are the reason that I love doing what I do!" Michael was asked to share his story at the "Patient Success Stories" event that was held at the hospital during Rehab Awareness Week. With Michael's creative input, Jessica developed a video using footage that was taken of Michael during his stay at Bryn Mawr Rehab Hospital to be shown at the event. During the presentation, Michael described his experience from the "patient" perspective, while Jessica provided a "therapist" perspective.
Michael shares: "My team at Bryn Mawr Rehab Hospital helped me get to the point where I could help myself. They got me to take the baby steps to get started on this long journey of recovery and getting back to normal. I am very grateful for that."
Michael has spent the past year working hard to continue his recovery. He was recently accepted into the Exercise Science program at East Stroudsburg University and will begin his college career in January 2015.
---
Bryn Mawr Rehab hosted 'Celebrating Rehab' program with Kevin Pearce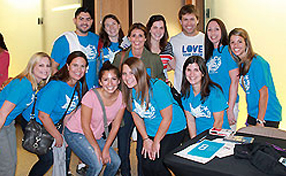 In celebration of Rehab Awareness Week in September, Bryn Mawr Rehab Hospital hosted an educational program with guest speaker Kevin Pearce, a former professional snowboarder and advocate for brain injury and Down Syndrome. Pearce's story is highlighted in a documentary The Crash Reel which captures the details of a traumatic brain injury and the road to recovery.
The program, held at West Chester University, attracted over 160 attendees, including Bryn Mawr Rehab staff members and former patients, West Chester University students and fans of Pearce. In addition, former Bryn Mawr Rehab patient Andrew Fetzer told his rehab story, and a panel of hospital staff members fielded questions from the audience. Prior to the program, Pearce visited Bryn Mawr Rehab Hospital and its brain injury unit to meet and speak with patients.
---
Honoring employee donors with plaque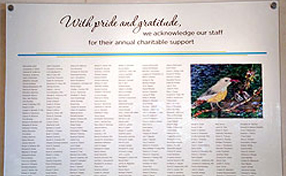 Each year, Bryn Mawr Rehab Hospital employees, as well as employees from the Main Line Health system, personally support the hospital by making charitable donations in support of patient programs and community outreach initiatives.
Employees make their contributions in a variety of ways, including the annual Employee Giving Campaign as well as the United Way Campaign.
To show appreciation and honor the many staff members that personally support the hospital, Bryn Mawr Rehab has installed an Employee Giving plaque. The plaque, displayed prominently at the front entrance of the hospital, showcases our staff's commitment to the hospital and their willingness to go above and beyond their call of duty.
---
Project SEARCH receives Innovation Award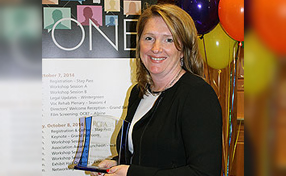 Bryn Mawr Rehab Hospital has received the Rehabilitation and Community Providers Association (RCPA) Innovation Award for its Project SEARCH program. The award is presented to an individual or facility in recognition of significant innovation.
"It is an honor to be recognized with the Innovation Award for this successful program that we created here at Bryn Mawr Rehab in 2010," said Donna Phillips, Bryn Mawr Rehab Hospital president. The program has recently expanded to Lankenau Medical Center. "Project SEARCH has achieved an 82 percent success rate in assisting adults with disabilities to gain competitive employment, which is a significant accomplishment in workforce development."
Through Project SEARCH, adults with disabilities who want to enter or re-enter the workforce are taught employable skills and provided on-the-job experience through partnerships with community businesses and organizations.
In the award notification letter, Richard Edley, PhD, RCPA president and CEO, stated: "In that so many of our members not only work in rehabilitation, but specifically in disabilities and work transition, we thought this was an exemplary selection this year."
---
Best Places to Work: This time it's GOLD!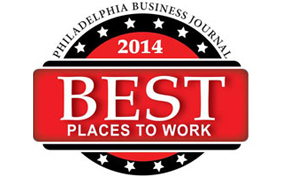 The Philadelphia Business Journal named Main Line Health the Gold Winner in the Extra Large Company category of its Best Places to Work competition.
"Year after year, Main Line Health has been recognized among the leaders in this category, but this is the first time Main Line Health has come home with the Gold," said Human Resources Senior Vice President Paul Yakulis. "It's a reflection—not simply of our official programs—but of the continuous and increasing efforts of Main Line Health staff throughout the System to create an environment that prioritizes safety, respects diversity, and finds fun ways to engage colleagues in important initiatives."
The selection was based on an anonymous survey of employees on team effectiveness, trust with co-workers, alignment with goals, and trust in senior leaders, as well as recognition and benefits.
---
Happy holidays from Bryn Mawr Rehab Hospital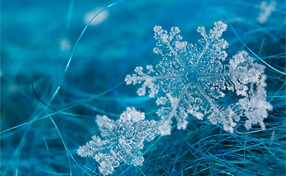 On behalf of hospital president, Donna Phillips, Bryn Mawr Rehab Hospital staff, and our patients, we wish you and your families a happy, healthy holiday season!
---
Support
Bryn Mawr Rehab Hospital is a non-profit community hospital. We rely on the generosity of individuals and organizations throughout the Philadelphia suburbs and beyond to help us continue to provide exceptional physical and rehabilitative medicine services to the families in our community and for future generations to come.
Your gift to Bryn Mawr Rehab Hospital will help support the programs and services for the many patients we serve. Consider making a tax-deductible contribution to Bryn Mawr Rehab Hospital.