Opening of the 18th annual Art Ability exhibit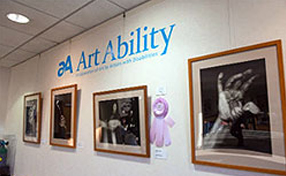 The opening reception for Bryn Mawr Rehab Hospital's 18th Annual Art Ability Exhibition and Sale was held on November 2, 2013 and attended by more than 300 people who viewed the creative works of 215 artists with physical and cognitive disabilities.
Guests had the opportunity to meet more than 60 of the exhibiting artists and to buy artwork before the exhibition officially opened to the public the next day. Close to 110 pieces of art, jewelry and sculpture were sold during the reception.
The sale of art and jewelry ensures that artists will receive more than $26,000 in commissions from opening night. A percentage of the funds raised through the sale of artwork support Bryn Mawr Rehab Hospital's rehabilitation programs, while 80 percent of the sale goes directly to the artist. This year's 12-week exhibition and sale features over 400 pieces of art by 215 artists from 31 states and nine foreign countries and includes works on paper, sculpture, photography, mixed media, jewelry, metalwork and more. The exhibition and sale is free and open daily to the public in the corridors of Bryn Mawr Rehab Hospital through January 26. Guided tours for families or groups are available by calling 484.596.6071.
---
William Penn Foundation continues tradition of support of the Art Ability program
Bryn Mawr Rehab Hospital is pleased to announce a $163,230 grant from the William Penn Foundation, whose philanthropy is dedicated to advancing artistic, planning, management, and financial capacities of the Greater Philadelphia region's arts and cultural organizations to help sustain, grow, and diversify audiences. This 42-month grant, beginning in January 2014, is the fourth grant the William Penn Foundation has awarded Bryn Mawr Rehab Hospital in support of the Art Ability program.
"We are extremely grateful for the William Penn Foundation's generosity and support of the Art Ability program," says Donna Phillips, president, Bryn Mawr Rehab Hospital, part of Main Line Health. "This grant will help create more unique opportunities for our artists to showcase their amazing work and artistic abilities in our communities."
The funds awarded through this grant will help sustain and expand the program through the:
Development of an online gallery and website that will allow buyers to view and purchase works
Creation of satellite exhibitions with the help of a curator
Promotion of exhibitions and the development of the program via social media
Mentoring of artists as they gain the professional skills to compete in art shows unrelated to their physical or cognitive disability
"We are honored to once again award this grant to Bryn Mawr Rehab Hospital on behalf of the Art Ability program," says Olive Mosier, director of Arts Funding, Creative Communities, William Penn Foundation. "As part of our effort to expand our region's arts and cultural programs, we know there will be many who benefit from this program's mission."
---
Pennsylvania Secretary of Health visits Bryn Mawr Rehab Hospital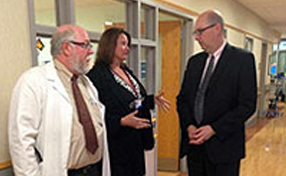 Pennsylvania Secretary of Health Michael Wolf (right) paid a visit to Bryn Mawr Rehab Hospital in October to learn about the various treatment programs the hospital offers.
Mr. Wolf toured the hospital and met with Donna Phillips, Hospital President, as well as David F. Long, MD (left), Medical Director of Brain Injury Program; and Annette Houseworth (center), Neuroscience Program Manager.
The Department of Health recently provided funding that Bryn Mawr Rehab Hospital will utilize to provide education to the community on the risks and dangers associated with concussion syndrome.
---
Newly elected Bryn Mawr Rehab Hospital Foundation Board Members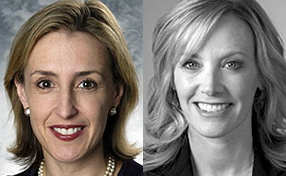 The Foundation Board of Trustees at Bryn Mawr Rehab Hospital elected two new trustees. The first is Adele C. Oliva (left) of Wayne, a partner with Quaker Partners, a health care venture capital and growth equity firm
They also elected Jennifer Paradis (right) of Newtown Square, a management consultant and director of Marketing at Gap International, a consulting firm that transforms leaders and teams to produce breakthrough business results and profitable growth.
The Bryn Mawr Rehab Hospital Foundation Board of Trustees is responsible for developing and strengthening philanthropic support for the hospital and increasing public awareness about the hospital and its programs and services. In addition, the Foundation Board focuses on establishing effective communications between the hospital and the community, educating the community about physical medicine and rehabilitation and assisting with fundraising activities to enhance the programs and services provided at the hospital.
---
Grateful patient testimonial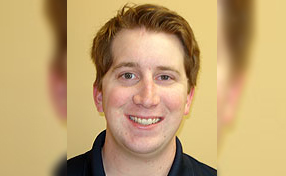 Bob Flanagan was treated at Bryn Mawr Rehab Hospital after being involved in an accident where he sustained a traumatic brain injury. Bob spent two months as an in-patient at the hospital, and then continued with outpatient therapy upon discharge. Bob shares:
"When I see the therapists who first worked with me, they are amazed at the progress I have made. All I can say is thank you, thank you, thank you. The people at Bryn Mawr Rehab Hospital gave me my life back."
Bob's mother, Kate, adds:
"Everyone at Bryn Mawr Rehab Hospital pushed him to get better. It seemed like he started out as an infant and every week he would progress five years. It was nothing short of miraculous."
---
Driver Rehab program receives new ride!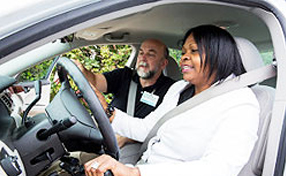 The Craig H. Neilsen Foundation awarded Bryn Mawr Rehab Hospital with a Quality of Life Grant that will allow the purchase of a new car with an array of hand and foot controls for the Driver Rehab Program.
The program provides objective driving evaluations, specialized equipment and training for people with Spinal Cord Injury. The Driver Rehab Program enhances the quality of life and increases the independence of individuals through a driving program tailored to each person's unique needs.
---
Celebrate the holidays by giving back
The holidays are a beautiful time of year where many people are inspired to show kindness to others and give back to those less fortunate. As a non-profit hospital, the generous support of donors makes it possible for us to enhance and expand our services and programs and to utilize the latest technological advances available. In the coming year, support from our donors will help with some of the following initiatives:
Expansion of Project SEARCH to our sister hospital, Lankenau Medical Center. This will allow us to double the number of individuals with disabilities served by the program, as well as widen our footprint to impact more individuals in Montgomery and Philadelphia counties.
Establish an Art Ability Endowment Fund to secure the future of the program and continue to provide disabled artists with an outlet to express their creative energy as well as improve their economic self-sufficiency.
Invest in state-of-the-art equipment that will allow us to remain on the cutting-edge of technology and treat our patients with the most effective equipment to help them recover and regain independence.
We hope you will consider making a gift to help us advance these and other initiatives in the coming year.
---
Support
Bryn Mawr Rehab Hospital is a non-profit community hospital. We rely on the generosity of individuals and organizations throughout the Philadelphia suburbs and beyond to help us continue to provide exceptional physical and rehabilitative medicine services to the families in our community and for future generations to come.
Your gift to Bryn Mawr Rehab Hospital will help support the programs and services for the many patients we serve. Consider making a tax-deductible contribution to Bryn Mawr Rehab Hospital.