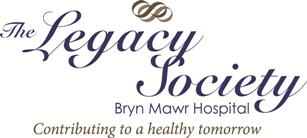 The Legacy Society recognizes and honors those individuals who have included the Bryn Mawr Hospital Foundation in their long-term financial and estate plans through a bequest provision in their will, by establishing a life-income gift, or through another form of deferred gift.
A deferred, planned gift to the Bryn Mawr Hospital Foundation as part of a family's estate plan provides a meaningful way of extending personal gratitude and appreciation to Bryn Mawr Hospital, and of making a significant legacy gift that may not have been possible at an earlier stage of life. Such gifts offer certain tax benefits and can also provide advantages such as a lifetime income to the donor or others.
Benefits of membership
Assistance accessing and navigating hospital services
Special invitations to exclusive Bryn Mawr Hospital events throughout the year
Recognition in the Bryn Mawr Hospital Foundation's Annual Report to Donors (Requests for anonymity will be honored)
The satisfaction of making a gift that will provide for critical endowment support for Bryn Mawr Hospital's future
These testamentary and other deferred gifts are critical to the growth of the Bryn Mawr Hospital's endowment fund. Income from the endowment, which contributes significantly to the hospital's annual operating budget, helps the hospital continue to provide state of the art medical services. Your commitment will help inspire and heal patients of all ages at Bryn Mawr Hospital for generations to come.
Unrestricted deferred gifts will be directed where they are needed most. However, you may also designate your deferred gift to a particular program or department of the hospital, such as nursing excellence and education, physician leadership, or any of many funds supporting specific health care programs.
Learn more about the Legacy Society
How to join
Please complete and return the Legacy Intention Form.
Membership in the Legacy Society is accorded those individuals who have made a planned gift to the Bryn Mawr Hospital Foundation in one or more of the following ways:
A bequest in the form a percentage of an estate, a specific dollar amount, or a specific asset such as securities, closely-held stock, real estate or tangible personal property (like jewelry or art)
Gifts that provide life income, such as Charitable Remainder Trusts or Charitable Gift Annuities
Gifts of Qualified Retirement Plans, such as IRAs and 401K plans
Gifts of real estate through Life Estate arrangements
Gifts made through Charitable Lead Trusts