GIST (Gerhard Impact STorytelling) is our way of conveying the profound impact that Gerhard contributions have on Bryn Mawr Hospital and the families who entrust their health to us. This new initiative will combine patient testimonies with program outcomes to provide a full picture of what your giving can really do. Check back often to see your Gerhard Society dollars at work!
Gerhard dollars provide vital support for the Bryn Mawr Hospital Community Health Services Department, which sends health educators, nurses, dietitians and other professionals to schools, residences, businesses, and local organizations to provide impactful health programs. Community Health Services conducts Montgomery County Schools flu vaccinations, programs for seniors to improve balance, strength, and flexibility, nutrition therapy for cancer patients, tobacco cessation assistance for inpatients, and a free wig program for women undergoing chemotherapy and radiation therapy, just to name a few.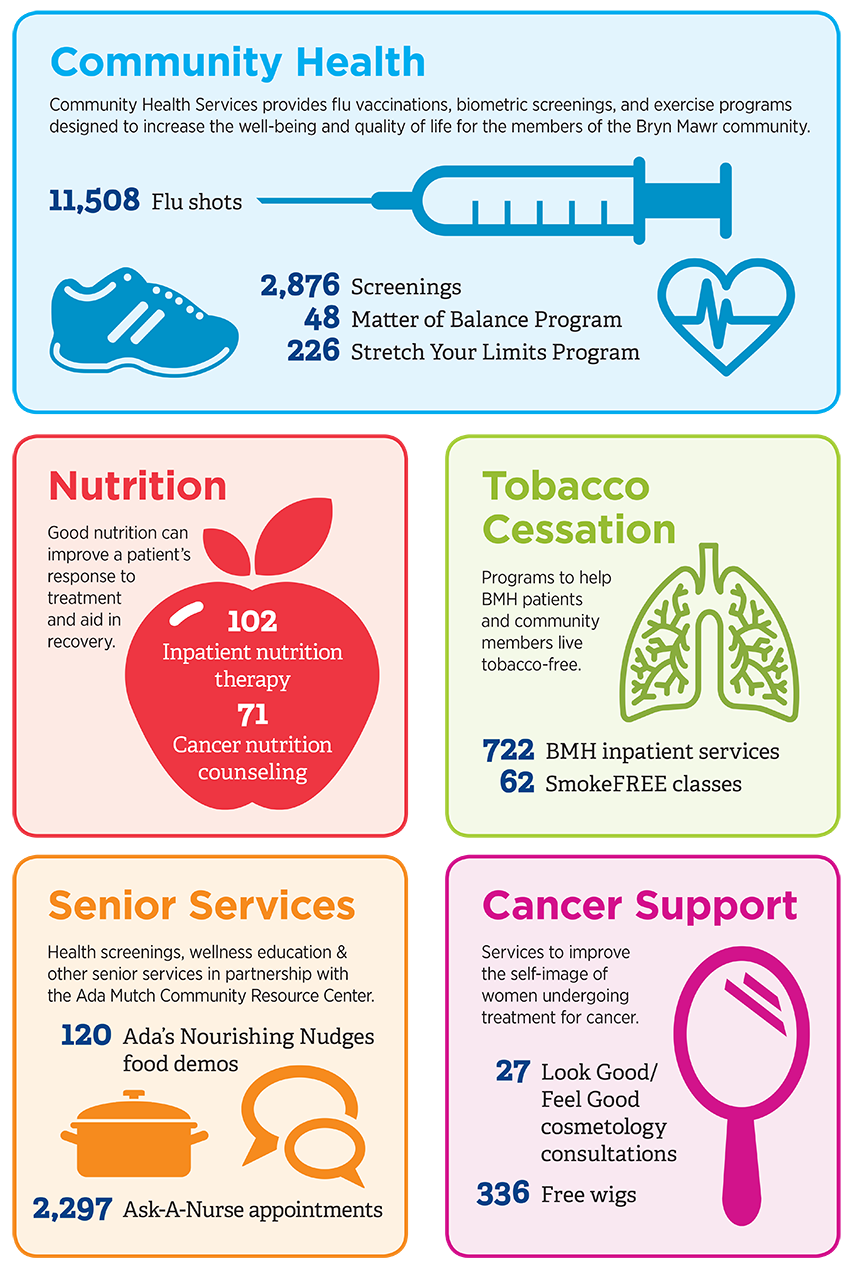 When someone gets a cancer diagnosis, it can be overwhelming. Gerhard dollars allow Bryn Mawr Hospital to distribute Cancer 101 Packets to help ease the burden of the sometimes complicated logistics that come with receiving cancer treatment. Packets include a daily patient planner, information book, calendar, and pockets for bills, appointment cards, and other paperwork.
While Bryn Mawr Hospital provides premier care in treating ailments of the physical body, patients often need their emotional wellbeing cared for as well. Reiki is a transformative therapy for stress reduction and relaxation that also promotes healing. It is administered by "laying on of hands." Gerhard dollars fund the rigorous training required to certify Bryn Mawr Hospital nurses in Reiki and helps pay for the extra hours they put in providing this healing technique to our patients.
Being in the hospital is often extremely stressful for both patients and their loved ones. In an effort to create a calming environment and reduce anxiety, Bryn Mawr Hospital offers complimentary therapies such as creative arts therapy, music therapy, and pet therapy. Gerhard dollars support these programs that bring joy and serenity to the hospital environment. The creative arts therapy program is specifically administered in the Pediatric Unit, allowing children to relax through artistic expression.
The Gerhard Society provides important ongoing support to purchase new hospital equipment. Last year, Bryn Mawr Hospital acquired equipment for the NICU, Neuro-interventional Stroke Program, cardio-thoracic intensive care unit, and pediatrics, just to name a few. Specifically, the NICU was able to purchase waterless breast milk warmers, phototherapy beds for babies with jaundice, and neonatal cribs that are more functional for both nurse and parent use.
Bryn Mawr Hospital is proud to have physicians and nurses who conduct research in their field which is often shared at national conferences. Last year, Gerhard dollars made it possible to send medical staff to conferences and symposiums with the following organizations: Center to Advance Palliative Care, American Society for Radiation Oncology, the American Society of Anesthesiologists, and the Institute for Healthcare Improvement, just to name a few.
Individuals diagnosed with type 1 or type 2 diabetes can face many additional health complications as a result of their disease. Bryn Mawr Hospital is committed to reducing the number of hospital admissions for diabetic patients by providing a Diabetes Education Program, supported in part by Gerhard Society dollars. The program includes individual consultations with a diabetes nurse specialist or diabetes dietitian specialist, a 10-hour course in diabetes management, and support groups and other resources.
Gerhard Society dollars help fund important positions throughout the hospital, including our oncology social workers and nurse navigators. They act as a resource to help newly diagnosed cancer patients navigate this difficult time in their lives. These essential staff members follow patients throughout their treatment and work with the interdisciplinary oncology team to promote a coordinated approach to their cancer care.
Gerhard dollars allow Bryn Mawr Hospital to direct funds where they're needed most. This means assisting uninsured and underinsured patients, like new mothers who want to breast feed but cannot afford breast pumps on their own. The maternity unit is able to provide this vital piece of equipment so that these women have the same options as other new mothers as to how they want to feed their babies.
The Bryn Mawr Hospital Palliative Care Program, funded in part by Gerhard Society dollars, aims to relieve suffering and improve the quality of life for both patients with advanced-stage diseases and their families. Particularly treasured are our Linking Hearts Tokens. These special ceramic hearts split into two pieces and are distributed to family members upon the passing of a loved one. One piece may stay with the loved one while the other may be kept by the family member as a reminder of their eternal connection.