Wishing you a happy and healthy 2022
In taking stock of the past twelve months, I am overwhelmed by the spirit of generosity and support from our community, by the progress made with transformative projects such as the expansion of the Behavioral Health Inpatient Unit, and by the local, regional and national recognition Bryn Mawr Hospital continues to receive in the face of a global pandemic. Like many of you, I have spent more time on video calls during my inaugural year than I could have ever imagined, but it has given me the chance to meet our donors and community partners, to hear how our "neighborhood" hospital has impacted you, your families and friends both now and in the pre-COVID era. More than anything else, I have been heartened - day in and day out - by the selflessness and perseverance of our hospital team as they continue to approach every patient and their care with excellence, especially through this most recent surge. I am proud to be a member of the Bryn Mawr Hospital family and proud to serve this community. As we continue to move forward into 2022, I wish you and your loved ones a happy and healthy new year!
Warmest wishes,
John T. Schwarz, President, Bryn Mawr Hospital
and the Bryn Mawr Hospital Foundation team
Main Line Health campaign to expand Bryn Mawr Hospital Behavioral Health Unit exceeds goal with widespread community support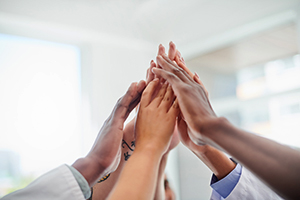 We are proud to announce that Main Line Health has officially met and exceeded its $10 million fundraising goal for the Seeing Through Behavioral Health Capital Campaign to expand the Behavioral Health Inpatient Unit at Bryn Mawr Hospital. The overwhelming success of this campaign is due to widespread support from friends like you who recognized the need for this expansion and helped it become a reality for our community.
The timing of this project couldn't have been more prescient as the need for inpatient behavioral health care is profound and continues to outpace capacity, exacerbated by the ongoing pandemic. We are excited to report that the relocated and expanded unit at Bryn Mawr Hospital is expected to open for patient care in March 2022 – and our staff and clinicians are busy with preparations for that momentous day. This transformative undertaking, Main Line Health's first system-wide initiative, became a reality through your generosity – thank you!
Visit our website for information on behavioral health services across Main Line Health and to learn more about Bryn Mawr Hospital's Inpatient Behavioral Health Unit.
Robert P. Good, MD: Longtime Bryn Mawr Hospital orthopaedic surgeon, leader and friend retires
Dr. Robert P. Good practiced orthopaedic surgery at Bryn Mawr Hospital for more than 40 years. His dedication to patients and their families, as well as educating the next generation of orthopaedic surgery providers, improved the health and wellbeing of thousands across our community. Under his leadership as Chief of Orthopaedic Surgery at Bryn Mawr Hospital and System Chief of Orthopaedic Surgery at Main Line Health, the orthopaedic division grew into a top clinical program, consistently receiving national recognition. Additionally, Dr. Good proudly served as a leader outside of his clinical role, fulfilling three terms as a Main Line Health Trustee contributing to the expansion and development of the health system.
Earlier this month, colleagues and friends gathered virtually to wish Dr. Good well as he retires and to surprise him with the incredible news that more than $115,000 has been raised so far for Bryn Mawr Hospital orthopaedics in his honor. A permanent installation paying tribute to Dr. Good will be displayed later this spring in the Buck Family Atrium of Bryn Mawr Hospital. If you wish to make a gift in honor of Dr. Good and have your name included as part of this commemoration, please visit our online giving form, select "orthopaedics" as the gift designation and enter "Dr. Rob Good" in the tribute field. Or you may send a check made payable to Bryn Mawr Hospital Foundation, with Dr. Good's name included on the memo line or in a separate note, to the address below. If you have any questions, please contact the Bryn Mawr Hospital Foundation at 484.337.8177.
Bryn Mawr Hospital Foundation
130 S. Bryn Mawr Avenue
Bryn Mawr, PA 19010
Please enjoy the recording of the virtual celebration for one of Bryn Mawr Hospital's most beloved physicians.