Impact e-newsletter
Cultivating health and wellness at Bryn Mawr Hospital
Impact is a free e-newsletter published by the Bryn Mawr Hospital Development Office for friends of and contributors to Bryn Mawr Hospital. Click the button below to email us your name, phone number and address to start receiving hospital news and updates.
Sign up to receive Bryn Mawr Hospital Foundation news and updates
View the January 2020 issue of Impact
Past issues of Impact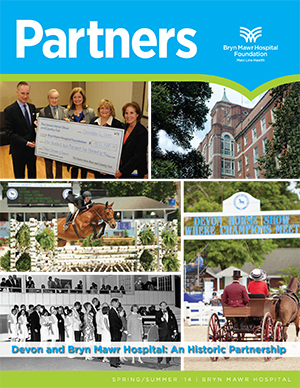 Bryn Mawr Hospital Foundation Partners magazine
Partners magazine keeps friends of Bryn Mawr Hospital up to date with the latest news from this iconic Main Line institution. Published by the Bryn Mawr Hospital Development Office, each issue of Partners—as its name implies—features stories that reflect the vibrant connections between the hospital and the community we serve. Learn about recent developments, meet members of our medical staff, be inspired by the dedication of our nurses and volunteers, and discover how philanthropy makes a difference to every patient, every caregiver, every day.
Past issues of Partners magazine