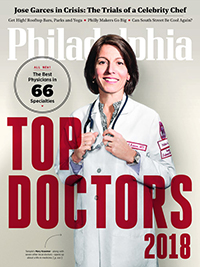 Selected by their physician peers throughout the region, 360 outstanding Main Line Health physicians have been recognized by Philadelphia magazine's May 2018 "Top Doctors" issue as being among the best doctors in the Philly region.
The Philadelphia region is a medical mecca, with world-renowned hospitals, medical schools, clinics and surgical centers. And this year, they presented their most comprehensive Top Doctors list ever, with more than 2,658 physicians in 66 different specialties, from addiction psychiatry to pediatrics to vascular and interventional radiology.
The "Top Docs" list is based on results from Castle Connolly, an independent research company. Main Line Health physicians can nominate peers for "Top Doctor" recognition 365 days a year by visiting the Castle Connolly's confidential online physician nomination portal.
Congratulations to our physicians who have been recognized by Philly mag as being among the region's best!
For more information on Philadelphia magazine's "Top Doctors" issue, visit phillymag.com.
Allergy and immunology

Anesthesiology and pain medicine

Cardiac electrophysiology

Cardiovascular disease

Clinical genetics

Colon and rectal surgery

Shirley S. Shih, MD

Dermatology

Endocrinology, diabetes and metabolism

Violeta Popii Botea, MD

Family medicine

Anthony E. Dimarco, DO, FACOFP

Gerard F. Klinzing, MD

Female pelvic medicine and reconstructive surgery/urogynecology

Gastroenterology

Geriatric medicine

Gynecologic oncology

Hand surgery

Hematology

Hospice and palliative medicine

Infectious disease

Internal medicine

Interventional cardiology

Maternal and fetal medicine

Medical oncology

Neonatal-perinatal medicine

Nephrology

Neurological surgery

Neurology

Neuroradiology

Obstetrics and gynecology

Ophthalmology

Orthopedic surgery

Otolaryngology

Pediatrics

Pediatrics/neonatology

Physical medicine and rehabilitation

Jay W. Siegfried, MD

Plastic surgery

Pulmonary disease

Radiation oncology

Reproductive endocrinology and infertility

Rheumatology

Sports medicine

Surgery

Charles Allen Dallara, MD, FACS

Veeraiah Siripurapu, MD

Thoracic and cardiac surgery

Urology

Vascular and interventional radiology

Eric J. Stein, MD

Vascular surgery

R. Anthony Carabasi, III, MD, FACS