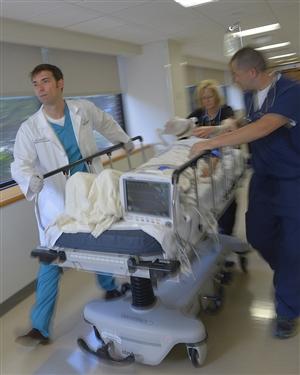 Thursday, November 2, 2017
5:30–9:15 pm
Musser Auditorium
Penn State Great Valley Conference Center
30 East Swedesford Road
Malvern, PA 19355
On November 2, Paoli Hospital's trauma program will offer its annual Trauma Symposium designed for physicians, nurses, mid-level providers, pre-hospital emergency medical service personnel and other interested allied health care professionals.
Having received wide acclaim from our attendees, our dynamic national and regional expert speakers address the key concerns identified in today's trauma care arena and the impact on patient outcomes, which is the key to its success. This year's program will feature presentations on emergency preparedness; ocular trauma patient; abdominal trauma management; and a panel presentation on the journey of a trauma survivor.
Chief Surgical Officer and Department of Surgical Education Academic Chair for Orlando Regional Medical Center, Dr. Cheatham, will be presenting the keynote lecture, The Orlando Shooting: Lessons Learned. His presentation will address the mass casualty activities the occurred during the Orlando Pulse Night Club shooting. Dr. Cheatham is also a practicing acute care/trauma and burn surgeon at the Orlando Regional Medical Center Level I Trauma Center, the primary hospital that received multiple victims from the Pulse Nightclub shooting.
This year's symposium will be held in the Musser Auditorium at the Penn State Great Valley Conference Center in Malvern, Pennsylvania. For directions, visit sgps.psu.edu/conference or use the listed address above for GPS directions.
This program has been approved for three hours of AMA Category 1 CME credit and three hours of patient safety CME credit.
For questions or special needs accommodations, please email trauma@mlhs.org or call Trauma Program Manager Kerry Larkin at 484.565.8325.
Registration has closed for the 2017 symposium. Please check back for details on our 2018 symposium.