June 2012
Bryn Mawr Rehab Hospital's Pain Management Program offers an interdisciplinary approach to the complex condition of chronic pain; pain that causes significant interference with work or other life activities and that persists for more than six months despite treatment. Treatment addresses all of the medical, physical, psychological and social dimensions of chronic pain. The goal of the program is to decrease the effects of pain and increase the individual's ability to function and return to work.
For more information about this report or the Pain Management Program, please call 484.596.5400.
Demographics
| | |
| --- | --- |
| Time frame | January 2010–December 2011 |
| Sample size | 113 patients |
| Average LOS | 74 |
| Average visits | 24 |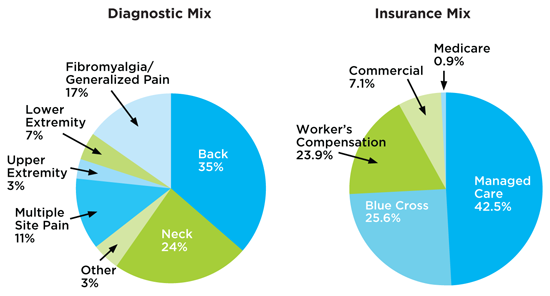 Results
Functional outcomes
Chronic pain requires intensive, activity-oriented, behavioral treatment. Individuals with chronic pain often lead a sedentary lifestyle that may result in musculoskeletal deterioration. Physical conditioning focuses on increasing strength, while decreasing pain, improving self-esteem and enhancing overall health. Improvements in sitting, standing, walking, lifting and carrying are key indicators of an improved overall level of function.
 

Moderate

Significant

Sitting

1.3%

68.4%

Standing

1.6%

76.6%

Walking

5.0%

70.0%

Lifting

11.2%

62.2%

Carrying

11.2%

62.2%

*Moderate improvement is measured with a 25% increase in functional mobility and Significant improvement is measured with a 26% or greater increase in functional mobility.
Improved functional tolerances can relate to an individual's ability to return to or maintain gainful employment.
Result: 81 percent worked prior to their injury and were capable of returning to work at pre-injury level at discharge. 96 percent were capable of returning to work at some capacity at the completion of the program.
One of the most significant objectives in the Pain Management Program is to reduce a patient's dependence on medication. The repeated return to medical remedies may lead to habituation and dependence. Individuals should use the minimum amount of safe medication necessary to manage their pain.
Result: 61 percent of patients take less narcotic medication at discharge.
Psychological treatment emphasizes behavior training to develop communication skills, assertiveness and stress reduction. Emotional difficulties are addressed through treatment with the intention of reducing dependent behavior and resolving depression.
Result: 80 percent of patients showed a decrease in depression from admission to discharge, as measured by the Beck Depression Scale, or self-report.
Discharge
Patients discharged from January 1, 2010, through December 31, 2011, received a follow up survey 6–12 months following their discharge.
Result: 85 percent of patients activity level was maintained or minimally changed from discharge to follow up.
Result: 76 percent of patients reported their emotional status was the same or better from discharge to follow up.
Patient satisfaction
Patient satisfaction is routinely measured at Bryn Mawr Rehab Hospital for all inpatient and outpatient programs. Results are trended to facilitate program improvement and to change our menu of services as needed.
Result: 100 percent of patients rate their overall satisfaction with the Bryn Mawr Rehab Hospital Pain Management Program as good or excellent.
Result: 95 percent of patients agree or strongly agree that they received adequate education about their condition and managing/preventing future problems.
Result: 98 percent of patients agree or strongly agree that they participated in setting their treatment goals.