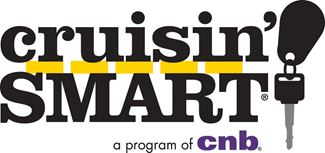 Cruisin' Smart® is an award-winning program developed and sponsored by Bryn Mawr Rehab Hospital. Formerly known as Cruisin' Not Boozin'® (CNB), Cruisin' Smart offers tailored education sessions for students from elementary school through college. These sessions, presented to over 25,000 people each year, take a peer-to-peer approach to educating students on the dangers of impaired and distracted driving.
The program includes first-hand accounts from survivors of motor vehicle accidents that happened because someone was driving recklessly, driving while distracted, or driving under the influence of alcohol or drugs.
Cruisin' Smart: our approach
Cruisin' Smart speakers live with life-changing injuries, ranging from paralysis to brain injuries, and many of them are former Bryn Mawr Rehab patients who want to give back to a larger community. They were either a driver, passenger, pedestrian, or passing motorist when their lives changed forever in a single moment. They share first-hand accounts of what happened after one tragic decision behind the wheel.
Cruisin' Smart forums take a multi-pronged approach to this crucial issue:
emphasizing the importance of responsible decisions
explaining the dangers of driving while impaired by alcohol or drugs, or distracted by roughhousing passengers, texting while driving, adjusting a playlist, checking social media, or anything that takes a driver's eyes off the road
telling the truth about coping with devastating injuries
facilitating interactive discussions and role-playing
promoting Safety Plan strategies to help students say "no" when they encounter dangerous situations
administering and analyzing surveys that help educators better understand their students' habits and attitudes
Our mission
Our mission is to continue to provide a superior educational experience that will empower individuals to make informed decisions leading to the prevention of disabilities, healthier communities and an enhanced quality of life.
The reality about distracted and impaired driving
One in 10 teens say that within the past month they drove a vehicle after drinking alcohol. (CDC)
72 percent of students have consumed alcohol by the end of high school, and more than 37 percent have done so by the eighth grade. (NIDA and SADD)
The Center for Injury Prevention at the Children's Hospital of Pennsylvania reports that driving while using a cell phone represents the same impairment as someone with a Blood Alcohol Content (BAC) of twice the legal limit, and driving while texting is the same as driving a vehicle with a BAC of four times the legal limit.
11 percent of drivers under the age of 20 involved in fatal crashes were reported as distracted at the time of the crash. (distracted.gov)
Ways to get involved
Many of our speakers are people who are recovering from auto accidents related to distracted or reckless driving, or driving under the influence. While some speakers are patients or former patients, others have not been in accident themselves, but choose to get involved because their child was injured or killed by a driver who made a fatal choice.
Administrators and educators who want to learn more about bringing the Cruisin' Smart program to their campus are encouraged to call us for more information or to schedule a seminar.
Community impact
Since Cruisin' Smart's launch in 1989 as Cruisin' Not Boozin', our programs have reached over 500,000 students, from elementary school through college, in the tri-state area. Since distracted driving or driving under the influence is the number-one killer of teenagers today, it's impossible to calculate how many lives have been and can be saved when a Cruisin' Smart session makes a young driver think twice about reckless behavior on the road. As one of our speakers emphasizes, teenagers behind the wheel aren't kids. Once their decisions affect other people, they become adults, with adult responsibilities in their communities.
For more information about Cruisin' Smart, contact the program coordinator at [email protected] or 484.596.5465.