In the months before delivery you're sure to be feeling an amazing combination of excitement and anticipation. We expect you have a ton of questions and we're here to help best prepare you for the big day. Learning about the hospital, taking classes and making choices about your family's care are all important aspects of getting ready and staying healthy right now.
Here are some answers to frequently asked questions about preparing for delivery:
How can I learn more about the hospital where I plan to deliver?
You can learn about the hospital in which you plan to deliver by taking childbirth education classes there. Oftentimes these classes include a tour of the maternity unit.
How do I learn about childbirth?
Expectant parents should attend prenatal classes to learn about the labor and delivery process as well as newborn care. The more you prepare ahead of time, the more comfortable you'll be when the baby (or babies) arrive.
The classes were great. We knew nothing… and came out feeling so much better about everything!
When should I take childbirth classes?
Plan to attend prenatal classes during the second trimester just in case your baby comes sooner than expected. Register early, class sizes are limited. To register, call 1.866.CALL.MLH (225.5654).
Will my insurance pay for the classes?
You are required to pay at the time of registration, but most insurance companies will reimburse you, at least in part. Your class instructor will be able to provide you a receipt for reimbursement. Call your insurance company for specific details.
Is there anything I can do to prepare for breastfeeding before my baby is born?
Absolutely. One of the best things you can do is to ask questions about breastfeeding early and often throughout your pregnancy. You can also talk to other moms who have breastfed or attend one of our prenatal breastfeeding support groups. The more you know in advance about what to expect, the greater your chances of success with breastfeeding. To find an upcoming session, visit mainlinehealth.org/breastfeeding.
Do I need to select a pediatrician before giving birth?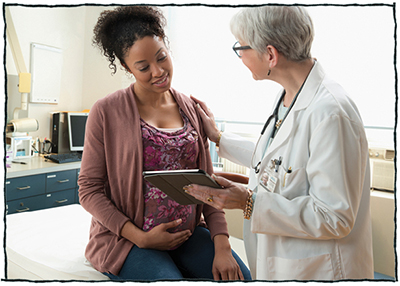 Yes. You must have a pediatrician who can begin overseeing your baby's care from the time of birth, and it's best to know who that's going to be before you come to the hospital. Do your homework:
Talk to your obstetrician, family and friends for referrals and advice.
Get information about the practice and the doctor(s). Main Line Health pediatricians offer prenatal visits, so set up a meeting to get to know them well before your due date.
When you arrive at your selected hospital for delivery, let the staff know who your pediatrician will be.
During your hospital stay, another pediatrician from the Main Line Health medical staff may take care of your baby. You will then follow up with your own pediatrician when your baby is ready to go home. Be sure to ask your chosen pediatrician what the process is after your baby is born, as the situation may vary. Your pediatrician should see your baby within two days after discharge from the hospital.
What do I do when I go into labor?
In the months leading up to labor, check with your physician or ask a class leader during childbirth class about what the process is for when you start to go into labor and where you should enter the hospital when it's time to deliver. Also be sure to ask where you should enter the hospital if you go into labor during the night.
Who will be allowed with me during labor and delivery?
For the safety of mom and baby, we encourage having no more than two support people at the bedside, such as a partner, a parent, a close friend or a doula (birth coach). But it is entirely up to you. Talk this over with your obstetrical care provider to determine what is best for you. Waiting rooms are open around the clock for other family and friends.
Are there any requirements for my support person?
Although it's not a requirement, we encourage you to attend childbirth education classes with your coach so that both of you are equally prepared for the exciting time ahead.
Will anesthesia and pain medication be available to me?
Yes, epidurals and anesthesia are available and administered 24 hours a day, seven days a week by our in-house anesthesiologists. Please consult your obstetrical care provider and anesthesia provider about pain management options.
Do you offer gentle C-section or vaginal birth after cesarean (VBAC)?
At Main Line Health we offer traditional cesarean delivery as well as "gentle-C," also known as family-centered cesarean. Vaginal birth after cesarean (VBAC) is an option for some women who have previously had a C-section. Be sure to talk with your obstetrical care provider in advance about these preferences and the options available to you. Not all obstetrical care providers perform these services.
Also keep in mind that a gentle-C may not be an option in surgical emergencies. By talking to your doctor in advance about what's important to you, he or she can try to accommodate your wishes and needs as much as possible, regardless of what type of birth you have. To learn more about gentle-C visit our web page about cesarean section.
Can we video record our birth?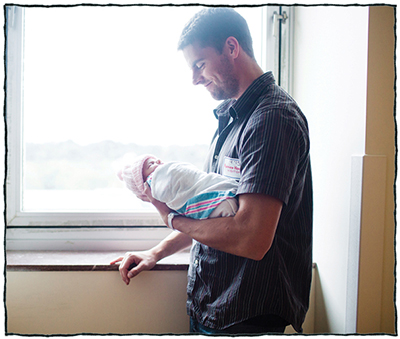 Unfortunately video recording is not permitted in our delivery rooms. We ask that you limit photography/videography to before and after birth, not during.
Can a guest stay with me overnight?
Yes. Our maternity rooms can accommodate one partner/family member to stay overnight. Your overnight guest must be at least 16 years old unless the person is a parent of the newborn.
Will there be access to Wi-Fi?
To ensure your comfort and convenience, all of the maternity units offer Wi-Fi.
Will there be professional photographs taken of my newborn?
Yes! Main Line Health is excited to bring experienced and professional photographers from Bella Baby Photography into the hospital to capture your baby's first picture with a natural, artistic style. You will be offered a complimentary photo session that takes place right in your hospital room. Parents and siblings are also encouraged to participate to create a beautiful family experience.
Photos are edited into an online, custom slideshow for you to view shortly after your session. Afterwards, online viewing and ordering is password protected and only available to those with whom you choose to share your password. This is a great way to share the birth of your baby with family and friends.