Many insurances change in January!
By Cassidy Shaver, MSW, LSW, Transplant Social Worker
This time of year, insurance changes are occurring. Insurance coverage is especially important for pre-transplant patients and post-transplant patients. Please let us know if you anticipate your insurance may change or if you have changed your insurance without our knowledge.
Many negative outcomes are possible if we are not aware that your insurance has changed, including but not limited to:
Delays in medication refills
Unexpected bills
Removal from transplant list
Lack of coverage for our office, physicians, hospital or lab
Frustration, headaches, time and energy for you and our staff which interferes with other patient concerns and needs
It is very important you stay in contact with us about any insurance or financial issue that may have an impact on the success of your transplant. We are invested in helping you maintain a healthy transplant!
Please inform us of insurance changes so we may serve you the best we possibly can. Please call your social worker, Cassidy, with any updates, changes, or questions 484.476.8485.
Patient spotlight: Norman Brown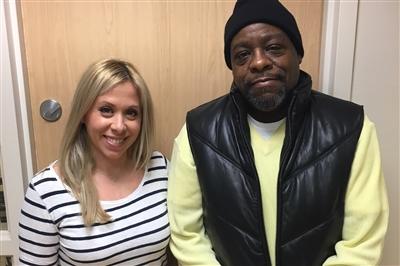 Patience and positive attitude help while awaiting kidney transplant
Norman chose the Lankenau Medical Center Kidney Transplant Program where two of his uncles had previously received kidney transplant.
Save the date!
Gift of Life Living Donor Recognition Ceremony
Join us on Sunday, March 4, 2018 at the Crowne Plaza Valley Forge to celebrate and thank all of our courageous and generous living donors from eastern Pennsylvania, southern New Jersey and Delaware. All living donor recipients, donors and their families are invited to this luncheon. To RSVP, Contact Kelly Antczak from Gift of Life at 215.557.8090 or kantczak@donors1.org.
Gift of Life Donor Dash
Please join Team Main Line Health on Sunday, April 15, 2018 at the 23rd annual Donor Dash by call our office or registering online at donors1.org.
Lankenau named highest transplant rate in Philadelphia
The Main Line Health Kidney Transplant Program at Lankenau Medical Center has been named by the Scientific Registry of Transplant Recipients (SRTR) as the program with the highest transplant rate in Philadelphia and the surrounding region within 50 miles of its campus. In Pennsylvania, Lankenau ranked an impressive third for transplant rate.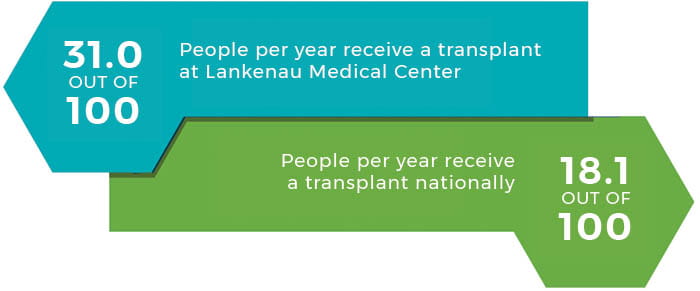 The transplant rate is a measure of how many patients undergo transplant per year for every 100 patients on the program's waiting list. What this means for Main Line Health kidney transplant patients is that we perform transplants at a higher rate than other programs regionally and nationally.
SRTR is administered by the Chronic Disease Research Group of the Minneapolis Medical Research Foundation, with oversight and funding from the Health Resources and Services Administration.
Staff spotlight: Carlo Ramirez, MD
By Cassidy Shaver, MSW, LSW, Transplant Social Worker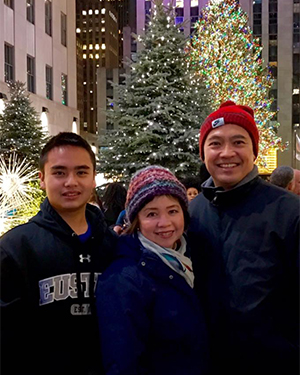 Meet our transplant team surgical director and one of our talented transplant surgeons, Dr. Carlo Ramirez. Dr. Ramirez has been with our transplant program since 2013 and spends 50 percent of his time at our hospital and 50 percent of his time at Jefferson University Hospital. A native of the capital of the Philippines, Manila, Dr. Ramirez is one of eight children and the only one within his family who lives in the Philadelphia area. Dr. Ramirez has one son who is in his second year at the College of New Jersey and met his wife Becky, a pediatric gastroenterologist at Nemours/Alfred I. DuPont Hospital for Children, during medical school. Dr. Ramirez enjoys running, traveling, scuba diving and going out to eat during his limited amounts of time off. Read on to learn a little more about our fabulous surgeon.
Cassidy Shaver (CS): How did you decide to specialize in transplant surgery?
Carlo Ramirez (CR): My interest in transplant surgery started when I was still in medical school in the Philippines. During this time it was rumored that our president/dictator Ferdinand Marcos, had chronic kidney disease and was on dialysis. He built and funded an institute specializing in kidney disease, the National Kidney Institute, where he ultimately received a living unrelated kidney transplant. This was performed mainly by a team of surgeons and medical staff imported from the U.S. This was kept very quiet to the public, but was later confirmed by our medical school surgical and nephrology professors, who were part of the local medical team. This incident increased my interest in the field of transplantation, which later inspired me to pursue further specialization in this field. After I finished general surgery residency training, I applied and was accepted for abdominal transplant surgery fellowship training at the University of Pittsburgh, the "Mecca" for transplantation at that time. There have been a lot of changes in transplant surgery and medicine since my fellowship, and it's been wonderful to see. Incidents of rejection have decreased from around 30 percent in the early 90s, to about 10 percent nowadays. Furthermore, outcomes have greatly improved with refinements in the surgical technique of transplantation, introduction of better preservation solution, and better immunosuppressive medications to prevent and treat rejection.
CS: What is your vice?
CR: Probably my tendency to procrastinate with office work and projects. I often wait until the last minute to work on things, because of which I stay up late to finish the project. In the end, though, I still get the job done before the deadline.
CS: What do you think of our new office?
CR: I like our new office! It is cozy and I don't feel as isolated. Our team interacts a lot more as we are all within a more shared space, it's been good.
CS: How do you spend the holidays?
CR: If there's time, we usually travel around within the area. We used to travel back to the Philippines to spend the holidays with my family when my son was younger. Christmas is the longest celebrated holiday in the Philippines and probably in the world. It typically lasts from September (when people start putting up Christmas decors and Christmas music start playing on the radio) until the Three Kings' holiday (on the first Sunday after the New Year). The biggest Christmas tradition, which was adopted from the Spaniards who colonized the country for almost 400 years, is attending Christmas Eve mass, followed by Christmas Eve dinner (Noche Buena) with family, and opening of gifts at midnight. Christmas day is spent relaxing at home with family or visiting our extended families.
CS: Any other info you would like to share with our transplant community?
CR: Yeah, I would like our patients to understand that kidney transplant is not a walk in the park. After kidney transplant, just because they have a working kidney and are feeling well, doesn't mean that everything will be ok onwards, as there could still be complications along the way. The key to a successful long term outcome after kidney transplantation is full patient commitment to adhere to transplant after care instructions and good family support. Their goal is to return to as full a quality of life as possible. That may mean going back to work, reconnecting with family, or returning to activities they previously enjoyed before getting sick.
Gift of Life's October donation champion learning session at Lankenau
On October 26, 2017, the Gift of Life Donor Program offered a one-day learning event at Lankenau Medical Center. During this program, critical care staff members (typically ICU and ER nurses, but also includes nurse leaders, respiratory therapists, palliative care, social work and pastoral care) come to learn about best practices of care related to organ donation. "Attendees will be given focused information to allow them to become donation champions, someone who role-models and shares key information to assist colleagues in carrying out best demonstrated practices in real time" (Gift of Life Donor Program). The first portion of this day highlights patient experiences, and on this date, one of Lankenau Kidney Transplant's pre-transplant patients was profiled.
Dion Kinnard spoke with attendees about his experience waiting for kidney transplant and about his wife's experience as a potential living donor. Dion brought the crowd to tears with his account of all that patients awaiting transplant may go through, emotionally, physically and mentally. Dion talked specifically about his experience working full time and how he manages to continue such grueling work while completing thrice weekly dialysis treatments and managing his role as a father and husband. We are so proud of Dion, and so thankful that he was able to help attendees and care providers put a face with a name as it relates to patients awaiting transplant. Way to go, Dion!
Our new electronic medical record!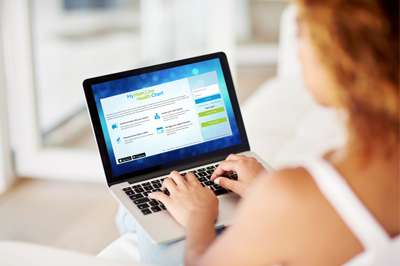 In early March, Main Line Health is changing its electronic record system to transform the way we provide care for you and your loved ones. Our new system will provide many benefits, including:
One patient. One record.
Patients will have a single, integrated record throughout Main Line Health.
My Main Line Health Chart
A personalized patient portal allowing you to access your health information, securely communicate with your care team, schedule appointments and submit bill payments. Sign up for or learn more about My Main Line Health Chart.
We appreciate your patience as we undergo this historic transformation.
We moved!
Our new suite is in the Medical Office Building East, Suite 164 within Lankenau Medical Center. Our new space offers four exam rooms and is conveniently located close to Parking Garage B, the outpatient lab, and the peritoneal dialysis (PD) office.
Joan's cooking corner
Cranberry-glazed pork roast
This year, give your traditional holiday dinner a new twist with the other white meat.
A quarterly recipe shared with you from your Transplant Dietitian, Joan Diorio, RD.
Why do I need… to stay on top of my cancer screenings?
By Kristina Bryson, RN, CCTC, Transplant Coordinator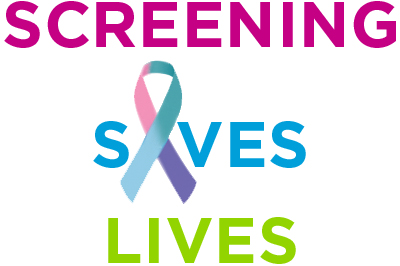 Being healthy is important. The whole point of kidney transplant is to improve your health and give you a better quality of life.
Everyone should have a general practitioner (GP) that they see on a yearly—or more frequent—basis for an annual physical. This practitioner can help you manage issues like high blood pressure, high cholesterol and they can provide you with vaccinations like a flu shot or pneumonia vaccine. Your GP can also help you complete age appropriate cancer screenings.
The American Cancer Society recommends certain screenings to aid in the early detection of cancers.
Breast cancer screening

Recommended for all women age 40 and older on a yearly basis.

Colon cancer screening

Colonoscopy is currently the only approved method for colon cancer screening for potential organ transplant recipients.
Colonoscopies are recommended to start for men and women at age 50 (or sooner if there is a family history of colon cancer).

Cervical cancer screening

Recommended for all women starting at age 21.
The ACS recommends screening intervals based on age, but your gynecologist might follow a different schedule. Check with your provider.

Prostate cancer

Recommended for all men starting at age 50.
African American men and men with a father or brother who was diagnosed with prostate cancer before 65 might benefit from earlier screening. Ask your provider if you feel this may apply to you.
These cancer screenings are also a necessary part of your initial transplant evaluation and your yearly transplant updates. Completion of these tests (if applicable) is required to become active and stay active on the kidney transplant list. Part of your responsibility while waiting for your transplant is to make sure you have your cancer screenings done on time.
The reason cancer screening is so important to transplant is because the medication (immunosuppression) that you must take after your transplant can cause cancers to spread very rapidly. We need to detect and treat cancers before you can safely receive a transplant.
If you are unsure if you need or are due for cancer screenings please contact your general practitioner or the transplant office. If you don't have a general practitioner (primary care provider), gastroenterologist, or gynecologist you can request an appointment by calling 1.866.CALL.MLH (225.5654).