Celebrate Donate Life Month
By: Cassidy Shaver, MSW, LSW, Transplant Social Worker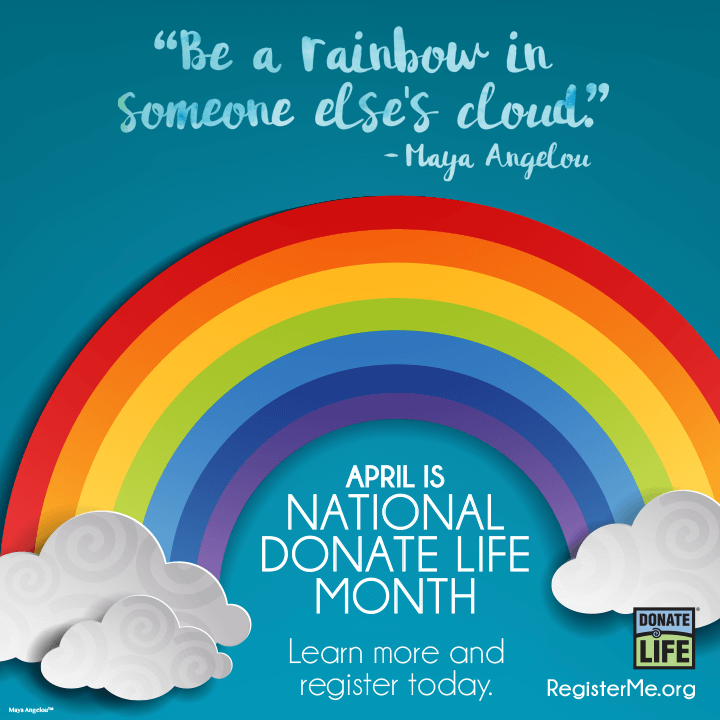 National Donate Life Month began in 2003 and is celebrated each April to encourage Americans to register as organ, eye and tissue donors and to celebrate those that have saved lives through the gift of donation.
This year, donate life month has been inspired by Maya Angelou's quote below, "be a rainbow in someone else's cloud." "Following a storm often the presence of a rainbow provides optimism and motivates us to endure through dark times. Similarly, organ, eye and tissue donation is the bridge of comfort and hope that comes between one family's mourning and another's healing—turning tragedy into renewed life" (Donate Life America). This message is something we as potential transplant recipients, transplant professionals, and post-transplant patients can very much connect to. We know the joy and hope that transplant and donation can bring.
Please consider using your knowledge and experience as a way to start the conversation of organ and tissue donation with your loved ones. More than 138 million people, approximately 56 percent of the U.S. population are registered as organ, eye, tissue and living donors. Let's help move that percentage towards 100. Happy Donate Life Month!
National Donate Life Month Blue & Green Day 2018 is on Friday April 13, 2018. Please join us in sporting blue and green, the official "Donate Life" colors to support organ, eye and tissue donation.
Patient spotlight: Kathryne Peterson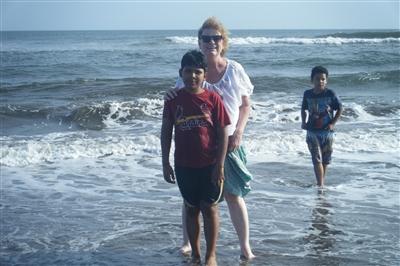 Kidney donation 'just felt right' for living donor
Before Kathy Peterson donated a kidney to her uncle, she did a lot of soul searching, talking it over with her family, exploring all the possibilities and weighing all sides of the decision.
Gift of Life Donor Dash

Sunday April 15, 2018 marks the date for the 23rd annual Gift of Life Donor Dash. Each year, this event raises money to support programs and activities designed to increase organ and tissue donor awareness. The event takes place at the Philadelphia Museum of Art and includes 10k and 5k runs and a 3k walk. Please join Team Main Line Health at events.donors1.org and search for Main Line Health under "teams."
Main Line Health recognizes organ and tissue donors
By: Cara Morasco, Transplant Program Manager
Main Line Health has taken a systemwide approach to recognize our organ and tissue donors. In April 2018, each Main Line Health campus will be unveiling a Donor Recognition Wall. The displays will feature leaves with the names of organ and tissue donors. Each campus will also hold a ceremony for the donor families to recognize their loved one's final gift. At Lankenau Medical Center, our Donor Recognition Wall will also include our living donors from 2015, 2016 and 2017. Our display will be located outside the gift shop. Every April a ceremony will be held to recognize the previous year's organ and tissue donors. Please take a moment to see our Donor Recognition Wall the next time you are at Lankenau and to remember those who make the selfless gift of life.
2018 Living donor ceremony
By: Maddy Maleski, RN, CCTC, CPTC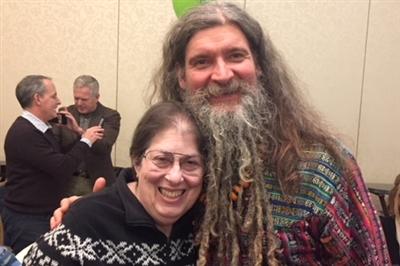 On March 4, 2018, the Gift of Life Donor Program held their annual living donor ceremony at the Valley Forge Crown Plaza. The ceremony is to honor and celebrate all living donors from the previous year. Living donors and their recipients are invited to participate in this ceremony by the Gift of Life Donor Program.
The ceremony includes a luncheon, music and a living donor speaker. This year's speaker was Steven Jennings. He is a local, living kidney donor for a co-worker. He discussed how being a living kidney donor impacted his life. He and his recipient have become great friends, even celebrating the holidays together. Steven also has become a huge advocate for living donation, sharing his story every chance he gets. He participates in the annual Transplant Games. The Transplant Games are an Olympic-style competition for transplant recipients and living donors. His presentation was a great representation of the living donor evaluation, surgical procedure and recovery.
After Steven's presentation, each living donor's name was announced and they received a certificate, flowers, and a pin indicating they were a living donor. As the ceremony was winding down, guests enjoyed a picture slide show of all the living donors. Overall, the living donors, recipients, and their families had a nice day.
Staff spotlight: Maddy Maleski
By: Cassidy Shaver, MSW, LSW, Transplant Social Worker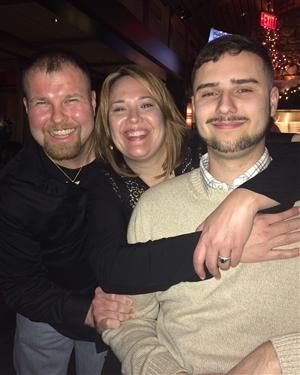 Meet our Living Donor Coordinator Maddy Maleski! She is the best. She's a huge Eagles fan, can school kids on the b-ball court, and truly sees the bigger picture of transplantation and donation. Read on to learn about our fabulous living donor coordinator as a part of our Donate Life issue of the Lankenau Transplant Newsletter.
Cassidy Shaver (CS): What professional experiences have you had in the past and how did you end up at Lankenau?
Maddy Maleski (MM): I was an intensive care nurse for 12 years and I enjoyed caring for and learning more about patients who ultimately became deceased organ donors. This experience sparked my interest and I next moved on to be a Gift of Life (GOL) transplant coordinator. I was in this role for six years. My responsibility was to respond to potential deceased donors (like the ones I previously took care of) at local hospitals and approach their family about organ and tissue donation. I walked the family through the process, walked the hospital and its staff through the organ donation process, and was in charge of calling transplant centers about recipient offers for these organs. This position was emotionally draining, and six years in this role is like a lifetime! Many staff only last 18 months in this role, so by the time I found the opportunity at Lankenau, I was thrilled to try something new.
CS: Do you have a personal connection to transplant?
MM: Yes, my dad was a deceased donor. It was something that made such an awful loss a little easier. I remember the day I received the letter that his corneas were transplanted, I had such an overwhelming sense of pride that he was able to continue his generosity for many years to come. It was bittersweet. There was sadness that he was no longer with me, but I feel that he's still here in some way, and it gives me comfort thinking about his recipient and their family. It comforts me knowing they are likely also thinking about and remembering him.
CS: What was one of your most memorable experiences as a GOL transplant coordinator?
MM: I remember so vividly one day walking into a potential deceased donor's hospital room and finding a dry erase board listing information about who was caring for her that day, and seeing that her family had included her nursing goal for the day… it said "save lives." It gave me chills. I love that following something so tragic and heartbreaking, donor families are able to think of others, and display generosity in such a meaningful way. I remember having a similar feeling at last year's GOL living donor ceremony. It was my first time at the event, and we had such a huge turnout! It was wonderful, and emotional seeing how many lives had changed as a result of our generous living donors. Not only did it change their recipient's life, it changed their own, their families', their recipient's families, and the influences go on and on.
CS: What makes you passionate about transplant and living donation?
MM: I love that it gives hope to those who wait and allows their life to "restart" once they are transplanted. I strongly believe you can't take it with you when you go, so why not share it? Working in this field really renews your faith in people. Life can be hard and when we get stuck in tough times, these stories of transplants and donation helping others can be so uplifting.
CS: What are some things our patients might be surprised to learn about you?
MM: Well, I was pretty darn good at playing basketball growing up. I played through elementary, middle and high school and almost went to a Division II school to play. I'm also pretty good at braiding hair since I learned from my sister-in-law in third grade. Currently, I like to dance and sing (even if I'm not the best) and am starting to do Pilates with some of my friends.
CS: What is your vice?
MM: I definitely love food. But I guess more specifically, I would say chocolate.
CS: What are you most looking forward to personally and professionally this year?
MM: Oooh that's hard. My husband Chris and I are looking forward to a two week train trip we are taking to some of the National Parks. We'll see Grand Canyon, Yosemite, Glacier and Yellow Stone. More than that, I am looking forward to my son transferring to a four-year college. I'm so proud of the way he has approached his studies and finding what he's truly passionate about. And I guess professionally I would like to increase our living donor volume. I would also like to increase awareness of living donation. I'm looking forward to the donor recognition walls and ceremonies that will accompany them. My hope is that through awareness, people know that living donation is a safe procedure and surgery. I hope to have more conversation around living donation, which would be my ultimate life and professional goal. It's a big goal, but something that I think is so important.
Joan's cooking corner
Quick and easy apple oatmeal custard
A protein-packed, kidney-friendly oatmeal to energize your day.
A quarterly recipe shared with you from your Transplant Dietitian, Joan Diorio, RD.
Why do I need… a living donor?
By: Maddy Maleski, RN, CPTC, CCTC, Living Donor Coordinator
Living donation is a wonderful transplant option for many reasons. See the list of ways living donation can benefit YOU!

Kidneys from living donors have better outcomes than deceased donor kidneys
On average living donor kidneys last 14–17 years, while deceased donor kidneys last seven to 11 years.
Living kidney transplants are scheduled for your convenience
Scheduling surgery allows you to plan being out of work, childcare, etc., and deceased donor transplants are unpredictable.
You can shorten your waiting time
The average waiting times in this area for a deceased donor kidney is three to five years while a transplant from a living kidney donor can shorten or eliminate your waiting time.
You can avoid the need to start dialysis
Patients who haven't started dialysis may be able to avoid starting dialysis if they have a living donor.
You may need less anti-rejection medications
Depending on how well of a match your living donor is to you may not need as much anti-rejection medication after transplant