Vasper exercise machine provides powerful anaerobic exercise benefits—without the wear and tear
Everyone knows that a high-intensity workout will burn more calories and more body fat, but an hour-long run on the treadmill isn't always an option. That's why just 20 minutes on the Vasper exercise machine is so effective. It stimulates blood flow throughout the body, carrying oxygen to our cells and helping the body restore itself.
CALL 484.337.2670 FOR APPOINTMENT
Getting the body into high-intensity exercise leads to overall health improvements, including:
Support of the endocrine system and elevation of your body's production of growth hormone and testosterone—needed for balance and overall well-being
Increase in muscle mass and building of muscle strength
Greater fat-burning capabilities compared to traditional aerobic exercise
There are additional benefits of increased blood circulation to tissues and organs. The body is able to recover more quickly from workouts and athletic activities, and the body heals itself more quickly and readily due to oxygenation of the cells.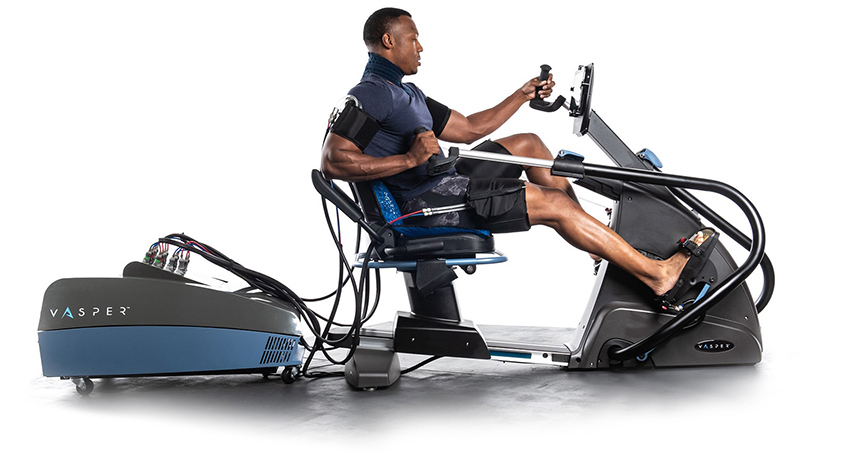 How the Vasper exercise machine works
As you can see from the image, the Vasper includes a recumbent bicycle with a digital interface that is fully integrated with your warmup and interval training, followed by sprint and rest intervals.
This rhythm has been shown to improve exercise performance.
You can customize each interval training to increase or decrease resistance, duration, intensity and speed. The pressure and cooling functions are the other components of this innovative exercise approach. Compression technology involves cooling wraps filled with ice water, providing pressure and cold—which uniquely combined result in more intensive exercise—without the stress and impact on the joints that running or aerobic workouts would cause. Not only is the workout experience improved, but the efficiency is improved as well since Vasper sessions only take 20 minutes to produce the same result.
Most people who use the Vasper high-intensity exercise machine also report less muscle soreness (no aching legs that same evening or the next day), and therefore, faster recovery time.
To make an appointment for Vasper high-intensity exercise machine consult, please call 484.337.2670.