Training that fits your life
Whether you are looking to maintain or improve muscle function and strength, lose weight, manage a health condition, increase cardio endurance, or enhance your performance in a specific sport, we offer a variety of options to fit your schedule and needs. We tailor all sessions to your current fitness level, prior workout experience, history of injuries, and individual goals.
Personal training services
Personal training is more than a roadmap to fitness. Through one-on-one sessions we will show you the correct way to train to prevent injuries and get results. A trainer can boost your motivation, add accountability, and measure your progress along the way, while making workouts enjoyable and fun.
Personal training is available for adults or youth age 16+. Clients may train one, two or three days per week. Session lengths run 30, 45 or 60 minutes, depending on your schedule and goals. All clients are required to complete initial mobility, strength and balance testing before personal training can begin. Metabolic testing and all other fitness testing, such as follow-up screenings and sports-specific evaluations, are optional.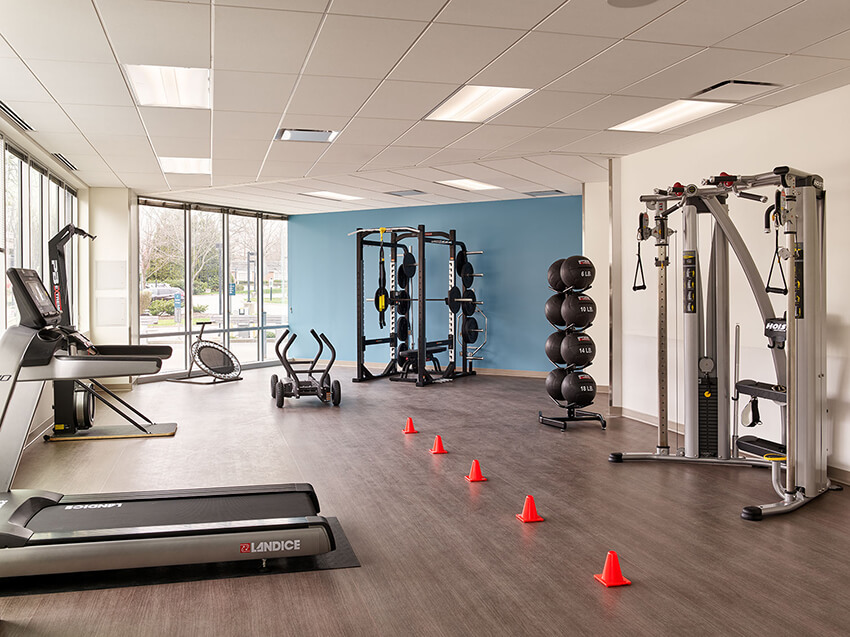 Personal training sessions take place in our fully equipped gym at the beautiful Dee Adams Center for Integrative and Regenerative Medicine. Our state-of-the-art equipment includes:
NovoTHOR® award-winning, whole-body therapy bed that uses red and near-infrared light to treat injuries, reduce pain, relax muscles/joints, and increase blood circulation. Only a handful are currently available on the entire East Coast.
Vasper™ recumbent elliptical technology that combines high-intensity interval training (HIIT), cooling and compression. This unique 21-minute workout induces the effects of higher intensity training in a lower impact workout.
For your convenience, we offer additional wellness services on site including integrative and function medicine, acupuncture, Reiki and massage.
Personal training
Description

Number of sessions / price per package

60 minutes (personal)

$100

45 minutes (personal)

$80

30 minutes (personal)

$60

60 minutes (2 people)
Tandem training

$150 total

60 minutes (3–5 people)
Small group training

$50 per person

45 minutes (3–5 people)
Small group training

(6 weeks, 2x per week) $600 per person
Meet Bruce Kelly, MS, CSCS, CFSC
Bruce Kelly, our lead fitness and metabolic trainer, has more than 35 years of experience as a trainer and coach. He earned a master's degree in exercise science with a concentration in performance enhancement and injury prevention, and holds numerous certifications including Certified Strength and Conditioning Specialist (CSCS), Certified Functional Strength Coach (CFSC), and certifications to perform functional movement and fundamental capacity screens and balance testing.
Bruce has trained individuals of all ages and fitness levels, from D-1 athletes to clients recovering from surgery or injury or managing conditions such as multiple sclerosis or Parkinson's disease. He is committed to preparing his clients for whatever life throws their way.