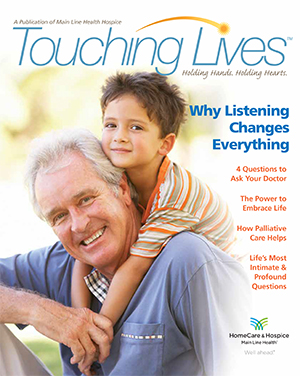 Check out our magazine
Hospice care includes an array of comprehensive services designed to meet the unique needs of adult clients who are facing life limiting illness and their families. It is a program of care that exists to provide support and care for persons in the late phases of progressive illness so that they may live as fully and comfortably as possible. Support is also provided to the family. Care and services are provided in accordance with you and your family's unique needs and goals.
Hospice embraces a holistic approach to care that includes the physical, emotional and spiritual concerns people may experience with advanced illness. Support is provided by an interdisciplinary team of hospice caregivers that provide the most advanced therapies, medications, emotional and spiritual support, personal care and companionship services, and palliative care for pain control and management of other symptoms.
Main Line Health Hospice services are provided to adults with serious, progressive or life limiting illness. In most cases, care is provided in the home. Hospice care can also be provided in a nursing home, assisted living facility or in the hospital setting.
Bereavement services are provided to loved ones as well as community members following loss.
Hospice care is typically provided in the comfort of one's home, whether a private residence, the home of a family member or friend, or an institutional setting such as a nursing home, assisted living or personal care facility.
Should inpatient care be needed, the hospice team will arrange for this care in one of our Main Line Health facilities.
Our HomeCare & Hospice agency provides care to patients living in Lower Bucks, Delaware, Chester, Montgomery and Philadelphia counties.
Criteria to receive hospice services
Admission to hospice care is made upon the recommendation of your physician or nurse practitioner. Acceptance of patients who request hospice services is based on a reasonable expectation that your physical, psychosocial, and spiritual needs can be adequately and safely met by Main Line Health HomeCare & Hospice in compliance with regulatory requirements.
You must choose to receive hospice services from Main Line Health HomeCare & Hospice and consent must be obtained. Services required must be within the agency's geographic, staffing, and financial resources. In addition, your environment must be safe for both you and hospice staff.
The following are eligibility requirements for utilization of the Medicare Hospice Benefit:
You must be enrolled in Medicare Part A (hospital insurance).
Your physician and the Hospice Medical Director must certify that you have a life limiting illness and that you are eligible for hospice services. Certification for services is based on eligibility criteria established by the Centers for Medicare and Medicaid Services Medicare Administrative Contractor (MAC).
You must sign a statement electing hospice care in lieu of your standard Medicare benefits for all care related to your life limiting illness and secondary conditions.
You must receive care from a Medicare-certified program such as Main Line Health HomeCare & Hospice.
Other insurance companies often have a Hospice Benefit and follow the same eligibility requirements.
Hospice volunteers
Volunteers serve in many ways. Hospice & Palliative Care of Main Line Health HomeCare & Hospice depends on its volunteers. Hospice volunteers act as family members, assisting in various areas of patient and family care.
Learn about becoming a hospice volunteer