Residents in the Radiology Residency Program at Bryn Mawr Hospital are given protected time free from clinical responsibilities twice daily to attend educational conferences and lectures in the department. These constitute a combination of didactic lectures, interactive case presentations, "hot-seat" style case conferences, and visiting professor series. Multidisciplinary conferences are held regularly and our residents are encouraged to attend and participate.
Conferences are held twice daily at 7:30 am and 12:00 pm. The first six weeks of conferences are dedicated to introductory lectures during July and August which provides the incoming first year radiology residents a basic framework for future learning. The remaining 48 weeks of the year, the conference schedule follows a designated organ-system based curriculum that covers the eleven major topics in diagnostic radiology. The goals of our conference curriculum are to:
Establish a rigorous organ system based approach to resident conference education that will provide consistent quality education that can be reproduced year after year
Expose all resident to a broad variety of cases covering the whole spectrum of radiology early in their training, creating more rounded radiology residents able to generate robust differential diagnoses
Foster continued systemic curriculum improvement that will allow consistent and focused studying and foster deep learning
The morning conference is either interdisciplinary or resident driven and consists of didactic and case presentation lectures taken from established radiology texts and resources. The 12:00 pm conference is attending led, either in a didactic or "hot-seat" format.
Professors from outside institutions are invited approximately nine times each year and provide supplemental education in their subspecialties, typically addressing current topics in diagnostic radiology. Senior residents are also given Board Review conferences by attending radiologists in their respective subspecialties to assist in preparation for the American Board of Radiology examinations.
A sample of a monthly conference schedule can be seen below: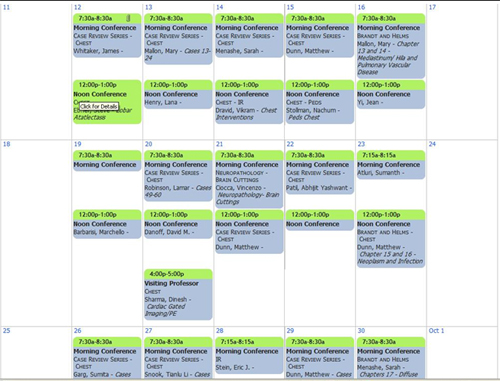 Research is an integral part of the program, and residents complete at least one research project during their residency. Publication and/or presentation of the project at a scientific meeting is strongly encouraged. If a resident presents at a national meeting, expenses are paid by the program. Guidance is provided by departmental faculty or the resident may choose to do a project with a radiologist from another institution.