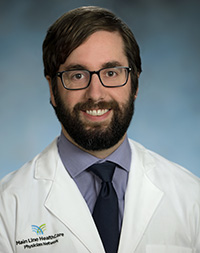 Lankenau Medical Associates (LMA)  is the continuity practice for our internal medicine residency. It is a resident and faculty co-practice centrally located in Lankenau Medical Center, which serves a medically complex, diverse mix of patients, predominantly from West Philadelphia and surrounding suburbs. Each categorical resident builds a panel of primary care patients over a three-year period.
We prioritize the quality of our residents' outpatient experience. Over the past few years, we have added an Associate Program Director for Ambulatory Medicine, new ancillary staff members, a dedicated medical social worker, and a new practice management team run by Main Line HealthCare. During the COVID pandemic, we created and streamlined a telemedicine workflow which prepares residents to practice in a post-pandemic world.
Other features of LMA include a dedicated inpatient team, which prioritizes admitting LMA patients (and is often staffed by LMA internists and program leadership); an on-site doctoral level psychologist; and a community garden at Lankenau that grows fresh produce that is free for our patients.
In addition, we transitioned to an "X+Y" scheduling model in July 2021. This will give categorial residents uninterrupted time to focus on outpatient medicine during their "Y blocks," and a predicable "diastole" after intense inpatient rotations. We also expect this schedule to improve continuity between patients and their resident PCP. Ambulatory residents are excused from clinical duties on Friday mornings for dedicated ambulatory education, which includes a mixture of didactic lectures and case-based discussions.
The ambulatory experience also includes dedicated subspeciality training. In the PGY-1 year, this takes the form of survey rotations in office-based dermatology, neurology, geriatrics, obesity medicine, diabetes education, sports medicine, and women's health. In the PGY-2 and PGY-3 years, residents choose longitudinal ambulatory experiences among the core internal medicine subspecialties; other offerings are available such as infection prevention and perioperative medicine. Upper year residents also have dedicated time for ambulatory quality improvement, panel management, and personal research projects during their ambulatory weeks.
Finally, we build in "personal time" during ambulatory weeks, so our residents can keep up with essential life tasks like dentist appointments!