Welcome to the Family Medicine Residency Program at Bryn Mawr Hospital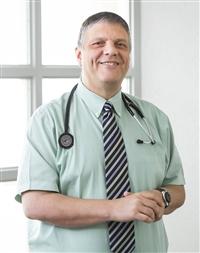 I arrived to Bryn Mawr Hospital as an eager intern in 1991, served as chief resident in my third postgraduate year and continued as a faculty member when I graduated. I have had the privilege of being part of the Family Medicine Residency Program and the Main Line Health community for my entire professional career.
I fell in love with the hospital, the people and its setting. I know firsthand that Bryn Mawr is a beautiful place to live and work. These good feelings were only augmented over time by the developing relationships I shared with my patients and the honor of training some of the world's greatest family doctors.
In considering Family Medicine Residency Program, keep in mind:
I am personally committed to the academic integrity of your goal to be a board-certified family physician.
I understand the importance of maintaining your personal and professional well-being.
I have the experience and ability to help you become a great family doctor.
I am passionate about teaching you what I believe is the most rewarding primary care specialty.
Choosing a residency program is a milestone in your medical education and your life. You must evaluate many programs and endure seemingly endless interviews. In the end, I hope you'll choose the Family Medicine Residency Program, like I did.
Best wishes on your quest,
Joseph A. Greco, MD
Director, Family Medicine Residency Program at Bryn Mawr Hospital